The City Guide to Copenhagen
All the best shopping, dining and sightseeing the Danish capital has to offer.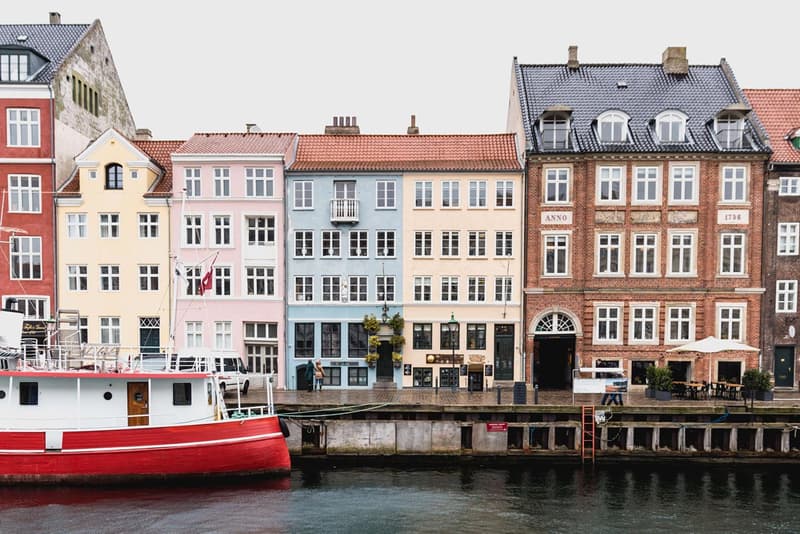 Copenhagen is known for many things, from its iconic Little Mermaid statue to its scenic canals, but the generally high quality of life its residents experience is perhaps the historic city's most standout attribute. For one, more than 50% of its citizens ride their bike to work, with biking actually a widely-accepted form of transportation for kids and adults alike. Secondly, the Danes are renowned for their cozy lifestyle which is defined by the word "Hygge" (or Hooga). The word signifies a comfortable way of living that's exemplified by things like sitting in cafes, lounging around a nice fire, comfy blankets and just good conversations with close friends.
Which brings us to one last fact about the city — Danes in Copenhagen are just generally happy despite the city's high taxes. Income and lifestyle seem to be quite equal amongst citizens so there's hardly any bad blood between them. These few facts alone make Copenhagen a fascinating cultural destination, but the small but rich city is also well worth a visit for its food, shopping and sightseeing.
When we visited the metropolis' fashion week, we gathered recommendations for where to eat, drink and visit from Copenhagen's creative community. Check them all out below and be sure to bookmark a few for your next visit to Denmark's capital city.
Shop
Storm Copenhagen
Storm Copenhagen is the ideal store for the most discerning shoppers, whether you're a tourist or a local who has the leg up on choice luxury brands. Customers will be happy to know that it's one of the few destinations in the city that sells AMBUSH, Off-White™ and other in-the-know labels. Nike, adidas and other luxury footwear staples are also sold here. The modern design of the outpost is a bonus as well as the space feels one-part art gallery and one-part cultural meeting spot.
Address: Store Regnegade 1
Website: stormfashion.dk
Norse Store
Norse Store has long been a Copenhagen staple and is always highly recommended by the locals for quality clothing and kicks. Norse Store also carries its own in-house label and caters to both men and women with refined, tried-and-true designs. If you gravitate towards sophistication or just brands who don't follow trends, then this place is for you. But you'll also find popular footwear like YEEZYs, rare Nikes and visvim.
Address: Pilestræde 41
Website: www.norsestore.com
Soulland
Soulland is another trusted streetwear institution in the city. The label has been in operation for more than 10 years now and continues to prosper with its focus on creating modern and artful designs. Founders Silas Adler and Jacob Kampp Berline have also created sought-after Nike collabs in addition to creating a store where street and fashion culture will always thrive.
Address: Gl. Kongevej 41
Website: soulland.com
Rezet
A true sneaker destination, Rezet is usually one of the first places footwear fans in the city head to when it comes to lining up to buy the latest rare adidas or Nike releases. But Rezet does more than just sell kicks, as it also hosts events and meet-ups ensuring Copenhagen's sneaker community can interact. The store will sometimes hold customization sessions, or just have random gatherings for raffles and contests.
Address: Rådhusstræde 7
Address: Jorcks Passage 42a
Website: rezetstore.dk/en
Other places to shop: Wood Wood, Won Hundred, Acne, Han Kjøbenhavn, Street Machine
Eat and Drink
Pluto
There are hardly any bad reviews for Pluto which means this dining destination is a must-visit for anyone wanting to try delicious Scandinavian and Danish fare. A 12-course menu is a solid choice, but a la carte seafood options are also highly recommended by critics. Feast on tapas while enjoying a nice wine pairing from Pluto's vast selection, then dive into one of the mains such as the scallops or ribs.
Address: Borgergade 16, 1300 København, Denmark
Website: restaurantpluto.dk
Llama
The one thing you'll notice about Llama right away is its vibrant, mosaic-like design. The walls and decor are just as colorful as the dishes on Llama's menu which draws inspiration from Latin American countries like Ecuador, Chile, Peru and Argentina, to name a few. Dishes are served with a pleasant aesthetic but they're all more-than-meets-the eye. The ceviche here is always a top choice, and items like the beef skewers and pork belly never disappoint.
Address: Lille Kongensgade 14
Website: cofoco.dk/en/restaurants/llama
Cafe Victor
Cafe Victor is a French brasserie with a Danish twist, with decor that takes you back in time. Returning patrons come here for the impressive wine list as well as the outdoor seating. The eatery serves French, European and Danish dishes, standouts include the rack of lamb, stuffed quail or the veal. Don't forget to ask the servers for some wine recommendations for optimal pairing.
Address: Ny Østergade 8
Website: cafevictor.dk
Geist
Geist is another culinary destination for its mix of European, Scandinavian and Danish menu items. This is elite-level dining, with plating and decor to match. A lush outdoor garden seating is also available for those wanting a more natural surrounding. The turbot with ravioli is a crowd favorite, as are the suckling pig and heart of lamb. Sit by the bar at the end of the night for some classic cocktails or finish off your meal with some sweets — the cherry tart and cocoa sorbet are fine options.
Address: Kongens Nytorv 8
Website: restaurantgeist.dk/en
Other places to eat and drink: Rust, Bakken, Sanchez, Geist, FIAT, Søpavillonen, The Bird & The Churchkey
Arts and Culture
Louisiana Museum of Modern Art
Copenhagen has a long list of museums to visit, but the Louisiana Museum of Modern Art, located in Humlebæk about 25 miles north of the capital, is well worth the trek outside the city. Visitors are always impressed with its permanent collection, which includes pieces from the likes of Pablo Picasso, Jean Dubuffet and Louise Bourgeois. If that still doesn't fill-up your art itinerary, then the location itself should be impressive enough with its lush outdoor areas and photo-worthy sculptures. The place is also easy to reach by public transportation so getting there shouldn't be a hassle.
Address: Gl Strandvej 13, 3050 Humlebæk
Website: www.louisiana.dk/en/visit-louisiana
Botanisk Have (Botanical Garden)
No city guide would be complete if it didn't have a garden destination and the Botanisk Have, one of Copenhagen's more popular garden parks, is high on any tourist's list. Visitors are most drawn to this botanical garden's serenity, with many finding an afternoon spent observing flowers and trees to be a meditative experience. The central atrium is also an impressive sight, and the mix of architecture and nature creates a near-transcendental experience.
Address: Gothersgade 128
Website: botanik.snm.ku.dk
Freetown Christiania
Freetown, or its proper name Christiana, is quite a legendary area in Copenhagen. Some say it's dangerous, but it's certainly worth a visit. A lot of the structures in Freetown are makeshift, with colorful graffiti and artworks plastered almost everywhere. That said, drug deals happen here on a daily basis and local policemen are always on the lookout. Taking photos or videos is frowned upon by those who live here so it's best to just keep the phones away. But if you're looking to enjoy the area, there are galleries, organic eateries and beautiful natural sights here to check out. Just make sure to use common sense when you're within the walls, or better yet, join a tour group so there's strength in numbers.
Address: Freetown Christiania
Website: www.visitcopenhagen.com/copenhagen/culture/alternative-christiania
Tivoli
Once in the city, Tivoli is hard to miss — it's within the town hall square as well as Copenhagen's main train station. The amusement park is something out of a fairy tale book with its colorful decor, fanciful structures and exhilarating rides. You can literally hear the sound of children laughing and enjoying themselves while walking nearby. And while Tivoli is something children will gravitate to more, grown-ups too can find this place adventurous and fun — enjoy the food, the rides and the scenery.
Address: Vesterbrogade 3, 1630 København V, Denmark
Website: www.tivoli.dk/en
Other places to see arts and culture: Glyptoteket, SMK (Statens Museum for Kunst), Kastellet, King's Garden