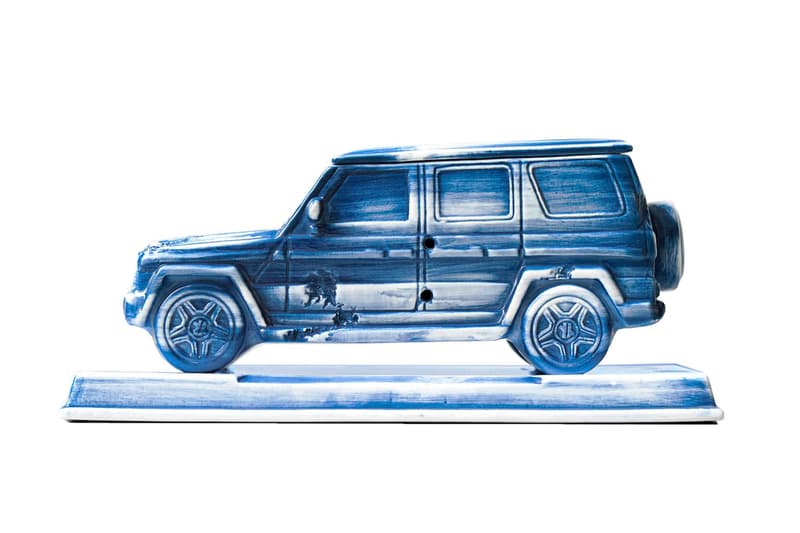 These Are the Best Artworks Releasing This Week
'G Wagon' sculptural incense holders, Matt McCormick prints, and more.
---
Every week we spotlight the best art releases weekly by notable artists, galleries, museums and contemporary art platforms across the globe. Listed items typically encompass limited edition artworks, prints, collectible figures, collaborative merchandise and more.
For this week's installment: Yeenjoy Studio unveils the 'G Wagon' incense holder, artist Sylvie Fleury releases 'Chanel Yeti Boots' lithograph editions, Matt McCormick drops a new print on Tappan Collective, graffiti artist TEACH release a sculptural Throw Up on Maharishi, and Japanese artist Takao Inoue reimagines Vincent van Gogh's signature sunflower motif in a new art object available in the MoMA Design Store.
View the full list below.
Yeenjoy Studio 'G Wagon' Incense Holder
Release Date: Available now on the Woaw Store's website
Release Price: $328 USD each
The master craftsmen over at Yeenjoy Studio have unveiled one of their latest sculptural incense chambers, and this time around, the popular home item takes the form of a Mercedes Benz 'G Wagon.' Although sizing details haven't been disclosed, the piece itself features an accurate likeness to the stock luxury vehicle. Rounding out the execution is the art collective's washed-out blue finish that pays homage to traditional Chinese craftsmanship.
Sylvie Fleury 'Chanel Yeti Boots' Lithograph Editions
Release Date: Available now on JRP Editions' website
Release Price: $4,498 USD for the set
Swiss artist Sylvie Fleury is widely-recognized for her minimalist Pop Art paintings of "haute couture" throughout the 1970s. Fleury recently teamed up with contemporary art seller JRP Editions on a new lithograph edition that features her original artwork entitled 'Chanel Yeti Boots.' Each lithograph is printed on denim and sized at nearly 24 x 25 inches wide. The print is available in a number of color variations including white, black, green, and blue.
Matt McCormick 'But I Can't Explain Forgive Me One More Time' Print
Release Date: Available on Tappan Collective's website
Release Price: $380 USD each
Matt McCormick's 2019 archival print entitled 'But I Can't Explain Forgive Me One More Time' is now available on Tappan Collective. McCormick's signature motifs of cowboy sketches and pastoral scenes are observed on the artwork that measures 14 x 11 inches. Those interested in framing the print can choose between white, black, and natural options.
TEACH 'Throw Up' Sculpture Edition
Release Date: Available now on Maharishi's online shop
Release Price: $170 USD each
TEACH is a widely-recognized graffiti artist best known for thick throwies throughout the London Underground line. The artist recently joined forces with Maharishi to release a sculptural edition aptly entitled 'Throw Up' sized at 72 x 55 centimeters wide. Materials-wise, each edition features various spray-paint colors on a piece of laser-cut birch plywood.
Takao Inoue's 'van Gogh Sunflower' Art Object
Release Date: Available now on MoMA Design Store's website
Release Price: $540 USD
Japanese designer Takao Inoue is renowned for her proprietary methods of suspending actual flowers in acrylic. Inoue's latest experiment is with the sunflower. Taking inspiration from Vincent van Gogh's perennial still life subject, the art object measures 5.15h x 2.75 x 2.75 inches in diameter. Each piece was originally developed back in 2018 in Japan.