Samuel Ross Keeps It Honest
The A-COLD-WALL* creator talks race, design and more.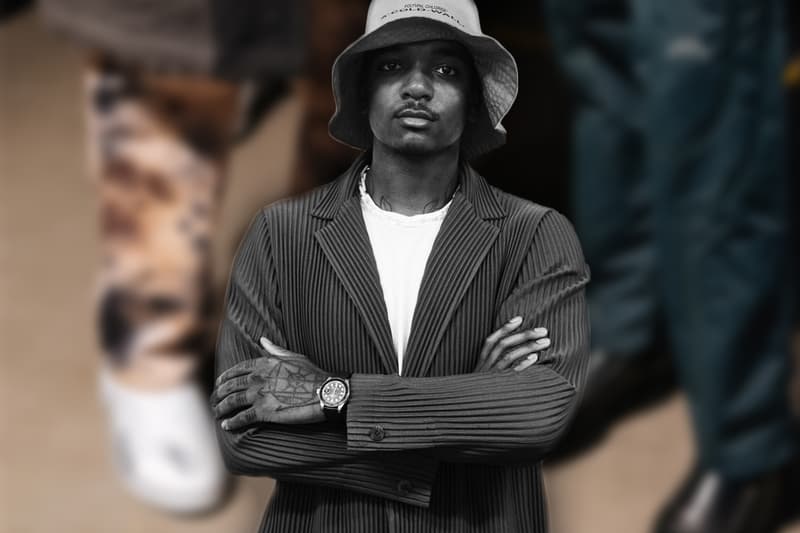 HYPEBEAST has written a lot of words about A-COLD-WALL* — and not all of them have been positive. In our feature dissecting the relevancy of London Fashion Week: Men's, we described the ACW* Fall/Winter 2019 presentation as making "for a confusing show that was all pretension with no substance." When we met Samuel Ross, he immediately noted that he had read the piece, but instead of balking at the criticism, he said he found it refreshing to see a journalist of color critique his work rather than his background, a recurring issue for black creatives.
"Being spoken about and dissected on a social perspective, what you're still getting is that as a black or person of color artist, that fact overrides any theme within their work," he says. And, for Ross, this leads to his work not being critiqued on its own terms. "What I'm kind of seeing is that there's stuff I do that if my peers did, would be rewarded. And when I put out work, the narrative shifts to a tale of rags to riches, but that's not actually critiquing the work." 
Ross has also noticed the split between how he's treated in comparison to his peers, particularly his fellow LVMH Prize finalists. "I was looking at interviews with previous LVMH finalists and the positioning that they have — that they can kind of say anything and it's automatically intellectualized. And then, for myself and others, it's the fucking opposite." To combat this, the designer felt that he had "to be in on a dictionary 24/7 to even play on that field."
Nowadays, A-COLD-WALL* is in the middle of a transition. Having long been the new kid on the block, the brand has suddenly found itself as one of London Fashion Week: Men's most stable entities, with a worldwide stockist list, an ongoing collaboration with Nike and a host of diffusion lines. "I've been around long enough to not be a disruptor anymore," he says. "It needs to be about moving into more luxurious space and, with time, telling more conceptual ideas again." ACW* has had such sustained success that commentators often view it as a streetwear interloper found outside the insular London fashion scene, a box Ross is trying to move away from.
"There's only like a few brands who actually inhibit the space between streetwear and fashion now versus three years ago, when it was quite a heavy, heady space," Ross says. Indeed for HYPEBEAST, streetwear has become a heavily misused term as of late, often moving into coded speak for "black designer" or "brand which focuses on casual wear," rather than referring to brands who focus on subcultures such as Stüssy or The Hundreds.
The BFC/GQ Fund, one of British fashion's most important funds, returned this year to honor ACW* as its 2019 winner — providing invaluable mentoring lessons and a solid amount of money that can act as expansion for a brand if used correctly. 
Previous winners have included the likes of Craig Green, and the award typically goes to a brand who's been through the fashion school ecosystem. However It's now no longer a surprise that a brand such as ACW* would win an award as important as the BFC/GQ fund.
"I've been around long enough to not be a disruptor anymore"
In times when the diversity of outlets is, rightly, more scrutinized than ever, we couldn't help but wonder if awarding the prize to Samuel Ross was just another way for fashion to paper over the cracks — choosing to give a visible award to a person of color rather than fix the lack of diversity that remains behind the scenes. 
However when we put this to Ross, he disagrees."I don't necessarily think it's that. It just comes down to how seriously you want to win," he says. And Ross does want to win. He goes on to note that while he didn't see the business plans of his fellow BFC/GQ fund finalists — which included Liam Hodges, Cottweiler, Grace Wales Bonner and Daniel W. Fletcher — he says he took his mentoring sessions very seriously. 
When awarding the BFC/GQ fund to the label Caroline Rush noted that the company was "the strongest candidate with the most comprehensive business strategy and decisive plans on how to use the fund to his best advantage." Ross recognizes this as a crucial part of his brand's recognition.  "The reality is, if you have that amount of money, do you want to put it where someone is going to waste the money? Or do you want to see it go back into the economy?"
A business education is one thing that Ross sees as lacking in British fashion schools. "Traditionally you go through CSM or art school and you stick to the foundations, so if you're a designer you design," he says. "You don't think about money, you don't think about business, you don't think about consumption. All you do is design, you're an artisan." And this is where Ross is set apart from his peers. 
"I do care about the business, just as much as I care about the direction of the graphics and the garment development and I think, for them, it's probably refreshing to see someone who does care about the business." This care comes from necessity more than a pursuit for endless scalability. When talking about the brand's early days, Ross reveals that too once fell under the pressure of over-expansion. 
Many upstart British brands are prone to this same cycle: brand comes onto the scene and receives a cavalcade of press, the press leads to a few orders at first. The brand becomes one of the chosen few that every store is trying to get a hold of, leading the amount of orders to increase exponentially without time for the production team behind the scenes to grow at the same pace. As a result, orders are delivered late, stores refuse to pay and brands are left with hefty bills that can usually end in the closure of the label. 
"[Other designers] can say anything and it's automatically intellectualized. And then, for myself and others, it's the fucking opposite."
The growing pains were apparent for Ross in that aforementioned Fall/Winter 2019 show. "I wasn't happy with that show," he says. "We only got one round of samples in. Because our internal production chain wasn't set, so only 40% of the collection went down to the runway, for a start." And the issues didn't stop there. "For a lot of the fittings, we had to fit an hour, two hours before [the show] we were stitching beforehand, so I wasn't really happy with it. But more to the point, this speaks to a parallel of what can happen with hyper growth."
A-COLD-WALL* sought to fix these issues by partnering with Tomorrow London Holdings, with the company taking a "substantial minority stake" in the brand. It was the first time Tomorrow had taken a stake in a brand and it was telling that a casualwear label was the first investment — a sign that in terms of actual selling potential, this subset of fashion still the safest investment.
Business of Fashion's announcement of the deal quoted Stefano Martinetto, the controlling shareholder and chief executive of Tomorrow London Holdings as affirming their faith in ACW*'s future success: "We believe what Samuel [and right-hand man Andrew Harper] are doing has significant, long-lasting success in terms of how they talk to their customers." That latter point is something that Ross is contemplating as the brand moves to its next phase. "There will be a shift in the next eight years or so, away from people being treated like cattle and towards will be a more level conversation," he says.
For A-COLD-WALL*, the key is to move at its own speed. "The pacing is not now going to be in sync with pop culture," he notes. "Pop culture is pretty much like, 'Just do that and then do that, and then you do that again.'" For his next steps, Ross instead wants to remain focused on the basics. "I want people to see consistency and reliability," he says.
"I'm less interested in the pop culture side of things in the public eye and more interested in the actual process. I'm learning a lot and I can actually produce garments now. Not clothes, garments and pieces." While moving at your own speed is harder than ever in these accelerated times, Samuel Ross's mixture of design and business acumen means he just might be able to achieve it.
If Samuel Ross's words have inspired you to discover emerging UK brands, here's five more you need to know.