Serena Williams Lands Her Own Wheaties Cereal Box
And becomes the second black female tennis player to grace the packaging.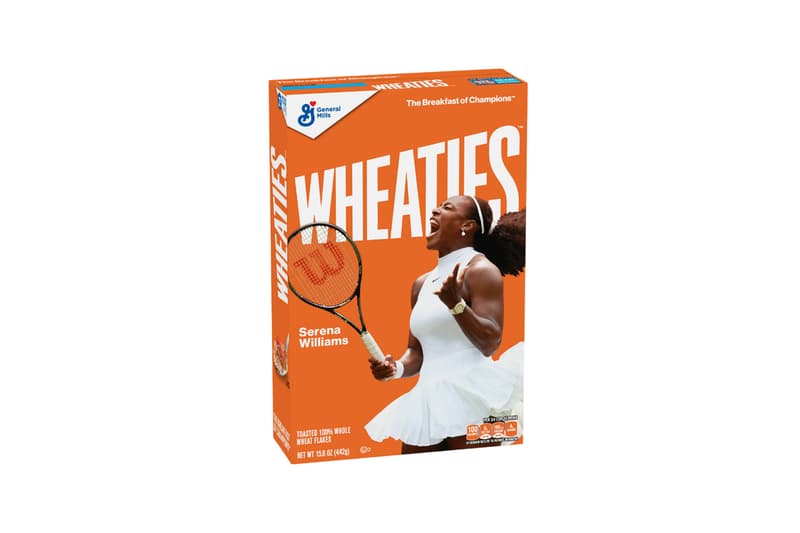 It's a busy week in the world of cereals.
Just one day after Travis Scott revealed his $50 USD Reese's Puffs packaging, Serena Williams has now shared her own special-edition version under the Wheaties brand. The tennis star is pictured holding a racket during a fierce moment of celebration, outfitted in a sporty white Nike look that pops against the famous orange box.
"It was a unanimous choice to go with that shot and that white dress — was it! It truly signifies a championship moment," said Taylor Gessell, manager in brand experience at General Mills.
Williams shared an image of the cereal today on her Instagram, explaining that she is only the second-ever black female tennis player to grace the box. The late Althea Gibson, who was the first African-American to win a Grand Slam title and also a noted professional golfer, became the first in 2001.
"I have dreamt of this since I was a young woman and it's an honor to join the ranks of some of America's most decorated athletes. I hope my image on this iconic orange box will inspire the next generation of girls and athletes to dream big," Williams said in a statement.
This marks the tenth tennis player (four of which have been women) to be featured on the box in Wheaties' history, and the first tennis athlete since Andre Agassi was spotlighted on the packaging in 2004.
For more news, catch up on the Virgil Abloh-designed pieces that Williams sported during the French Open last month.