Marvel Studios Shares First Look at 'Loki' Disney+ Series
Also hinting at the story's timeline.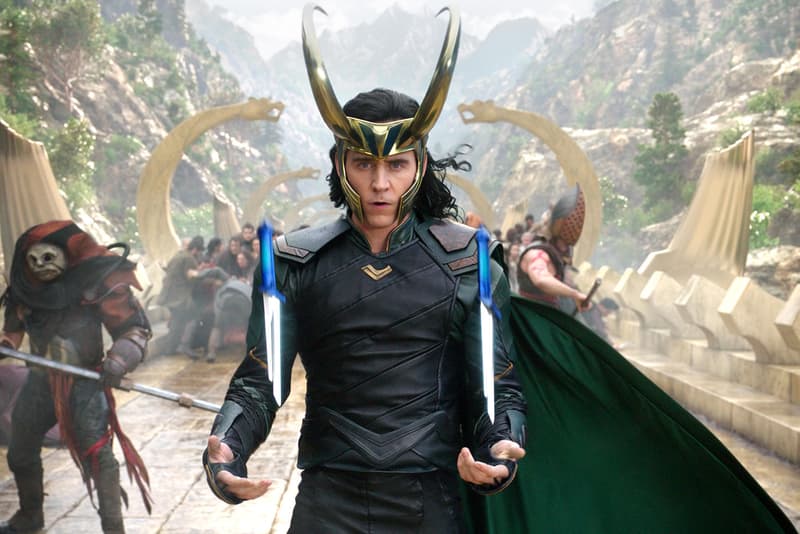 Earlier this year in April, Disney revealed more plans and information surrounding its upcoming streaming service Disney+, along with how the Marvel Cinematic Universe will play a role on the small screen.
That same month, Kevin Feige appeared at a Disney's investor meeting to share new details about the the highly-anticipated Loki series, which will see Tom Hiddleston reprising the titular role. During the meeting a logo for Loki was shared along with a still. At first people in attendance were not allowed to share the images. However now Disney has officially released the photos for the public's enjoyment.
In terms of the logo, the typeface used is similar the one seen on Kieron Gillen's Journey Into Mystery comics that featured Kid Loki as the protagonist. On the other-hand, the image reveals Loki walking down a busy street with a Jaws marque on display, hinting that the series will take place in 1975, the same year the Steven Spielberg classic premiered.
During an interview with Variety Feige shared the importance of the Disney+ series:
"Disney+ is another exciting avenue and another exciting thing about being at this place at this time goes back to the amount of characters we have and the amount of stories we could tell… When we announced ten movies and people asked 'Well what about these other things?' the previous stance would be 'We only have a certain number of slots to make movies per year.' That's still true but we have another outlet that I think will be very unique and very special."
It's been speculated that the small screen series will most likely explore storylines before the events of Infinity War or where Loki went after stealing the Infinity stone in Endgame. No official release date for Loki has been announced. Disney+'s streaming service lands this November. In the meantime, be sure to check out the movies and shows to look forward to after Avengers: Endgame.
Also shared at the Disney+ event was a first look at the life-action remake of Lady and The Tramp.
OFFICIAL | First look at the 'LOKI' series coming to Disney+. pic.twitter.com/44shBqHQh4

— Marvel Stuff (@marveIstuff) June 9, 2019
?: Marvel Studios reveals first look at Loki Disney+ Show and more! pic.twitter.com/wjOmJkfxUC

— MCU Updates & News (@mcu_updatess) June 9, 2019