These Are The Movies and Shows to Look Forward to After 'Avengers: Endgame'
What we know about Marvel's Phase Four and Disney+ shows.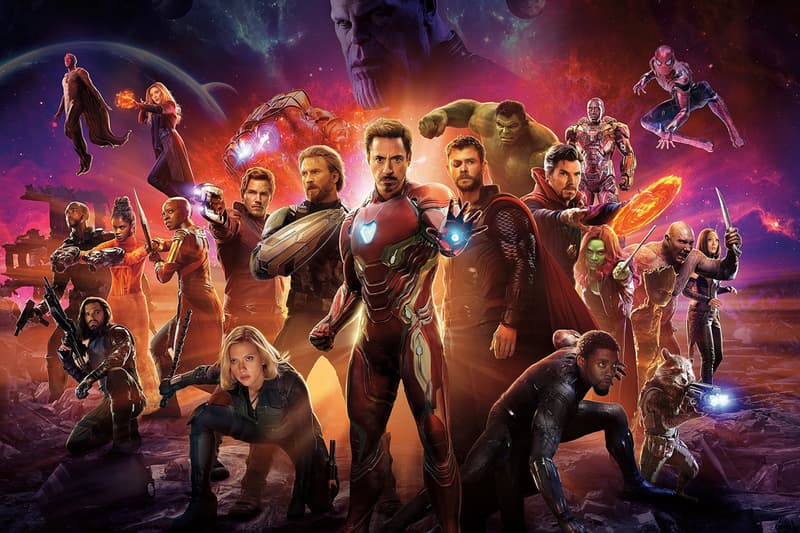 With Avengers: Endgame's recent box-office smashing arrival, Marvel Studios' decade long run of 22 films has finally come to its epic conclusion.
While July's Spider-Man: Far From Home has been confirmed to finish off Phase Three, many fans have begun panicking about when they can expect the next Marvel hit to appear. Although the big players over at Marvel Studios have decided to remain quite mum about what's to come until after Far From Home debuts, we've gathered up information on what projects you can look forward to from the franchise including its Disney+ shows.
Numerous projects for Marvel's Phase Four are currently in development such as sequels to the Guardians Of The Galaxy, Doctor Strange and Black Panther along with a Black Widow spin-off. No release date has been officially announced or dated by Marvel Studios for any of these films, but it looks as though the first movie of Phase Four will drop on May 1, 2020. The fourth chapter will also take on a different feel than its predecessors, considering new heroes are set to make their debut including The Eternals, Shang-Chi, Kate Bishop and the potential rise of the Young Avengers with the premiere of Disney's streaming service.
Check out some of the potential upcoming Marvel projects to release after Endgame.
Warning: This post contains mild spoilers.
Spider-Man: Far From Home
Release Date: July 2, 2019
Although many fans were left to believe Avengers: Endgame was set to close off the Third Phase of the Marvel Cinematic Universe, Marvel Studios president Kevin Feige confirmed earlier this month that it would, in fact, be Spider-Man: Far From Home. With an emotional ending tied to Endgame, the Homecoming sequel will have some big shoes to fill as the final piece of the Third Phase. It has also been confirmed by Sony President Amy Pascal that Far From Home will take place "a few minutes" after the events of Endgame. So it seems Phase Three will end off on a more comedic note such as how Ant-Man finished off Phase Two.
With recent plot details and film stills emerging, Peter Parker (Tom Holland) looks to be teaming up with life-long enemy Mysterio (played by Jake Gyllenhaal). This will mark Mysterio's first appearance in the MCU, although the character has long since been an arch enemy of Spider-Man's in the comics.
Black Widow
Release Date: Potentially May 1, 2020
During the promotional run for Endgame, Scarlett Johansson was able to deflect the onslaught of questions thrown at her regarding a standalone Black Widow film. Johansson first stepped into the role of the deadly assassin in 2010's Iron Man 2 and has yet, (alongside Jeremy Renner's Hawkeye), to be tasked with carrying her own film. The "secret" film will also star David Harbour, Florence Pugh, Rachel Weisz and newly announced The Handmaid's Tale actor O-T Fagbenle.
No details surrounding the plot have surfaced, but many believe the film will be some sort of origin story (given the events of Endgame) on how KGB spy assassin Natasha Romanoff becomes an agent of S.H.I.E.L.D. and ultimately an Avenger. Perhaps we will even get to see her's and Clint Barton's (Renner) much-talked about Budapest adventure. Cate Shortland will direct the project with production beginning this June in London. Reports have also added that Marvel is targeting a 2020 release for this film.
The Eternals
Release Date: Potentially November 6, 2020
Marvel Studios' head honcho Kevin Feige initially teased The Eternals back in April of 2018. Set to center around an evolutionary offshoot of humans who possess extraordinary powers gifted to them by the Celestials (Peter Quill's father Ego was one), the film will explore a new group of heroes and may even potentially feature the Marvel Cinematic Universe's first openly gay superhero, Hercules; (the first openly gay character appeared as co-director Joe Russo in Endgame if you missed it). Angelina Jolie is rumored to be attached to the project and is speculated to play Sersei who has the ability to manipulate molecules and atoms, while Kumail Nanjiani is also in talks to join. The Eternals is said to be in the earliest stages of pre-production.
Black Panther 2
Release Date: Potentially February 12, 2021
The Ryan Coogler-helmed Black Panther became the first superhero movie to be nominated by the Academy Awards for Best Picture. Having brought in over $1.3 billion USD in box-office profits worldwide, along with breaking cultural norms, there's no doubt that T'Challa and his Black Panther exemplar will be returning to the big screen.
Coogler will once again take on directing and writing duties, which will hopefully lead to another blockbuster treat. Black Panther 2 is rumored to go into production in late 2019 or early 2020. Going by past sequel films in the franchise, BP2 could likely release in February 2021 considering that's when the first one came out. Others to follow same month releases are Thor in November and Spider-Man in July.
Doctor Strange 2
Release Date: Potentially May 7, 2021
As the first character to introduce magic, Doctor Strange brought something special and unique into the MCU. From what we saw from part 1, Dormammu promised to leave Earth alone while Strange's former friend Karl Mordo turns to the darkside, meaning he's on the path to becoming the evil Baron Mordo. Scott Derrickson who wrote and directed the first film will return while no scriptwriter has joined as of yet. It's believed Doctor Strange 2 will begin production in spring of 2020.
Shang-Chi
Release Date: Potentially November 5, 2021
Shang-Chi will mark the first Asian-led Marvel film which will be written by Chinese-American Dave Callaham. The studio has also hired Japanese-American Destin Daniel Cretton as director, hoping to tap into the same success found by Black Panther and DC's Wonder Woman. Although Shang-Chi doesn't have any superpowers of his own, his expertise in the martial arts helps him fight against the evil forces. No other details have emerged thus far.
Guardians of the Galaxy Vol. 3
Release Date: Potentially May 6, 2022
The third installment of Guardians of the Galaxy has so far been faced with a lot hardships in its pre-production state seeing director James Gunn being fired from the project after a slew of insensitive tweets were uncovered. Following the incident, the studio decided to put a hold on Vol. 3 indefinitely, placing a damper on many fan's excitement and pushing back the film's original 2020 release.
However Disney decided to reinstate Gunn to finish off the trilogy and it is believed that his original script will still be used for the movie. Gunn is currently busy writing and directing Suicide Squad 2 set for a 2021, but a recent report from The Hollywood Reporter states he will begin shooting Vol. 3 in 2020. Also teased in Guardians 2, Adam Warlock could be making his way into the MCU while Thor could be joining the band of misfits also hinting at the comics' Asgardians of the Galaxy series.
Ms. Marvel
Before Captain Marvel made her big screen debut, Feige confirmed plans to introduce Ms. Marvel, aka Kamala Khan, into the Marvel Cinematic Universe. Ms. Marvel will be another first for the MCU as the character is a Pakistani American teenager from New Jersey. As a carrier of the Inhuman gene, Khan is gifted with shapeshifting abilities, who then decides to take up the Ms. Marvel mantle. Ms. Marvel already starred in the animated feature Marvel Rising, though a big screen debut could be in the works.
Captain Marvel 2
As one of the most powerful heroes in the MCU, Captain Marvel (played by Brie Larson) was finally introduced to us earlier this year with her very own origin story. And as promised, her character provided a large assist in the success of the Avengers defeating Thanos and reversing the snap that wiped out half the universe. Though the title role going to Larson is still surrounded in controversy, there's no doubt the female hero will be getting more solo films in the near future, especially since she's slated to lead the Avengers now that Iron Man and Captain America are out of the picture.
The Falcon and the Winter Soldier
At the end of Endgame Sam Wilson (Anthony Mackie) took on the mantle of Captain America, so it will interesting to see where the studio decides to take his storyline. The potential Disney+ show is also rumored to star Sebastian Stan as Cap's good-turned-evil-turned-good again BFF, Bucky Barnes. No other details surrounding this series have surfaced so it's unknown when the events of the show will take place.
WandaVision
Elizabeth Olsen as Wanda Maximoff and Paul Bettany as Vision will make their way to the small screen as the series will center around their relationship. With no solid details surrounding the show's plot having surfaced, fans are a bit baffled on how Vision was able to return considering his death happened before Thanos' snap and the Hulk was unable to bring him back to life. Along with that, the Mind Stone has been destroyed adding more complications. From a photo shared by Olsen, the show looks to be set in the 1950s, which gives way to bevy of theories on how Wanda brings back Vision.
Loki
In Infinity War Loki was seen meeting his untimely death while in Endgame the trickster took off with the Tesseract during the Avengers time heist. The small screen series will most likely explore storylines before the events of Infinity War or where Loki went after stealing the Infinity stone. Tom Hiddleston will reprise his role as Thor's brother, while Rick & Morty's Michael Waldron will oversee the show.
Hawkeye
Rumors of Jeremy Renner heading to Disney+ for a limited series has been circulating the Internet although nothing has been confirmed as of yet. Speculation around the series states that Renner will be training his daughter to take on the role of Hawkeye, which was briefly teased in Endgame's opening scene. Another possibility could see the Avenger training his replacement, Kate Bishop, rumored to be played by Katherine Langford. Langford was speculated to appear in Endgame though perhaps she was meant for the Disney+ show all this time.