How Kyle Edmund Became Britain's Number One Tennis Player
We spoke to the rising star about his Wimbledon hopes & career so far.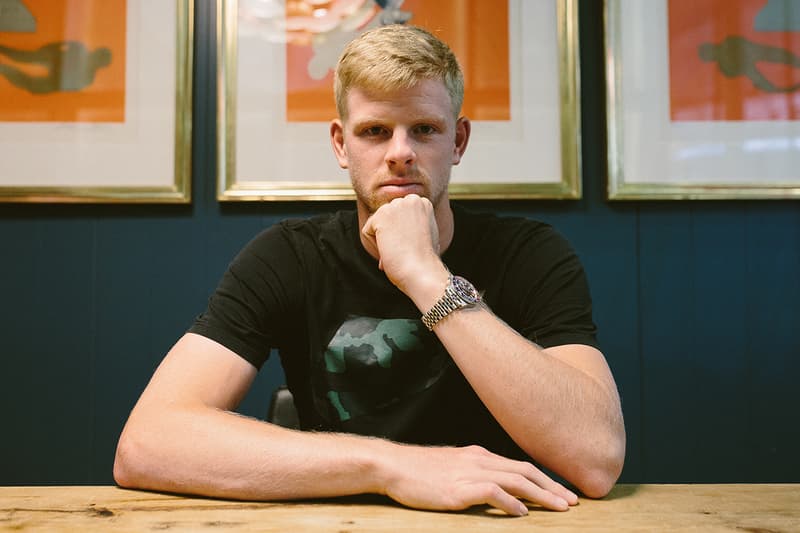 Kyle Edmund is a name that might not be familiar to most, however the softly-spoken 25 year old is now firmly established as Britain's number one tennis player. Edmund's breakthrough year came in 2018, when he overtook Andy Murray — who has suffered from a number of injuries recently — to take the title, and rise to a career best of 14th in the world. Over the course of 2018, Edmund also progressed further than he had before in the Australian Open, French Open and Wimbledon.
"In terms of my game, it wasn't like I drastically improved a shot," explains Edmund of that breakthrough year. Instead he focused on the mental side of the game, "I was losing quite a few close matches before. I looked at my decision-making, redirecting my thoughts in a more efficient way, not making life difficult on myself. The mental side of the game is huge, but if you work on your psychological or mental side it's looked upon as a bit of a weakness. It's not easy to understand or open up about it or train it. How do you practice pressure? The better you learn about yourself and understand yourself when you're in a tight situation, you understand what you're thinking and the reasons. That's how I went about it. Each time there's a disappointment, you learn until next time."
While Edmund was working on his mentality — and steadily rising up the rankings — Andy Murray was also enduring a tough spell of injuries that contributed to his fall down the standings. "I know Andy was injured, but I did come up as well, it wasn't like I was dropping," he continues. Murray and Edmund have a close relationship; with the elder player playing an important role in Edmund's burgeoning career. Edmund began training with Murray when he was just 17, at which time Murray was already one of the five best players in the world. "It was really good for me, I definitely improved," remembers Edmund. "I learnt more just by watching him, how he operates and his work ethic. He's been probably the biggest help out of any player for my career."
"If you work on your psychological or mental side it's looked upon as a bit of a weakness."
2018 saw Edmund enter the big leagues, beginning with a semi final appearance in the Australian Open. Other highlights included Wimbledon that year, where he was knocked out by Novak Djokovic, the tournament's eventual winner. "Centre Court was always packed, it was a great atmosphere," explains Edmund of being the British number one on home turf. On the eve of this year's Wimbledon, Edmund is still the highest ranked British player, although he's entering the tournament following on from a tough year.
"This year's been up and down," continues Edmund, "it's been very stop and start basically, I've had physical problems. I'm just trying to get to a stage where I can be consistent, week after week." Edmund goes on to describe his physical setbacks as "frustrating," adding that he has learnt how to "take responsibility in terms of why you're getting it and how you can improve. You have to make rational and sensible decisions at that time and point with where you're at with your physical body."
With the rigorous tour schedule — including annual trips to tournaments around the world — Edmund spends a lot of his time on the road. His base camp is now the Bahamas; a long way from Beverley in Yorkshire, where he grew up. The travelling can be a gruelling process, and Edmund stresses the importance of switching off when he's away from the court. "You've got to fill a lot of time on the road," he adds. "When you come away from the tennis, it's important to relax. It's almost like you've got to learn a skill to switch off. It can be difficult if you're just constantly on it, thinking all the time. You become drained. You've got to make sure you switch off and I've learnt to do that better over the years, not to be so intense."
"Right now it's just a thought, it's not a reality. But making it a reality is the hard bit, and the exciting bit."
As well as gearing up for Wimbledon this year — and his outside chance of following in Andy Murray's winning footsteps — Edmund has been working with Evian. Currently, he is backing the brand's focus on sustainability, an initiative that has been led by Virgil Abloh with the release of reusable bottles and dispensers and has seen the brand launch a 100% recycled plastic bottle at Wimbledon. "It's quite noticeable how things can be done in tennis," he explains when asked about this. "There's always a joke on tour when you go on practice courts and how much rubbish is left there. It's amazing the amount of stuff that's left. There's definitely something that can be done there."
With Wimbledon about to begin, he's aware of what it would mean to do well on home turf. "Being the British Number One at Wimbledon is a great feeling, everyone is always looking for a winner this time of year," he adds, "last year was the first time I had it. I got really good support, I had the crowd with me and it was a great experience." After 2018's breakout, though, Edmund is still wanting more. "Whenever you have a big experience like that moment," he says of Wimbledon, "it motivates you a bit more. It makes you a bit more hungry because you got it, but right now it's just a thought, it's not a reality. But making it a reality is the hard bit, and the exciting bit."