Evian Showcases the Virgil Abloh-Endorsed Renew Dispenser in Action
The brand's latest sustainable initiative.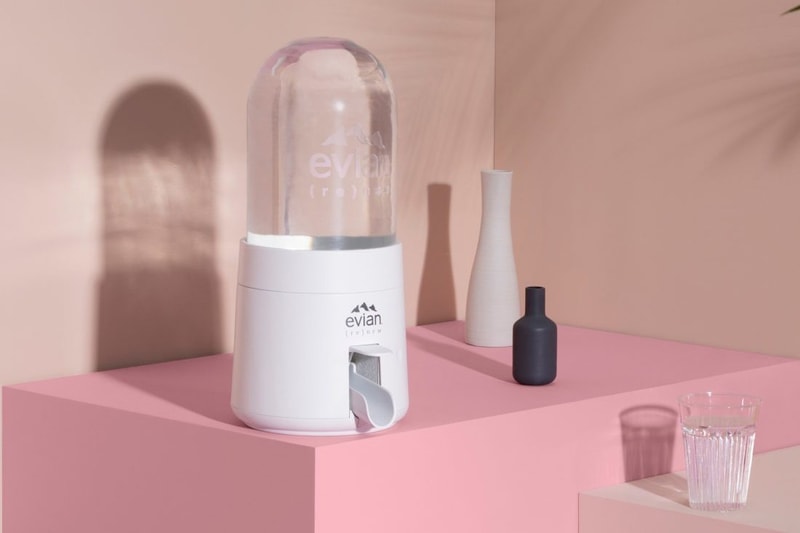 After releasing a series of reusable water bottles, Evian and its recently-appointed Creative Advisor for Sustainable Innovation Design Virgil Abloh have unveiled their latest project. The new Renew water dispenser features a 5 liter "bubble" jug that collapses as it is used. The Renew dispenser jugs each use 66% less plastic than a normal 1.5L bottle, and they come constructed from recycled plastic.
Following on from the initial announcement of the dispenser last week, Evian has now released a number of clips showing how it works. The short videos show the way in which the plastic "bubble" jug shrinks as it is emptied.
The Renew dispenser is yet to have a wider release date confirmed, although 200 people in London and Paris will receive a dispenser as part of a pilot program beginning in May. The launch of the dispenser is the latest stage in Evian's attempt to become an entirely circular brand by 2025.
Announcing the new project, Virgil Abloh explained that he has "always been inspired by great design and how it can shape our lives, which is why I'm excited to see Evian pushing the boundaries with the design of this disruptive new product that will transform the way we drink Evian water at home." You can watch the Renew dispenser in action below.
For more from Virgil Abloh, take a look at the full Off-White™ collection of rings, bracelets and earrings.