G-Shock Releases MR-G Watch Inspired by Traditional Japanese Swordsmith Techniques
Hand-inscribed by the swordsmith Sadanobu Gassan.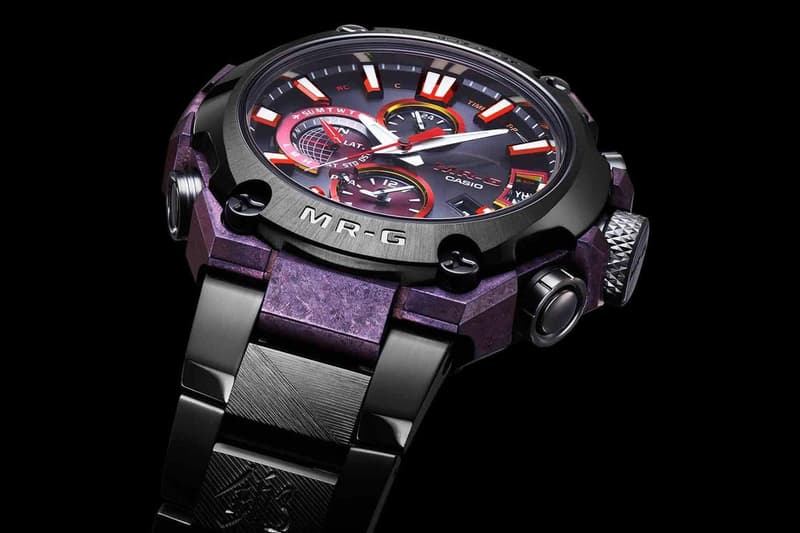 G-Shock has released a limited-to-300 MR-G G2000GA watch that is inspired by the Gassan tradition of Japanese swordsmiths. Sadanobu Gassan — who is continuing the 800-year-old tradition — has applied detailing to each link by hand inspired by the "Yasuri-me" technique, which leaves rasp masks for grip on the sword's handle.
Sadanobu Gassan is the director for the All Japan Swordsmith Association and has won numerous awards for his skills in traditional sword making. For his partnership with G-Shock, the craftsman took on the technical MR-G watch and inscribed traditional Kanji graphics on its brushed black metal wrist strap.
The case is made from recrystallized titanium, a material which replicates the crystal formation of the temper line on a blade of a traditional Japanese sword. An Arc Ion Plating is then applied to the case, giving the watch a deep purple finish which is associated with nobility in Japanese culture. Finally, G-Shock adds a bezel made from COBARION 2 — a cobalt-based metal which can be polished to a mirrored sheen — which features a sword-inspired bevel.
The G-Shock MR-G comes equipped with radio wave time-calibration signals, GPS satellite signals, and Bluetooth which is used to accurately measure time zones around the world. The MR-G G2000GA is priced at £6,500 GBP (approx. $8,300 USD) and is available to purchase on G-Shock's website and at its Carnaby Street, London-based store.
In other news, Seiko has given its Prospex watch a "Twilight Blue" makeover.