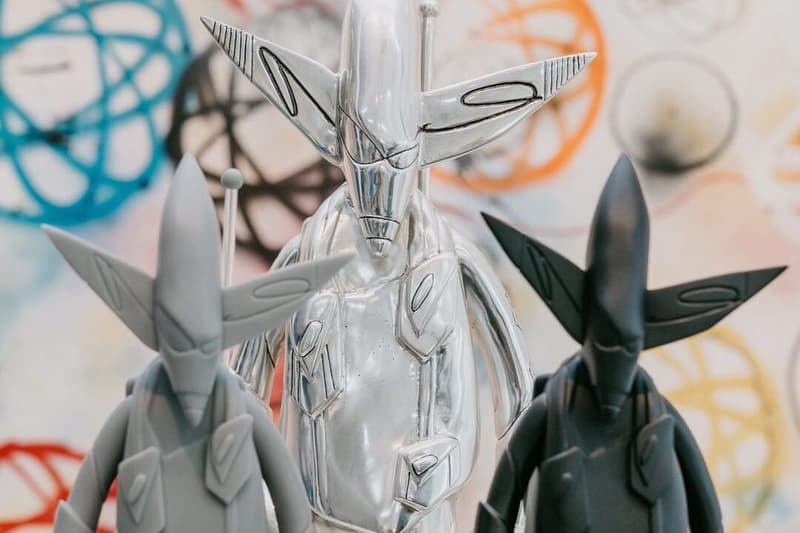 1 of 2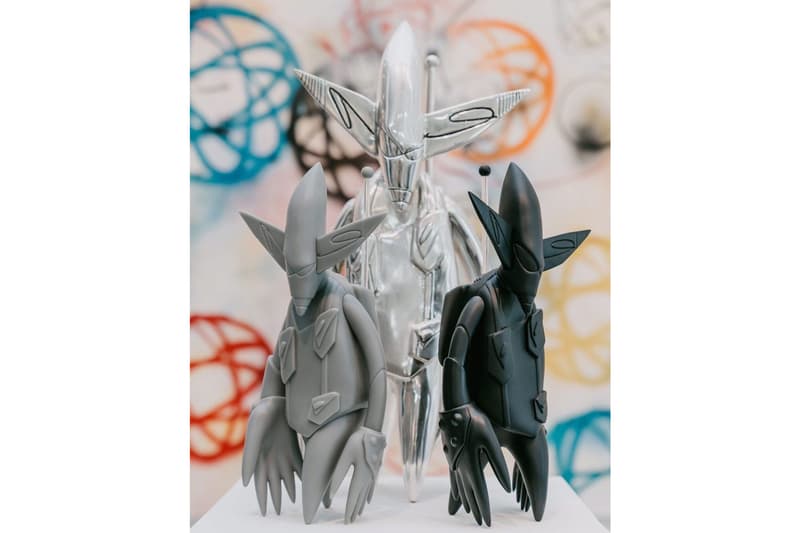 2 of 2
Best Art Drops: Futura 'FL-001' Sculptures, Yasiin Bey x Dragon76 Artwork & More
Including 'Two Men Sporting Waves' lithograph by Hebru Brantley and Print Them All.
---
Every week we spotlight the best art drops by notable artists, galleries, museums and contemporary art platforms across the globe. Listed items typically encompass limited edition artworks, prints, collectible figures, collaborative merchandise and more.
For this week's installment: Futura's long-anticipated FL-001 sculptures release at MCA Chicago, Japanese artist Dragon76 releases original artworks ahead of "COEXIST" exhibition at The Compound, Hebru Brantley teamed up with Print Them All on limited Two Men Sporting Waves lithograph, Tristan Eaton drops new studio pieces, and Studio Arhoj launches new Brick ceramic sculpture series.
View the list below.
Futura Drops 'FL-001' Sculptures Exclusively at MCA Chicago
Release Date: Available exclusively at MCA Chicago
Release Price: Vinyl figures $350 USD and metallic sculpture $30,000 USD
In the past couple of weeks, Futura hinted new versions of his anticipated FL-001 sculptures portraying the legendary artist's Pointman subject. Now, HYPEBEAST received exclusive word that the collectible figures (grey and black) and metallic sculpture will be available for purchase exclusively at MCA Chicago to commemorate Virgil Abloh's "Figures of Speech" exhibition. The FL-001, in all three versions, is now available exclusively at the museum in partnership with the public opening of "Figures of Speech." Head to the "Church and State" gift shop within the museum, to shop these items and other offerings—printed matter, apparel, and editions.
MCA Chicago
220 E Chicago Ave
Chicago, IL 60611
Dragon76 Reworks Yasiin Bey's 'Black on Both Sides' 1999 Album
Release Date: Available on The Compound's website
Release Price: $2,500 USD
Ahead of his forthcoming "COEXIST" exhibition at The Compound gallery in The Bronx, Japanese artist Dragon76 drops a slew of original artworks on the gallery's website. One of the standout pieces is the artist's reimagining of an iconic album by Yasiin Bey, formerly known as Mos Def. Envisioned alongside Bey, Dragon76's painterly twist on the 1999 album artwork Black on Both Sides features his signature cyberpunk motifs in vivid tones across the rapper's famous portrait.
Compound Gallery
2422 Third Ave.
Bronx, NY 10454
United States
Hebru Brantley & Print Them All Unveil 'Two Men Sporting Waves' Lithograph
Release Date: Available on Print Them All's website this June 12 at 12 p.m. EST.
Release Price: $1,646 USD
Hebru Brantley and Galerie des Bain are releasing a new lithograph edition via Paris-based Print Them All. The artwork was inspired by an original painting entitled Two Men Sporting Waves that first made its debut at a solo show at the Geneva gallery called "Then There Were Two." The subjects observed feature a pair of black males with ocean waves for hair and set against an ambient backdrop for a surrealist effect.
Tristan Eaton Release New Studio Artworks
Release Date: Available now
Release Price: Contact AARON@ATRBUTE.COM
Acclaimed visual artist Tristan Eaton just took to Instagram to announce new studio works. Largely taking inspiration from magazine covers, the latest offering is comprised of original pieces spotlighting the artist's signature montage composition and illustrated portraiture. One of the works is a round-shaped (tondo) artwork that features letterforms and geometric shapes.
Studio Arhoj Launches 'Brick' Ceramic Sculpture Series
Release Date: Available now on Studio Arhoj's website
Release Price: €50 EUR (approx. $57 USD)
Studio Arhoj recently unveiled a new ceramic sculpture series entitled Brick. The latest range is part of the Copenhagen-based imprint's upcycling project that involves using old bricks from Danish buildings and transforming them into works of art. The low-fired pieces arrive in varying tones and feature the label's quirky cartoon eyes.