Nike Air Force 1 "Puerto Rico" Axed After Backlash
The design actually derived from the Guna people of Panama and Colombia.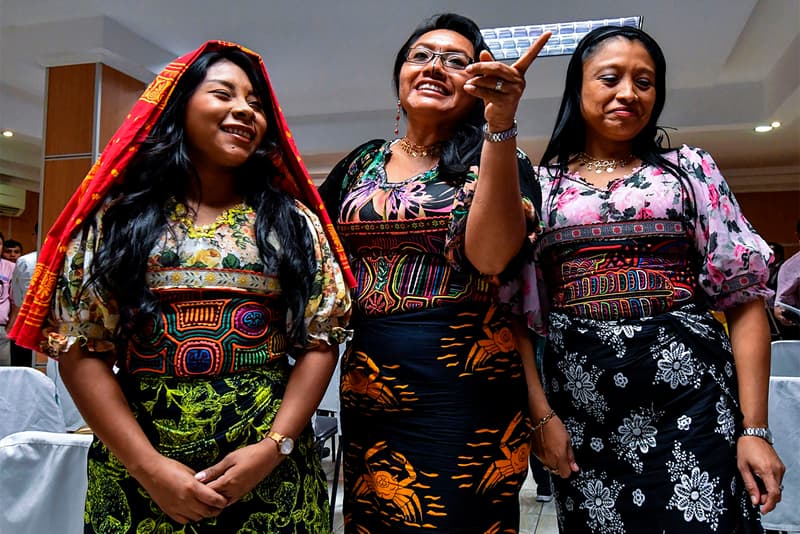 The Nike Air Force 1 "Puerto Rico" has been axed, according to reports from Le Monde, following a backlash over intellectual property infringement for its authentic design. However, the design which Nike sold as a Coqui frog-inspired tribute to Puerto Rico, is actually a pattern called Mola, which is designed and celebrated by the Guna people of Panama and Columbia.
Complaints from Indians in Panama lead to Nike releasing a statement, saying "We apologize for the inaccurate representation of the origin of the design of the Nike Air Force 1 'Puerto Rico' 2019. As a result, this product will not be available."
For the Guna people, the Mola is like a flag and is a very strong expression of their identity. Aresio Valiente, a lawyer involved in the case, said at a conference in Panama City on May 21, "There is already damage to our image, to our design, to our mola. We are not going to wait for it to be thrown away, we have to seek compensation." The design can be seen on the dresses of the native Guna women who spoke at the press conference, pictured above, in Panama City this week.
The traditional Guna leader Belisario López said in a statement that they were not against Nike's commercialization of the Mola, but wished it hadn't been "done without consulting us first." The shoe will not be releasing on June 6 as it was previously scheduled for.
In other Nike news, Virgil Abloh recently gifted Serena Williams a pair of Off-White™ x Nike Air Force 1's in "University Blue."
@Nike Guys, these are cool sneakers, and I get the reference to the Coquí frog, but this pattern and design are NOT from Puerto Rico!

It's a design called MOLA, made by the Guna people in Panama and parts of Colombia.

It is a HUGE failure of your research departament. pic.twitter.com/NsgUrRiYAM

— Isaac Larrier (@IsaacLarrier) May 16, 2019