8 Drops You Don't Want to Miss This Week
Featuring Palace, Supreme, Chanel and more.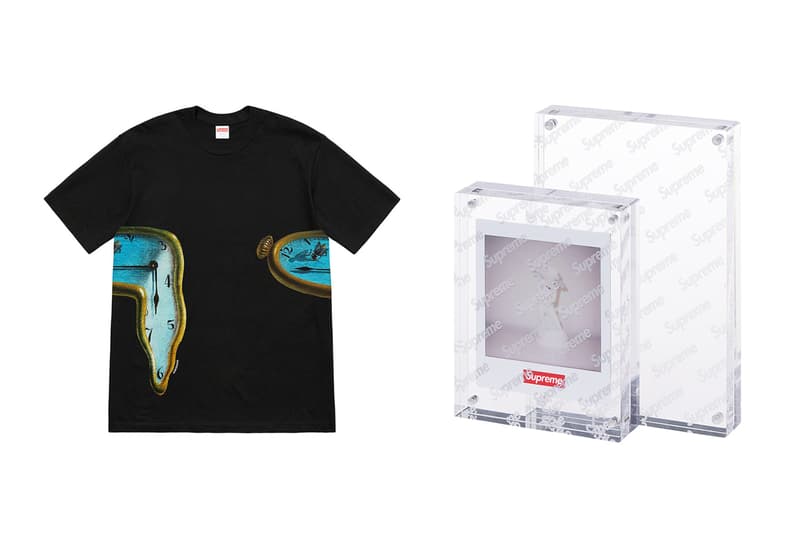 This week's installment of our product drops series is led by a selection of spring T-shirts from Supreme and the sixth delivery of its Spring/Summer 2019 collection. The notable drops include eight releases comprised mostly of collaborations, seasonal ranges and some eyewear. Between Supreme's Week 6 capsule and Palace's Week 7 assortment, this week we have an impressive array of street staples accompanied by some notable accessories.
Collaborations come in the form of a hand-dyed capsule from Brain Dead and Slam Jam with THUNDERBOLT PROJECT BY FRGMT & POKÉMON's newest release at Dover Street Market, while Chanel Pharrell will definitely be a standout team up of 2019. Awake NY's Spring 2019 collection is comprised of hoodies and T-shirts that reimagine the label's signature logo and celebrate former first lady Michelle Obama. This week we also receive debut sunglasses releases from Blondey McCoy and RHUDE in collaboration with Thierry Lasry.
Key items this week include Supreme's Acrylic Photo Frame, the "Palace Hardware" Zip-Up Hoodie, Chanel Pharell long sleeve T-shirt and Polished Champagne Blondey Sunglasses.
RHUDE x Thierry Lasry RHODEO Sunglasses
Moving beyond its usual clothing offerings, RHUDE recently teamed up with eyewear purveyor Thierry Lasry to create a new line of eyewear.
Available in eight distinct colorways, the RHODEO sunglasses serve as an exaggerated take on the classic round frame. Each pair of eyewear is made by hand in France with solid Mazzucchelli Italian acetate to express an unmatched level of quality. Notable colorways include the understated black acetate with black lenses, black acetate with rose lenses and the honey acetate with green lenses.
When: Now
Where: RHUDE, Thierry Lasry & The Webster
Brain Dead x Slam Jam Hand-Dyed Capsule
Brain Dead and Slam Jam have joined forces yet again, this time on a trio of paint splatter-designed garments. The capsule encompasses a T-shirt, hoodie and sweatpants that have all been stamped with co-branded logos, as well as illustrations by artist Jason Wright. Doodle-style drawings on the items include the likes of a dog wearing a hat and smiling wheels, while zebra stripes and leopard print make up bold patterns inside of the branded emblems. The sweats in the range are grounded with a black base and the tee is offered in crisp white for a cohesive head-to-foot look.
When: Now
Where: Brain Dead
Blondey Sunglasses
Famed skater turned artist/designer Blondey McCoy recently released a range of notable sunglasses.
Produced in limited quantities, the handmade "Blondey" frames channel British artisanal eyewear with a traditional riveted 5 barrelled hinge design. Each pair is constructed of fine Italian acetate using old school manufacturing techniques. The frames are available in Polished Dark Havana Tortoise paired with Verona green lenses, Polished Champagne fitted with pink Lenses and classic Polished Black complete with yellow lenses.
When: Now
Where: blondey.com
Awake NY Spring 2019 Capsule Collection
Awake NY has unveiled a spring 2019 teaser capsule, infused with graphics that reference the brand's logo as well as the iconic graduation portrait or former first lady Michelle Obama. The range is anchored in T-shirts and hoodies across a vibrant color palette that includes neon green, salmon pink, tie-dye and yellow. An updated "Distorted" logo is focal to the majority of pieces in the range, while Obama's picture is featured as a prominent image on shirts that have been accentuated with her trademark phrase, "When they go low, we go high." A variety of "dad" caps in different colors offers a matching accessory to round out the assortment.
When: Now
Where: Awake NY
Chanel Pharrell
Chanel and Pharrell have fully revealed their highly-anticipated collection, "Chanel Pharrell," showcasing a number of luxe co-branded apparel pieces, accessories and footwear. A primary palette including yellow, red, blue and green sets the foundation for casual-leaning items such as hoodies, T-shirts and even a bathrobe. Diamond-encrusted jewels and bucket hats offer elevated options for completing the outfits, while sneakers, loafers and slides provide both relaxed and dressy choices for the looks. Large logo-emblazoned shopper bags finish off the mix.
When: April 4
Where: Chanel
Supreme Spring/Summer 2019 Collection Drop 6
For Week 5 of SS19, Supreme stepped away from collaborations to release a series of Spring T-shirts accompanied by another range of standout streetwear staples. The nine new tees reference previous releases and some obscure skate references that really embody the aesthetic of Supreme.
Sure to be sought after items from the Spring tee collective release include the Meissen Hand-Painted Porcelain Cupid Figurine T-shirt, Persistence of Memory Salvador Dali T-shirt and classic Ghost Rider T-shirt. Drop 6's accompanying range is led by the Reaper Work Jacket, Velvet Flight Pants and Chest Stripe Logo Hooded Sweatshirt. This week's boldly branded accessory comes in the form of a customizable Acrylic Photo Frame.
When: April 4
Where: Supreme Online & Retail Stores in NY, Brooklyn, London, France & Japan
Palace Spring 2019 Collection Drop 7
Continuing its Spring 2019 releases, Palace put together yet another selection of uniquely British streetwear to drop this week.
Keeping things light once again, the standout items from the drop include the Triferg back graphic emblazoned Reversible Overlay Bomber Jacket and "Palace Hardware" zip-up hoodie. Other sure to be coveted selections include the two-tone Batton-Berg Knit Sweater, the sporty P Line Racer T-shirt and Palace Jeans graphic PJ Box T-shirt.
When: April 5
Where: Palace
THUNDERBOLT PROJECT BY FRGMT & POKÉMON Dover Street Market Release
The THUNDERBOLT PROJECT BY FRGMT & POKÉMON has been unveiled by designer Hiroshi Fujiwara and the graphic-heavy collection sees T-shirts and hoodies plastered with iconic characters and symbols from the popular anime. Illustrations of Pikachu, Eevee and lighting bolts are highlighted on all-black pieces, with gray and yellow shades on the drawings providing the only pops of color throughout. A keychain version of the Pikachu Mascot adds a small trinket to the limited range, rounding everything out.
When: April 6
Where: Dover Street Market Ginza wider release at other DSM locations shortly after