Stephen Malbon Is Combating Golf's 'Old White Man' Problem
Malbon Golf's founder talks about the future of the sport ahead of this week's Masters Tournament.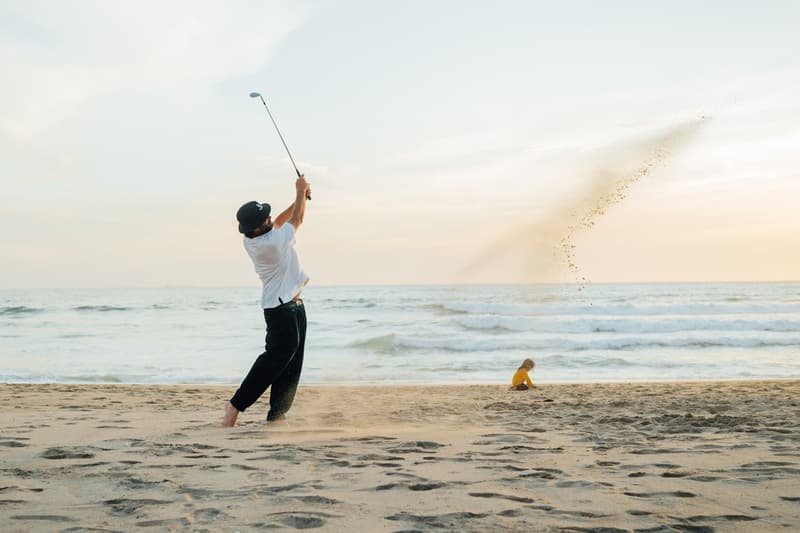 For most of those already with a stake in golf, the future of the sport appears promising and, more importantly, lucrative. For professional golfers, the purse sizes, endorsement deals and accommodations haven't been better; for fanatics and casual fans, the mixed field of young and veterans players–including Tiger's magnificent return to form–has made pro-golf as exciting as ever. And for the big corporate sponsors, clubs and tours, revenue and participation are on a slow but steady rise since America's last economic recession.
It's the last metric, participation, that has many insiders across the board worried about golf's future, with its fate lying in the hands of one demographic: millennials. The growth within this group has remained steady, but for many of them, golf is still time consuming, inaccessible and expensive, especially when compared to fast-paced sports like basketball and soccer. As a result, the golf world is doing whatever it can to balance these shortcomings and drive excitement to the sport, from off-court facilities like Topgolf, to last November's head-to-head match between Woods and Mickelson.
The biggest deterrent with this group however is golf's "cool" factor, or rather lack thereof. Golf's widely-known 'old white man' problem is deeply ingrained in the sport — Augusta National, where this weekend's Masters will be held, only admitted its first black member in 1990, and its first ever female member in 2012. With its ridiculously-expensive and exclusionary clubs clubs, often in the affluent part of town, and draconian rules, such as dress codes, golf is a leisure activity tied to the privileged. Millennials see this and, being the most conscious consumers in the market, as Anya Alvarez states in her 2017 Vice Sports piece, it's hard to imagine them getting past these factors.
"The fashion side has always been in golf, it's always been heavy. You use to see JFK wearing Ray-Ban locs with a popped-collar polo, Gucci loafers and some motherfucking khaki shorts; like he's doing it."
So what's golf to do, when it's seemingly doing all that it can, and yet its surrounding culture is still considered old, stiff and entitled? For Malbon Golf founder Stephen Malbon–the Stephen Malbon behind streetwear's favorite book, Frank151–the answer starts with fashion. "The fashion side has always been in golf, it's always been heavy," says Malbon. "You use to see JFK wearing Ray-Ban locs with a popped-collar polo, Gucci loafers and some motherfucking khaki shorts; like he's doing it."
Malbon Golf, cofounded by Stephen and his wife Erica, began as an Instagram handle showcasing the cooler, streeter side of the sport. After grabbing the attention of longtime Frank151 collaborator Nike, Stephen began consulting with the Swoosh's golf division on various product and marketing initiatives. Then in 2017, Malbon Golf opened its first shop on Fairfax Avenue, right in the heart of Los Angeles's iconic streetwear scene. Since then, the white-walled, art gallery-like shop has become a hotbed for those seeped in the various realms of street culture, including Eric Koston, Schoolboy Q, Keith Hufnagel, and many more, all of whom love the sport.
When we asked Malbon why the youth tag golf with the dreaded "lame," he simply said "They think it's lame because it is lame." He then paused for a moment and clarified that the sport itself isn't lame, it's "the greatest game ever," but kids aren't seeing anyone like them out on the course. "There's been no one in golf, other than Tiger Woods, that makes kids want to do it."
"[Golf is] deprived of the soul, and [pro-golfers] don't notice it because they grew up only in that world, so they can't help a kid who's into sneakers and skateboarding."
Stephen goes on to explain exactly why the worlds of skateboarding and street basketball are so much more inviting, citing his days producing skate videos and And1 basketball mixtapes. "The reason they were so cool, and still are, was because you get to see these five dues in a van traveling to go hoop or skate or snowboard, and the culture is in that van," he tells us. "The culture is not just the Mountain Dew Tour, where you don't get to see skaters fucking off in Paris, trying to make out with some French chicks, 'cause your friend would've done that–we all have a friend that's that guy. None of that exists in golf. Golfers aren't rockstars because they're not accessible or relatable to young people."
Even if they did possess this rockstar personality, pro-golfers are so absorbed into the sport and their careers that they don't see where it's failing, or how they're failing. "To them, it's perfect because they grew up in that privilege situation where they've been around it so long that they don't know there's a culture out there." Stephen adds, "It's deprived of the soul, and those dudes don't notice it because they grew up only in that world, so they can't help a kid who's into sneakers and skateboarding."
Malbon is aiming to bridge this gap between the PGA Tour and "van culture." His most recent project–Schoolboy Q starring in a Golf Digest photoshoot by Atiba Jefferson–serves as a clear example of what needs to happen. "That dude's from South Central Los Angeles, and he's not hiding who he is or who his friends are. So the fact that he's at the Riviera Country Club playing at a pro-am tournament, that's a big fucking deal. But it takes more of that, and it takes Q to say 'look, I'm not wearing my hat a certain way or talking a certain way, I am who I am, I'm wearing gold teeth, I'm wearing my hat backwards, and I'm fucking poppin' on the course,' and that's okay."
"You don't have to be a dork or lame because the sport's lame. The culture of the sport is lame, not the game. The game is fun as fuck."
Which leads us back to Malbon Golf, an apparel and equipment line with streetwear roots and sportswear sensibilities. The brand's goal is to make golf attire much more versatile and appealing for a younger audience; gear somebody can wear on and off the course. And it's not just skate-inspired graphics and tie-dyes, but also working with partners like Nike on redefining silhouettes. "Nike makes Jordans and Air Maxes for the course and all these golfers wear them with slacks, so it makes them look like assistant coaches on college football teams; the silhouettes don't lock up to the gear. So what we're doing is making stuff like a mesh polo to wear with some Jordans and basketball shorts, or running, athletic shorts to go with the Air Maxes."
Now that their passion project has turned into a viable business, Stephen and Erica are looking to spread their message throughout the worlds of golf and culture. Soon, Malbon Golf will be stocked in some of the most respected clubs around the world, while it also has plans to build on its list of collaborators with Lyle & Scott and Callaway, in addition to strengthening its existing relationship with Nike. Stephen also expressed an interest in returning to cinema with a nine-part documentary that follows nine different people within golf's budding culture currently being discussed.
When it comes down to it, the message Malbon is working to spread is clear. "You don't have to be a dork or lame because the sport's lame. The culture of the sport is lame, not the game. The game is fun as fuck."