Here's What to Do This Earth Day Instead of Shopping
We've asked industry experts for their tips on Earth-friendly activities.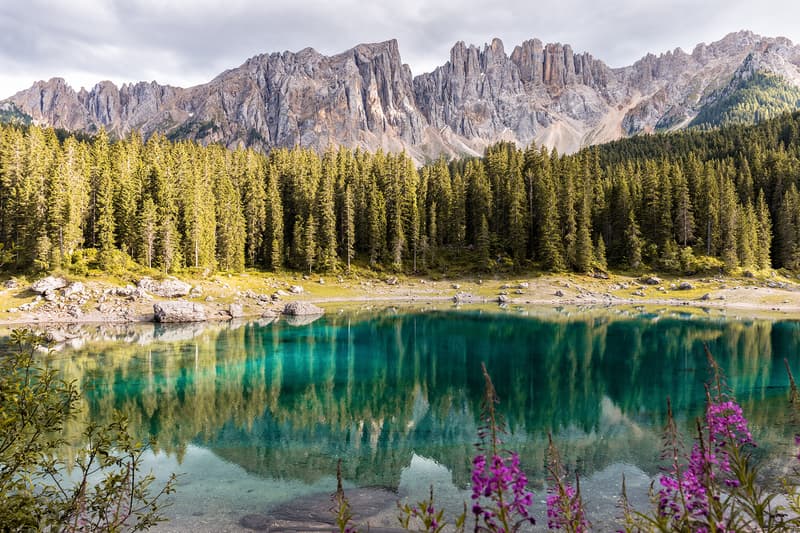 Earth Day is the time to celebrate our planet — which, as we march towards a shaky future, is more important than ever. Today is the perfect day take a moment to smell the roses and enjoy the natural benefits of this humble orb as it flies us all through space. But besides planting a tree, what else can you do to help the planet on this crucial day?
To help you get into the spirit, we asked fashion industry insiders and artists who are committed to following sustainable and ethical practices to offer up their suggestions for a proactive, positive Earth Day experience.
Dao-Yi Chow, Creative Director and Co-Founder of Public School
Get off the grid. Get back to nature. Turn your phone off, turn your lights off. Don't eat any meat. Don't use any single use plastics. Talk to as many people face to face [as you can].
Maxwell Osborne, Creative Director and Co-Founder of Public School
The one day a year you can be a better version of yourself for our future's sake. Challenge yourself to avoid using anything plastic, get some friends together, turn off your phones, and take advantage of everything nature has to offer
---
Woodie White, Creative Director of Oyster Holdings
Redefine the concept of "fresh." Fresh air. Fresh outdoors. Fresh perspective.
---
Jaimus Tailor, Artist and Founder of Greater Goods
Salvaging unwanted materials and repurposing them to make something new. The process of collecting unwanted or disused materials and repurposing them into a completely different product is an amazing way to be resourceful, reduce waste and most importantly be sustainable. Some examples may be finding a wooden pallet and trying to re-create it into a piece of furniture, or cutting up an old jacket to make pencil cases or small pouches. The only limit is the materials you find and your creativity.
---
Borre Akkersdijk, Co-Founder and Creative Director of BYBORRE
I will be going to the beach and [walking] in the dunes near Den-Haag. But for the bad weather types Netflix just treated us with Our Planet!
If you're more [of a] culinary person you can always go to your nearest vegan restaurant. A really nice one in Amsterdam is Yerba, from the same guys that founded High Cuisine.
---
Sean Conway, Sneaker and Streetwear Expert at The RealReal
One of the most sustainable things you can do is give those pieces a new life and keep them in circulation by consigning them. My personal rule is if I haven't worn something in a year, unless it's a grail piece I'm keeping for my collection, it's time to consign it. Someone will make the sustainable move to buy it resale, and I can save the money I make for the next thing on my wishlist, like the Nike x sacai Snow Beach Blazer High's or the Nike SB Dunk High "Walk the Dog."
---
Reese Cooper, Founder of Reese Cooper
One thing I've been doing is hosting an arts and crafts day with some friends in LA and re-working old T-shirts and hoodies with fresh screen prints or tie-dyeing to experiment and give them a fresh new look. Instead of shopping for something new, I would recommend giving an older garment a second life by doing the same, and make it more fun by doing it with a group of friends.
---
Rose Marcario, President and CEO of Patagonia
The biggest question I get from our community and customers is, "What can I do to save the planet?" [The Actionworks] platform makes it easy to connect with organizations in your neighborhood who are working every day on local issues. We have decades of experience with these groups, and our collective grassroots actions can add up to the change we need to make a better world. With the threats we face, we need everyone in this fight.
Lisa Pike Sheehy, Vice President of Environmental Activism at Patagonia
If we could connect our community, friends and customers directly with local groups working on issues they are passionate about, suddenly these organizations would have the capacity to achieve even more. Everybody has a role to play in this movement.
---
Keith Hufnagel, Founder of HUF
Recycle. Plant a tree. Pick up some trash. Go skate.
---
Phoebe English, Founder of Phoebe English
On World Earth Day, sign up to Extinction Rebellion to help support the pressure on our governments to declare and act urgently on the climate and ecological emergency we are in. Switch your energy provider to a sustainable energy provider such as Bulb or Octopus. Do not eat meat, go vegan for one day. If each of us did that for one day a week it would make a huge difference worldwide. Do not buy new clothes or new shoes, repair an item or take to the cobblers a pair of shoes you already have.
Walk into a large supermarket and stare at the shelves and shelves of plastic packaging and remind yourself why you must take direct action and make direct urgent changes to your own shopping habits, because nothing is changing fast enough. Walk into a forest with your phone switched off or into a large park when it's too early to have many people in it, look at the plants, smells the trees, hear the birds communicating with each other and stare at the sky to remind yourself why you must make these direct changes to the way you interact with the planet. Remind yourself that no government is going to save us, their political systems are not designed for an emergency of this kind, the solution now rests with us as active citizens and individuals radically redesigning the systems that we live in.
Union LA
We've been brainstorming what one could do in Downtown Los Angeles. Why not start off with taking the Metro? LA's transportation system is definitely on the rise so we as Angelinos might as well start getting use to it now.
Public transportation will drop you off right outside The Broad which always has solid exhibits. If you decide to head southeast, swing by the Flower District. Mother's Day is around the corner so you can start planning ahead of time. If you're on the westside of town, check out the Charles and Ray Eames House in the Palisades — great place to decompress and observe historical architecture and design.
---
Brendan Fowler, Artist and Founder of Some Ware and Election Reform!
There are so many parks here, but this is just to say, regardless of where you live, there are parks somewhere near you —- like, for sure urban parks but I mean also proper "outdoor places" — and even if it's a drive or a sequence of bus rides or subway rides, I really encourage you to start trying to explore them. If you have one friend with a car and you can coordinate a few hours off from work or school, even better. Again, I know it may seem obvious, but really I wish someone would have told me this when I was in my early twenties.
Also every day is Earth Day, it's the only one we have and please look into the massive bee die-off and realize that we need to speak up against Monsanto and the pesticide lobby because once the bees are gone we are fucked. And I don't believe that we are already fucked with this and all the other stuff, I think we can change course, but we have to actually change it.
---
Advisory Board Crystals
We'd say to make a commitment to yourself to use fewer single use plastics. Buy a reusable water bottle. Buy a water filter. Understand why plastic is harmful not only to the planet but also to your body. And for those that do, stop using weed killer and know that Monsanto is now Bayer.
---
Snow Peak
Earth Day is the perfect time to give back to our planet and communities. Instead of shopping, sign up for a local clean-up or volunteer at your favorite environmental charity. Every year we participate in a group clean-up by SOLVE Oregon or tree planting by Friends of Trees. It's great to use this holiday to give back to our planet but don't limit your good intentions to just one day -– make it a habit to help.
---
Sonya Sombreuil, Artist and Founder of COME TEES
I'm big into having plants, but I like to start them from cuttings. Instead of buying a succulent, walk around and collect "plantlets" or "offsets" which have sprung up from the mother plant. A lot of times these fully formed mini plants root off of an adult succulent. You can also remove a florette or single branch or leaf (in the case of jade plants for instance). Allow the cutting to dry for one to two days so that the bottom can form a callous, then stick it in some soil and after a week or so it will grow roots.
Dying and altering your clothes. Instead of buying something new, take something from your closet and chop and screw it. A safe bet if the fiber content is cotton is to dye your clothes. I love tub-dying and some off-the-wall form of tie-dying. Dharma Trading Company's Fiber Reactive Procion Dyes are the best of the best and they have great instructions on how to use them.
[Make] sun pickles. I love fermenting stuff, but this is basically a hack to make really bomb and still crunchy dill pickles. Sterilize a large mason jar by covering it in a pot with water and bringing it to a boil. Fill the jar with small cucumbers (or cut the cucumbers into spears or slices), a few garlic cloves, some dill and if you like you can add onion or jalapeño. Prepare a brine that is basically a two-to-one ratio of water and white vinegar with a bunch of kosher salt (as much salt as the water will absorb). Pour this into the jar, put the lid on it, leave it in the sun for three to four days. You can lightly shake the jar once a day to move things around but basically it takes about 15 minutes of labor and you get a jar of homemade dills.
---
Abasi Rosborough
Sell your old clothes at Beacon's Closet or Grailed. Send us your old suits — help a man in the New York area get back to work, and get a discount on Abasi Rosborough. Plant a tree in those old Jordan 1's that are too beat up to wear, but you just don't have the heart to get rid of. If you can't stop shopping, try secondhand — 10ft Single in Williamsburg, Reuse America in Bushwick, Tokio 7 in East Village.
---
Everybody World
We love Descanso Gardens, an amazing place to eat a light marijuana edible and appreciate the creativity and effortless perfection of nature. Skip the big box supermarkets for as long as possible and do all local farmers markets and mom & pop shops. We like Hollywood, Santa Monica and Silver Lake Farmers Markets and any of the Hispanic grocers in our neighborhoods (MacArthur Park and South LA). Take the metro (red or purple line) to Westlake/MacArthur Park and see free evening concerts at Levitt Pavilion all summer long. Lay on the grass and watch the sun set from Barnsdall Art Park surrounded by the architecture of Frank Lloyd Wright. Take a hike. We go to the pond at Debs Park. Eat delicious vegan Ethiopian food at Messob on Fairfax.
---
Sam Lambert, Co-Founder of Art Comes First
Spend your day outdoors, Go for a bike ride with friends in the city with stickers saying "Fuck cars, ride bikes." Go vegan and support your local farmers market and buy some fruits and vegetables, start a challenge on Instagram about the spirit of sustainability to get everyone to post a plant or a flower they have at home or work place and to name it. And please tag celebrities too!
Shaka Maidoh, Co-Founder of Art Comes First
Rome was not built in a day so I will say keep it simple, start with self today and gradually learn more and become more active. Here are ideas and experiences that got me started: Reduce household energy by half flush on toilets, hang cloths to dry instead of using the dryer, turn off appliances that are not in use. If it is warm enough, open windows to allow air in instead of turning on the air conditioner. Rely less on cars, perhaps rent a bike and cycle round, use local buses and if you have to use a taxi or Uber, share with friends, use carpool or vanpool. Share! When you buy an item consider the life expectancy, how long will it last, can you use it more than once? Invest on reusable items that you use often. Eat locally and recycle as much as possible
---
Elijah Funk, Co-Founder of Online Ceramics
On Earth Day one major thing you could do to work towards a more sustainable lifestyle is to consider your diet. A wonderful thing to do today rather than go shopping, as the clothing industry, particularly the "fast fashion" approach is incredibly wasteful and toxic to the environment, is to cook locally-sourced, plant-based vegan meals with people you love. A plant based vegan diet helps reduce your global impact dramatically. The meat and dairy industry are incredibly wasteful of water and agriculture- starving our fellow humans to sustain our comfort, while also being incredibly toxic to the air with insane amounts of carbon emissions.
Alix Ross, Co-Founder of Online Ceramics
Take time to buy direct from your local farmer! Sign up for your local Community Supported Agriculture. LocalHarvest will connect you with the closest organic farm to you! Love your farmer. And, if you're in Southern California, go plant some trees with Tree People. They're so much fun to hang out with and we always bring a yummy lunch for a picnic after we're finished planting trees for the day.
---
Saeed Al-Rubeyi, Co-Founder of STORY mfg.
This Earth Day, instead of spending money spend some time. I know it seems cliche, but we really value our time spent chilling — although that doesn't necessarily mean being crumpled in front of a screen. We love taking a walk — it doesn't really matter where it's to, but we find them incredibly inspiring and they're where 90 percent of our work gets done (walking has been proven to increase brain activity in the creativity centers). If you aren't able to get out, cooking is also an amazing meditative task — and you can earn extra Earth Day points by making something plant-based.
---
Tim Bantle, Global General Manager of Lifestyle at The North Face
On Earth Day, we want to encourage people to disconnect from their digital lives so that they can connect with each other and the world around them. As a brand, we see a need to inspire and enable exploration as a force for good and in order to protect our planet for the next generation of explorers, we need to take time to appreciate the earth and create meaningful connections in the present.
For the first time in The North Face's history, it will close all 113 stores in the U.S. and Canada on Earth Day to give employees the opportunity to explore out of the office and encourage others to disconnect. Visit Change.org to learn about The North Face's petition to make Earth Day a national holiday and sign it in support. Post on social media channels on Earth Day using #EarthDayPetition and encourage people to take time to disconnect and appreciate all Earth has to offer.