UPDATE: Paris Saint-Germain Pays Homage to Notre Dame With Special Jerseys
Worn during their match-up against Monaco.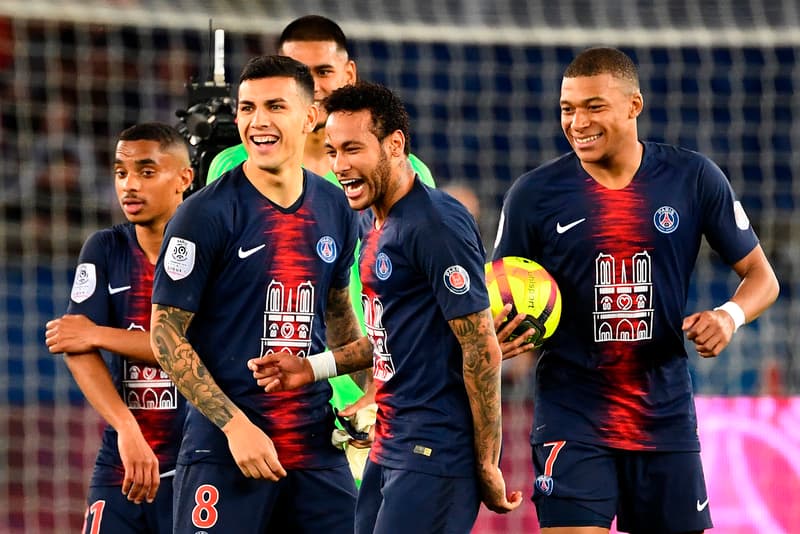 UPDATE (April 22, 2019): During Sunday's match-up against Monaco, Ligue 1 powerhouse Paris Saint-Germain wore special kits that paid homage to the fallen historical beauty Notre Dame. Showcased front and centre is a symbol of Notre Dame featuring a heart in the middle window. This specially made insignia replaced the kit's usual Fly Emirates sponsor logo, while on the back of each jersey "Notre Dame" was placed in lieu of each player's name.
The team was also originally reported to wear a special jersey made by Paris-based store Foot-Store, which can be seen in the original story below, however this new design took precedent. Check out the special jersey above and below and stay tuned to see if it hits retailers for fan purchase.
In more football-related news, Ruben Loftus-Cheek is breaking through.
Révélé par plusieurs sources et confirmé par @RMCsport voici le maillot "Notre-Dame" que les joueurs du PSG vont porter ce dimanche soir lors de PSG-Monaco. Un maillot collector car le monument remplace le sponsor Fly Emirates. #TeamPSG pic.twitter.com/hJRuksiw5c

— ParisTeam (@Paristeamfr) April 21, 2019
Le PSG portera un maillot Notre-Dame de Paris, dimanche face à Monaco. (@CNEWS) pic.twitter.com/Jf4bdIVseo

— Actu Foot (@ActuFoot_) April 18, 2019
« Le PSG notre club
Paris notre dame » pic.twitter.com/gNu7WuSz8h

— #Squad ✌️ (@Cartman1970) April 17, 2019
Original Story (April 17, 2019): Joining the likes of French tycoon Bernard Arnault and his LVMH luxury goods compnay, along with Pinault and Kering, one local Paris football shop is also trying to do its part in helping in the reconstruction of Notre Dame.
Known as Foot-Store, the shop is offering up special Paris Saint-Germain footy kits emblazoned with a golden Notre Dame motif on the front center chest, between the club's badge and Nike Swoosh, which will help to raise funds for Notre Dame. €10 EUR (approximately $11 USD) from each kit sold will be donated to the rebuilding efforts. The jerseys can be purchased now in store and over at Foot-Store's online shop, while supplies last.
PSG's Qatari owners have also confirmed all the funds will be going towards the rebuilding of the 850-year-old historical landmark which went up in flames on the evening of April 15, 2019 in Paris.
Bernard Arnault and his LVMH luxury goods group have donated €200 million EUR (approximately $226 million USD), while Francois Henri Pinault and his Kering luxury goods company have donated €100 million EUR (approximately $113 million USD).