What to Do in the UK This Week
All the best music, art and fashion events from March 8-14.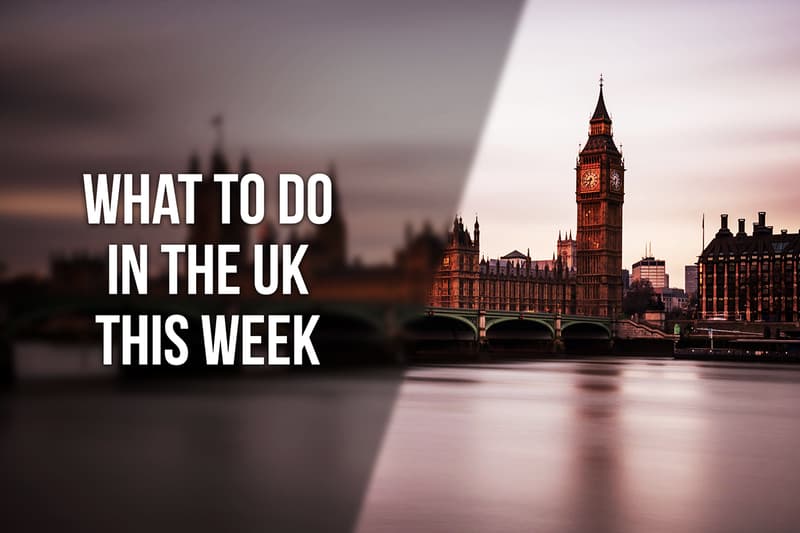 At a loose end for happenings in the UK for the next week? HYPEBEAST has plenty of options for you. There's more than enough happening this week, with a plethora of concerts from Drake, Post Malone and Nicki Minaj to rising stars such as Saba and local heroes Fredo.
There's also more than enough sample sales, new restaurants and exhibitions to visit while you're in the city. So without further ado, here's a list of happenings on the weekend of March 8 and beyond.
Music & Nightlife
Drake: The Assassination Vacation Tour
Where: Manchester Arena
When: March 10 & 11, 7pm
Drake continues his UK tour, this time stopping in Manchester for "Assassination Vacation." The rapper's love for the UK is well-known and a few special guests should be expected. As of right now, there's no solid news on whether he'll perform "Gyalchester" in the city.
THE NICKI WRLD TOUR FEATURING JUICE WRLD
Where: The O2 Arena
When: March 11, 6.30pm
Nicki Minaj's beleaguered tour has seen many ups-and-downs but it's finally here. Originally set to be with Future and then with Tekashi 6ix9ine, the tour will now be with Juice WRLD, who just released his latest album Death Race For Love.
Where: Cambridge Junction
When: March 11, 7pm
British rapper Fredo is also the midst of a tour, coming off the back of his debut album Third Avenue. Appearing in Cambridge, it's one stop of a multi-city tour that will go around the UK.
Where: Jazz Cafe
When: March 12, 7pm
Saba is a swiftly rising name, with his Care For Me album ending up on several best-of year-end lists in 2018. Now the musician will be appearing at the famed Jazz Cafe venue next week Tuesday where he'll be expected to perform songs from the aforementioned album and his previous album The Bucket List Project.
Where: The O2
When: March 13, 6pm
Post Malone continues his world tour, this time stopping in London. The star, who went from strength to strength in 2018, will be performing all of his hits from the previous year including the likes of the 21 Savage-featuring, "Rockstar."
Where: XOYO London
When: March 13, 7pm
Doja Cat scored big off her viral hit "Moo!" last year and now her star continues to rise as she releases a deluxe edition of her album Amala and features alongside Rico Nasty. It's likely she'll be playing "Tia Tamera" amongst her other songs.
Food
Where: 77 Berwick Street, Soho, London W1F 8TH
When: March 11
London is constantly host to new restaurant launches, the latest of which is the Fatt Pundit. The Indonesian-Chinese fusion restaurant focuses on momos (south Asian dumplings) as a key part of its menu, with a momo bar set up in order to allow customers to see how they're made.
Where: White City Place, 201 Wood Lane, White City, London W12 7TU
When: March 11
The second launch of the week is Shola Kitchen, opening in West London. Specialising in Karachi cooking from Pakistan, the launch sees chef Aida Khan graduate from supperclubs to her first official venue. Expect Naan Khatai, Chicken Hara Masala and Khattee Daal on the menu.
Art & Cinema
Tracey Emin: A Fortnight of Tears
Where: White Cube Bermondsey, 144-152, Bermondsey St, London SE1 3TQ
When: Open Until April 7
Tracey Emin's newest show has opened at White Cube Bermondsey and showcases the artist's work about sorrow, bereavement and heartbreak. The work was mostly influenced by Emin's mother's death, making for a sombre and heartfelt exhibition.
Where: Southbank Centre, Belvedere Road, London SE1 8XX
When: Open until May 6
The latest Diane Arbus exhibition focuses on the earliest part of her career as a photographer. Specifically looking at her time in New York between 1956 and 1962, the show looks at Arbus's talent of capturing her subjects in a heartfelt and honest manner.
Kader Attia: The Museum of Emotion
Where: Southbank Centre, Belvedere Road, London SE1 8XX
When: Open until May 6
Showcasing in the same Southbank venue as Diane Arbus, Kader Attia's work receives the retrospective treatment. Focusing on post-colonalism and the idea of "repair" for both nations and individuals.
Captain Marvel
Where: Cinemas Nationwide
When: March 8
The hotly anticipated film in the extended Marvel universe is finally here. Introducing Captain Marvel to the world, the film will be a look into how she came to be and why Nick Fury called on her in the post-credit scene of Avengers: Endgame.
Fashion & Shopping
Where: The BOX, 4–6 Ram Place, London E9 6LT (off Chatham Place)
When: March 8-10
The BOX is host to a number of sample sale events and this one sees CMMN SWDN, Casely-Hayford and more sell older wares for up to 80% off.