Pharrell Reveals How Notorious B.I.G. Introduced Him to Chanel in the Brand's Latest '3.55' Podcast Episode
He started drawing the "CC" logo on his shoes over ten years ago.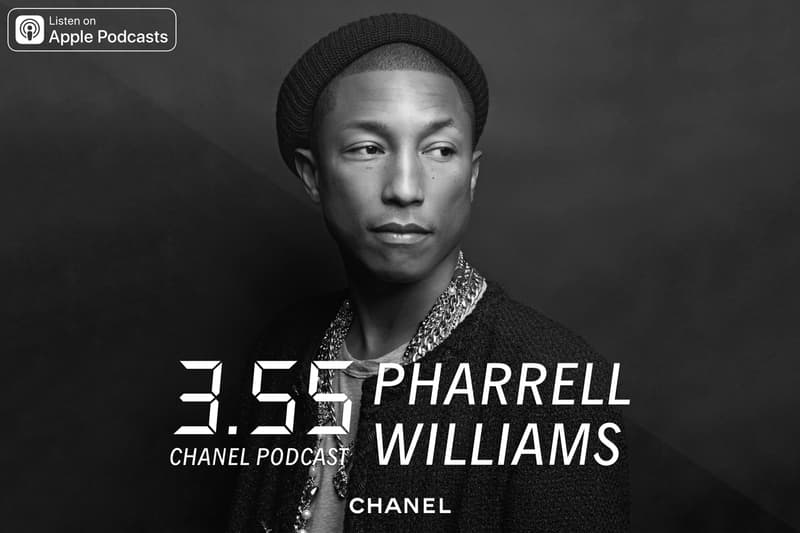 Chanel has released a conversation between Pharrell Williams and its 3.55 podcast host Tyler Brûlé, following on the heels of one of Karl Lagerfeld's final interviews by way of the brand's Métier Class series. The discussion sheds light on how Pharrell's relationship with the luxury house has developed over the years, continuing on the podcast's objective of exploring "philosophy, craftsmanship, artistry, precision and the design codes of Chanel with its family of collaborators."
Brûlé kicks the installment off by asking for the history behind Pharrell and his initial connection to the French label, which the singer reveals was sparked by a popular hip-hop record.
"It's incredibly layered. I think my first introduction to the brand was Notorious B.I.G. He had a song called 'One More Chance.' It was a huge record in our culture and with the world and he said 'bags by Chanel, Baby Benz traded in your Hyundai Excel.' It was about elevation and the idea that he knew that just kind of put Chanel on my radar and I started looking around and seeing women with really refined taste wearing it. And then when you dive into it, you see the shows and all the incredible directions they were able to take this brand in without ever wearing down the heritage," he explained.
Pharrell proceeds by detailing how he used to draw the "CC" logo on his sneakers 10 years ago, long before they became an actual collaboration. He also explains how the partnership naturally came into fruition, from the producer visiting one of Lagerfeld's "Little Black Jacket activations," to receiving more and more party invites, to being in campaigns, to being "a part of that conversation" in the creative room, to having custom pieces designed for him, until it eventually culminated into him officially designing for Chanel.
"Who knew I'd wake up one day and they'd say, 'Actually, come in and do a capsule collection. Do what you want to do.' And that's where we are now," Pharrell said.
Scroll below to listen to the singer's full Métier Class episode from Chanel's website.
For more news, check out the freshly-revealed collaboration between the artist and the label, which was influenced by Akira and motorcycle gangs.