size? Revives the adidas BC Trainer
An archival handball silhouette from the '70s, re-releasing with a slightly different name.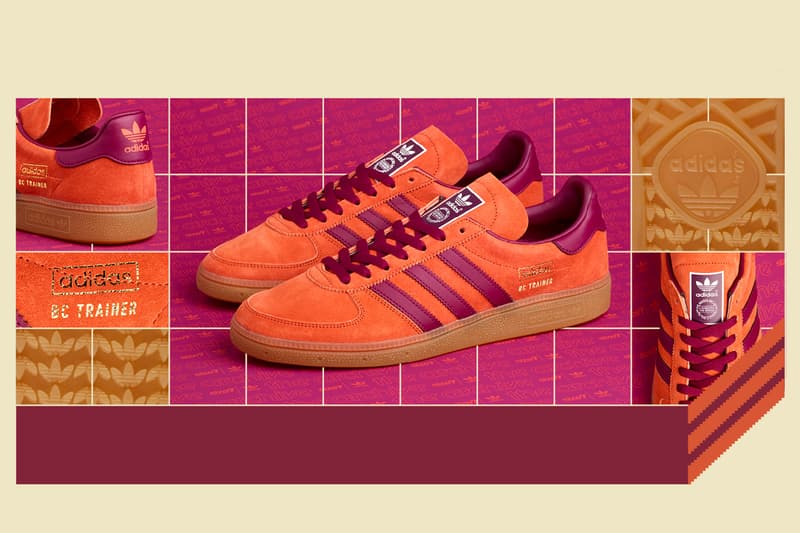 size? constantly pulls cult classic silhouettes out of the adidas Originals archive for exclusive re-releases, and its latest handpicked selection is the BC Trainer. A shoe that first released in the '70s and was designed specifically for handball — BC is short for Baltic Cup, a notable Eastern European handball tournament — the BC Trainer is one of many interesting sport specialty styles from an often under-explored era.
With its sleek orange suede upper, the BC Trainer offers a streamlined look that's similar in style to the Handball Spezial. However, adidas aficionados can tell the two designs apart by looking at the toebox. Most Trefoil Brand silhouettes of the time like the aforementioned Handball Spezial and Gazelle featured a T-shaped overlay for extra support, but the BC Trainer opts for a largely unadorned forefoot. A deep plum shade on the Three Stripe graphics, tongue, heel and laces add rich contrast, maintaining the sneaker's flair.
Gold foil "BC Trainer" details are stamped directly below the lateral collar, providing the only difference from the initial style. This name change had to be made due to the original pair's licensing rights, but a gum midsole and outsole with a Trefoil-inspired traction pattern quickly stomp out any lingering fears purists may feel regarding the swapped moniker.
The size?-exclusive adidas BC Trainer will release on December 20 via the size? previews app and at all size? locations. The MSRP is set at £75 GPB (approximately $99 USD).
size? isn't the only British entity working with adidas this month: London-based skateboarder/model/designer Blondey McCoy recently linked up with the Three Stripes as well to craft a see-through Superstar.
sixe? x adidas BC Trainer