Cauliflower Pizza Tops Most Ordered Items for Grubhub's 2019 "Year in Food" Report
Vegan and vegetarian items dominated the top 10.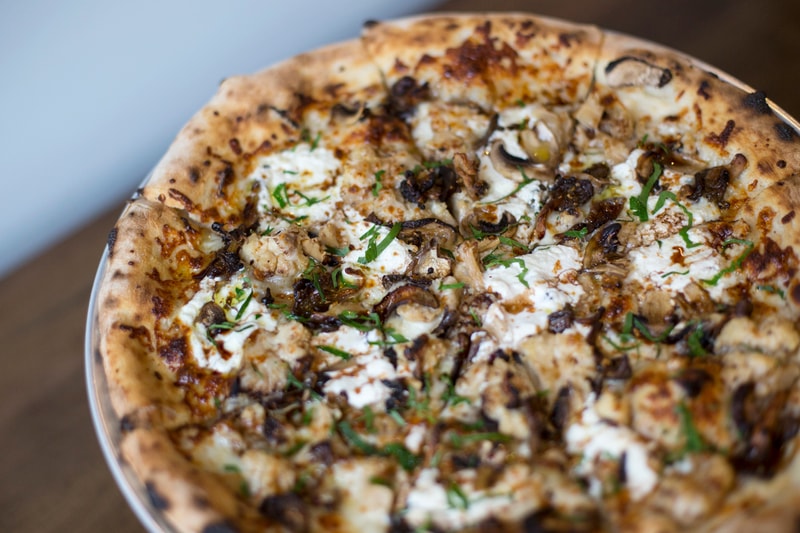 The results are in and the most ordered food item of 2019 is — cauliflower pizza? According to Grubhub's inaugural "Year in Food" report, vegetarian and vegan items are more than in, dominating seven of the top 10 spots on the list. Following right behind the healthy pizza option (a 650% increase from 2018) are other vegetable-based choices, including spicy Brussels sprouts and portobello empanadas at number two and three respectively, which were both also more than 600% popular than last year.
Grubhub reportedly analyzed tens of millions of orders that were placed by its customers, spanning more than 21 million restaurants across the country. Alongside the "top-ordered food of the year" category, the company also looked at areas such as "top trends on the rise," "top desserts," "top meat-alternatives" and more. The report also breaks down different eating habits by region, awarding locations titles for "night owl" (Washington, D.C.), "health nut" (California), "most energized" (Oregon), and "sweetest state" (Texas).
Considering the onslaught of eateries that are adopting plant-based fare — Burger King is among the latest to join the phenomenon, albeit with growing controversy — it falls in line that the Impossible Burger specifically saw more than a 200% rise in popularity. Meanwhile, other items displaying significant growth rates furthered the health-conscious trend, with celery juice up 302% and oat milk up 28% since last year.
To commemorate the launch of the report, Grubhub is also offering users their own "Taste of 2019" data where they can review personalized stats around their top-ordered food, when they ordered the most and more. View more of the Year in Food rankings by scrolling below or visiting Grubhub's website.
Elsewhere in food news, a new report from Bloomberg suggests that America may soon face a french fry shortage.
Top Orders of the Year:

1. Cauliflower pizza: 650%
2. Spicy brussel sprouts: 622%
3. Portobello empanada: 601%
4. Black bean & sweet potato taco: 513%
5. Miso pork ramen: 413%
6. Chicken burger: 318%
7. Bone broth: 298%
8. Brown sugar milk [bubble] tea: 281%
9. Vegan pad thai: 280%
10. Impossible burger: 203%

Most Vegan-Friendly States (in ranking order):

1. New York
2. California
3. Nevada
4. Oregon
5. Pennsylvania

Least Vegan-Friendly States (in ranking order):

1. Indiana
2. Iowa
3. North Carolina
4. Missouri
5. Idaho

Placed on GH in 2019:

Biggest single-item splurge: osetra black caviar for $285 (30g)
Largest order (non-catering): more than 300 tacos for a Halloween party
Smallest order: a single hot sauce packet (must've been a real emergency!)

"BEST OF GRUBHUB"

Burgers: Calibur, San Francisco
Pizza: Joe's Pizza, New York City
Chicken wings: KyoChon, Los Angeles
Tacos: E Bar Tex Mex, Dallas
Poke: SeaSweets Poke, Portland, OR
Pad Thai: Circles Thai, Philadelphia
Meatballs: DiPasquale's Italian Marketplace, Baltimore