Parra & Case Studyo Deliver Playful 'Upside Down Face Vase'
Showcasing the artist's signature post-pop art style.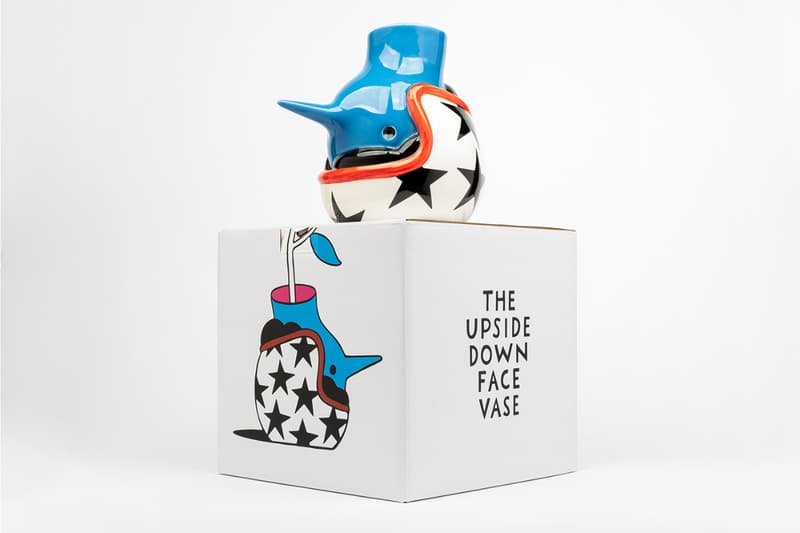 After dropping metal enamel screenprints of hand-drawn vegetable characters and presenting an all-new design of the Tomato Chair at VOLTA 2019, Dutch artist Parra and long-time collaborating partner Case Studyo have returned with a new 'Upside Down Face Vase.' For the duo's latest project, a limited edition collectible is transformed into a household object.
Parra's new sculptural flower holder depicts his Parra Bird character — a mixture between a human and bird — wearing a star-printed stunt helmet. Situated upside down, the bird's neck opens up into a functional vase. The hand-painted ceramic sculpture stands nine inches tall and is adorned with the Amsterdam-based artist's signature color scheme of blue, red and white, highlighting his post-pop art style. Crafted in Portugal, 'Upside Down Face Vase' captures the artist's saturated block coloring and depiction of surreal, hybrid characters.
As Parra's limited edition 'An Apple On The Edge' sold out in minutes, make sure to head over to Parra's website on November 15 at 6 a.m. EST to cop the latest edition.
In other art-related news, Virgil Abloh opened the latest installment of his "Figures of Speech" exhibition at Atlanta's High Museum of Art.