Helly Hansen Japan Taps JohnUNDERCOVER for Hi-Tech Fleece Outerwear
Punk-inspired outerwear.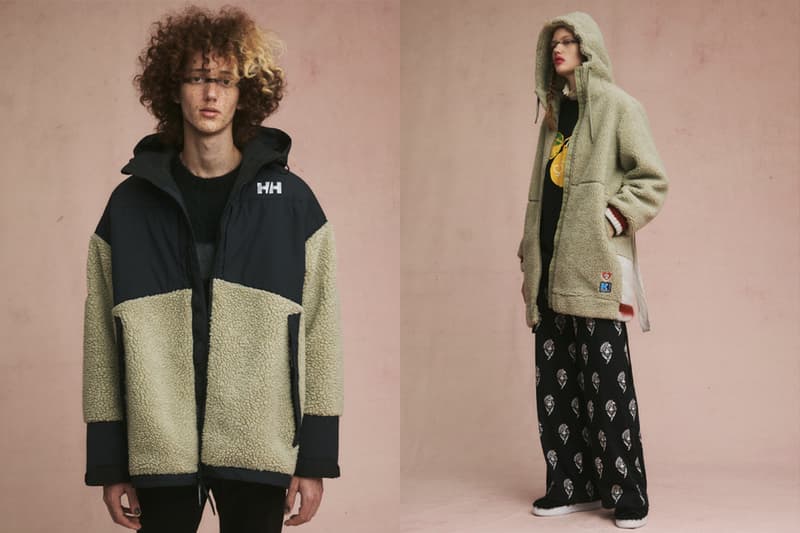 Having just collaborated with FUTUR, Helly Hansen Japan has returned once again, signing on UNDERCOVER this time around for a set of functional fleece-covered outerwear. The collaborative drop has been delivered through UNDERCOVER's sub-labels JohnUNDERCOVER and SueUNDERCOVER.
First up is the JohnUNDERCOVER Ocean FIBERPILE Thermo Jacket, coming in both black and cream-white colorways. Smooth water-resistant nylon is placed near the upper chest areas, while the contrasting "H/H" logo is stamped by the left shoulder. The words "INVASION OF THE WORLD" and accompanying graphics appear at the left side of the hood, followed by a block-letter "A" motif embroidered over the left arm. Another set of graphics appears on the right side of the hood — sketch-like illustrations of "John," a hand coming out of it, and an eye at the very top. Other details like the contrasting cuffs, extended side pockets and fleece panels round up the design.
The next piece is the SueUNDERCOVER FIBERPILE THERMO Coat, the elongated counterpart to the aforementioned piece. This time, the garment is mostly dominated by fleece, besides a substantial woolen panel at the back. The garment comes with a hood with adjustable drawstrings, ribbed two-toned cuffs, a long central zipper and two small embroidered logos by the left pocket. As a finishing note to the jacket, a large strip of ripstop fabric has been placed over the back yoke, where two ends dangle from the left and right shoulders all the way past the hemline.
Both silhouettes will be available in black and cream-white colorways, releasing at UNDERCOVER stores on November 9, followed by Helly Hansen Japan's proprietor goldwin.co.jp on November 11.
Elsewhere, NEEDLES and Noma t.d. have delivered colorful ties and silk scarves for FW19.