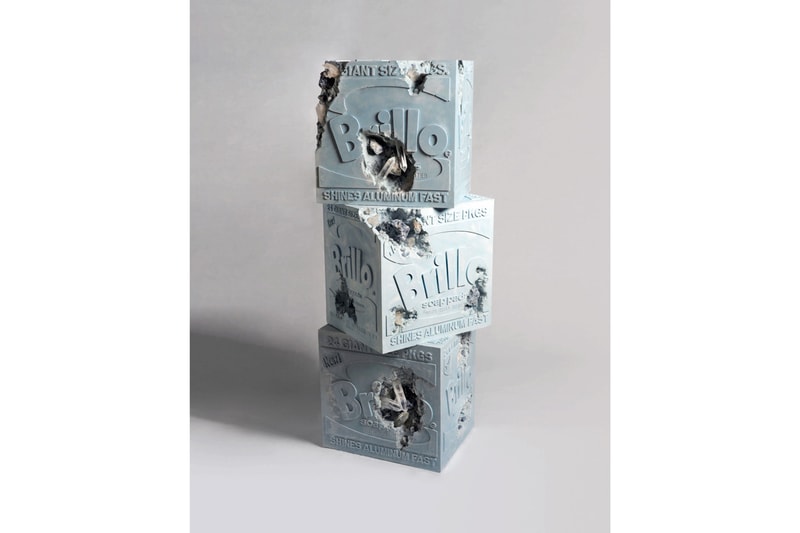 Daniel Arsham's 'Eroded Brillo Boxes' Pay Homage to Andy Warhol
The work will be auctioned off at Sotheby's Contemporary Art Day Auction.
---
To commemorate its 25th anniversary this fall, the Andy Warhol Museum in Pittsburgh is partnering with Daniel Arsham for a specially commissioned work, 'Eroded Brillo Boxes,' which will go up for sale at Sotheby's Contemporary Art Day Auction. Proceeds from the sale will benefit the museum's education and exhibition program, which continues Warhol's legacy of supporting living artists.
'Eroded Brill Boxes,' which is estimated to fetch up to $70,000 USD, pays homage to Warhol's groundbreaking 'Brillo Box' series from the mid-1960s. The pop artist's replica of a popular soap pad product of the '50s showcases his interest in consumer products as art objects, an idea he also explored in his 'Campbell's Soup Cans' and '3 Coke Bottles' paintings. Constructing the boxes in a process similar to a factory assembly line, the finished sculptures were almost indistinguishable from their supermarket counterparts.
Unlike Warhol's bold red and blue boxes, Arsham crafts the Brillo boxes from blue calcite, quartz and hydrostone and completes them with his signature eroded aesthetic, giving the work an almost petrified look. In the style of his 'Fictional Archeological' series, he constructs the boxes from a futuristic perspective. Arsham explains that "the objects are made to appear as if they have been uncovered on an archaeological site in the future, crystallized and calcified." Portraying the Brillo boxes in this way both solidifies Warhol's legacy as a canonical artist and questions the future of the art object and what we perceive as art today.
'Eroded Brillo Boxes' will be auctioned off at Sotheby's Contemporary Art Day Auction on November 15.
In related news, Sotheby's will also be presenting works from Marc Jacobs' art collection this Friday.