These Are the NFL Teams Committed to Attending Colin Kaepernick's Workout (UPDATE)
A new chance for Kap?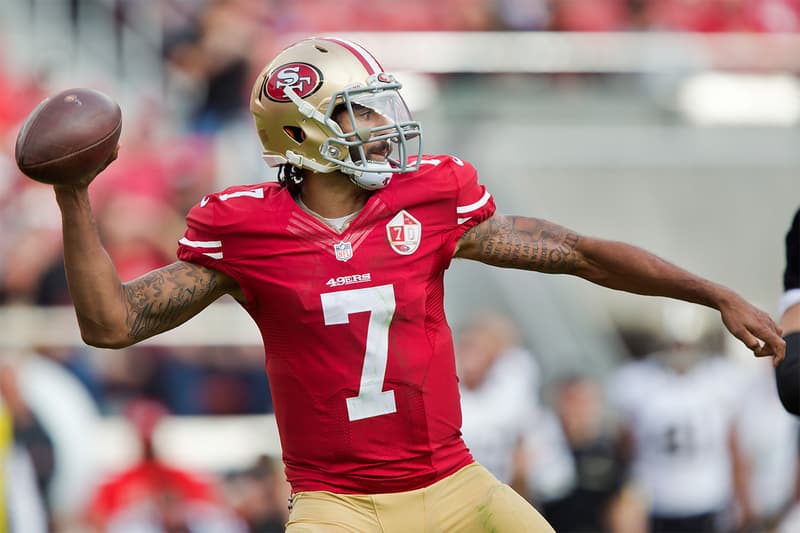 UPDATE (November 15, 2019): Colin Kaepernick's private NFL workout is just a day away, and now we have word of the NFL teams committed in attending.
On Thursday night, the NFL shared that 11 teams have agreed to attend Kaepernick's weekend workout. In addition to the names of the organizations that have RSVP'd, the league offered clear contours of what the workout would entail.
"We are looking forward to Saturday's workout with Colin," the league said in a press release. "Eleven teams — Arizona, Atlanta, Cleveland, Denver, Detroit, Miami, New England, New York Giants, New York Jets, Tampa Bay, and Washington — have already committed to attend, and it's only Thursday. With two days remaining until the workout, we expected additional teams to commit."
It may not come as a surprise that the Browns are willing to give Kap a chance, considering the team has already signed controversial castoffs in the past such as Kareem Hunt, who physically assaulted a woman. Additionally, the Patriots are also known to take on controversial figures.
For the Broncos, the general manager and president of football operations John Elway publicly claimed he offered Kaepernick a contract last year: "You know what, and I said this a while ago: Colin had his chance to be here. We offered him a contract. He didn't take it. As I said in my deposition … he's had his chance to be here. He passed it."
It was also noted that a few former coaches will be in Atlanta as the statement continued, "Former NFL head coach Hue Jackson will lead the drills, and former NFL head coach Joe Philbin will be in attendance as well. We will send video of the workout and interview to all 32 teams, including head coaches and general managers."
Find the original story below.
In case you've missed it, JAY-Z reportedly influenced Colin Kaepernick's private NFL workout.
---
Original Story (November 13, 2019): The NFL will be holding a private workout for former San Francisco 49ers quaterback and social activist Colin Kaepernick, reports ESPN.
Set to take place this Saturday in Atlanta, the session will include on-field work and an interview for the current free-agent quarterback. All NFL teams have been invited to attend, and for those who can't make it, a video of both the workout and interview will be made available. According to ESPN's Dan Graziano, the workout was set up in response to a statement by Kaepernick's representatives sent October 10 saying they had received "little to no response" from all 32 NFL teams regarding his return to the league. The session will also allow clubs to view for themselves Kaepernick's current football readiness.
Kaepernick has not played in the NLF since 2016 when he pioneered the "Take a Knee" stance, a gesture used during the playing of the U.S. national anthem to protest against police brutality and racial inequality. This protest then swept through the NFL on September 24, 2017 when over 200 players knelt on one knee in a show of defiance against President Donald Trump, who called for owners to fire their protesting players.
In the memo obtained by ESPN, the league said: "Earlier this year, we discussed some possible steps with his representatives and they recently emphasized his level of preparation and that he is ready to work out for clubs and be interviewed by them. We have therefore arranged this opportunity for him to work out, and for all clubs to have the opportunity to evaluate his current readiness and level of interest in resuming his NFL career."
Head over to ESPN for more details.
In case you've missed it, Colin Kaepernick's "Dream Crazy" Nike campaign won an Emmy.
I'm just getting word from my representatives that the NFL league office reached out to them about a workout in Atlanta on Saturday. I've been in shape and ready for this for 3 years, can't wait to see the head coaches and GMs on Saturday.

— Colin Kaepernick (@Kaepernick7) November 13, 2019