How Bear Walker Bridges Pop Culture With Skateboarding
The custom skateboard craftsman counts Jason Momoa and Zachary Levi among his fans.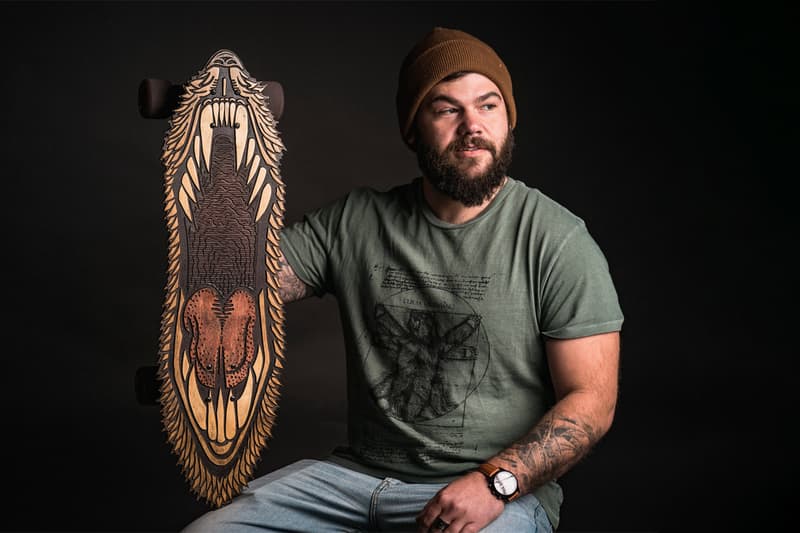 It's not easy to transform your personal hobby into a successful career, but that's exactly what designer, craftsman, pop culture enthusiast and entrepreneur Bear Walker has managed to achieve. At his workshop in Alabama, Walker creates bespoke skateboards that feature pop culture references and characters from everything from the Avengers to Breaking Bad. Among his top fans are Shazam!'s Zachary Levi, Aquaman himself Jason Momoa and The Flash's Grant Gustin. But regardless of his celebrity fans, the exceptional quality of Walker's boards speak for themselves.
HYPEBEAST had the opportunity to speak to Walker about how he he began crafting custom skateboards, the processes behind his work and where he's taking his talents next. If you're interested in a board for yourself, check out Walker's limited-edition or stock boards on his online shop or follow his work on his Instagram.
When did you begin crafting your own skateboards? 
I started designing skateboards around the end of college when I was tasked with utilizing an innovative printing technique for my senior project. But I really didn't start building them until about 2013 when I developed the grip we're known for today. Pretty soon after that, I started a company building custom boards. But I didn't quite know what I was doing yet. So, it was really in the last few years that the boards became what they are now.
Were you a skateboarder yourself growing up?
I didn't skate too much as a kid. I grew up as a surfer and when I moved away from the coast, I picked up longboarding.
Have you always been passionate about pop culture, comic books and films?
One of my best friends growing up was my grandpa, and before I could even walk, he was taking me to movies, vintage clothing stores and comic book shops. So, watching movies and thrifting vintage goods was always a staple of my childhood.
Who is your favorite superhero and villain?
Picking a favorite villain is easy: it's Joker. He has no motive, no method to his corruption, and he's not doing any of what he does for money. He just likes chaos and I think that's pretty awesome.
I don't really like heroes, but I'm a fan of the Punisher. I've always been more into realism-style comic books where the characters don't necessarily have superpowers. Punisher is just this badass dude who was military trained and motivated by his family being murdered. And he was also shot in the head, where he lost that little bit of humanity acting as the line between human and animal. The story makes sense in a realistic way and culminates a crazy, badass antihero.
How did you decide to bridge your interest in pop culture with custom skateboards?
Starting out, I was doing the whole "beach culture, surfer vibe" designs that everyone in the board industry does. But I was at the comic book store every week when new books would come out and made friends with the owner who commissioned a series of Justice League boards from me. Within the same week, Grant Gustin saw the Flash board and Jason Momoa saw the Aquaman board. They reached out and liked the quality of work in the boards. So that's when it really clicked for me that I didn't need to be doing ocean or beach designs; everyone's seen them and there's nothing new about them. Realizing the impact this artwork had on my boards organically shifted my focus. It's the pop culture realm that has a huge audience, so mixing that with my craft made perfect sense.
"When you try to be an artist and make a living out of it, you don't realize you're actually going to be more of an entrepreneur than artist in the end."
You've collaborated with some very well-known actors. What was it like working with them?
It was a great experience working with them, not just because they're celebrities, but because they're professionals in their field. It's always amazing to work with someone who is at the top of their profession and seeing how they handle business, whether they're super professional or catering to a more relationship-minded practice. Working with them was different than working with a company, which is all paperwork. It was more of a collaborative effort with a professional.
You now run your own company and crafting these custom boards have become your full-time job. Is this something you envisioned from the very beginning or something you've always wanted for yourself?
It's something I hoped for. I don't think I even understood what, exactly, this would all entail when I started making boards. When you try to be an artist and make a living out of it, you don't realize you're actually going to be more of an entrepreneur than artist in the end. It's been a whole different form of art, trying to navigate how to run a business and getting ahead in the industry.
Can you tell us a little about the other members of your team?
I've got Kevin Klose, who's essentially my right hand man. He builds a majority of the stock and limited-edition boards now. I still do all the painting and design, but almost anything that isn't a custom board is him. He's recently taken more of a managerial role too. We just hired a part-time woodworker who'll act as his assistant. We've got a new social media manager and, since we're an online-based company, that's integral to expanding. I'll be focusing more on business connections and design work. We also have a customer service representative, who is also vital to the company because it's always been important to me, from the beginning, to be hands-on with my customer base.
How many hours on average go into each board? What's the process of crafting one?
If it's a board we're repeating, like a stock board or limited edition, the process ranges from one hour to a maximum of three. When we go into creating custom boards, it takes at least 20 hours, from the design process to the build process, if everything goes smoothly. If there's something I don't like about the design and I have to rebuild it, it goes up to 25 hours. If that happens again, up to 30. So, the custom process is the most time consuming but it's where we're able to innovate and try new things we can implement in our limited editions and stock boards later on.
"The whole point of all of this is functionality meeting artistry."
If you had to choose a favorite design out of all the ones you've made, which one would it be?
I really like the Venom board we made. It's got a lot of detail and really embodies the character well. I used Venom's signature open-mouth expression when designing the board, so his tongue extends across the deck. Tongues have thousands of taste buds, so I made sure to implement that texture as a main feature of the board. It's almost entirely grip, which I find cool. The whole point of all of this is functionality meeting artistry.
I know that you plant a tree for every board sold, and you've recently teamed up with Zachary Levi on a limited-edition board to raise money for charity. Can you tell us more about that aspect of your work?
One thing I can say is I didn't start creating boards expecting to make a lot of money. I focused more on gaining respect in my field and just building a brand, because I like to build things. But now that I'm in a position where I can help others, it's my responsibility to do so.
Are there any exciting projects you're currently working on that you can tell us about?
The two biggest projects we've ever worked on are happening at the moment or over the next few months, but we can't talk about them right now. I can say they're household names, and these collaborations are going to really be something special.
Finally, where would you like to take your company in the next few years?
It's been a while since any company broke through in the skate industry, so my goal is to be a world-renowned skate brand while remaining separate from other brands. I'd like to remain small and exclusive, stay close to my fan base, but have the ability to work with these "cult following" brands to build things never seen before and push the boundaries of what a skateboard can be.