adidas Partners with International Space Station to Launch Sneakers Into Space
One small step for BOOST, one giant step for athletes.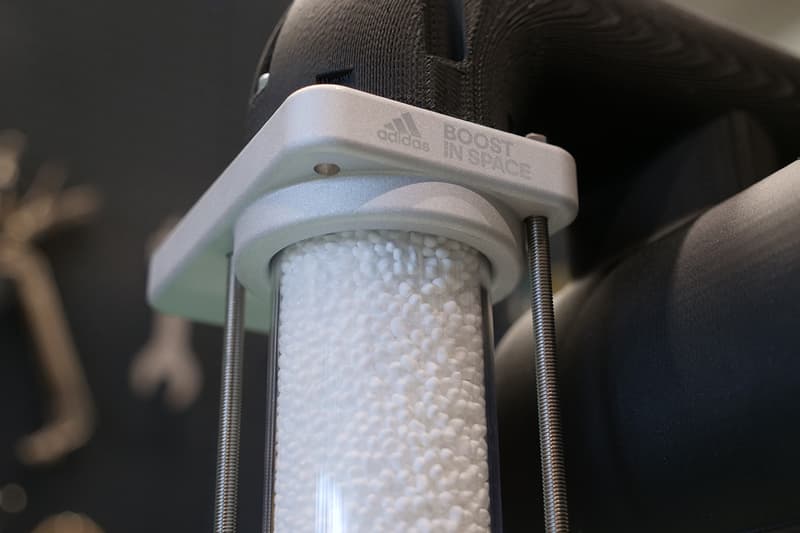 adidas has announced a partnership with the International Space Station (ISS) that will explore product innovation and performance outside of Earth's gravitational pull. Through the partnership, adidas will become the first brand to test footwear in the specific conditions of outer space. adidas has already set the groundwork through initial testing with its soccer balls, which were launched into space earlier this year in an effort to explore flight characteristics beyond an Earth-based wind tunnel, but this partnership will shift gears to its better-known performance technology.
The partnership will begin with adidas sending BOOST pellet and footwear samples to the ISS National Lab onboard a future SpaceX cargo mission. Astronauts onboard the station will aim to discover if producing BOOST midsoles with regions of different particle sizes is possible by testing the BOOST midsole creation process in conditions sans gravity. According to adidas, scientists believe this development could improve both footwear performance and comfort.
"The unique conditions of space provide the ideal environment to discover the unknown," explains ISS' VP of Programs and Partnerships, Christine Kretz. "For example, microgravity is the only condition in which we can observe specific experiments like the behavior of a spinning soccer ball without interrupting airflow and external supports holding it in place. Having control of certain variables allows us to conduct tests and collect insights that aren't possible on Earth."
adidas also plans to learn from astronauts in the area of performance by observing their training regimen. The brand hopes to apply its findings to its LOOP circular manufacturing process to help create high-performing sustainable footwear for earth-dwellers.
The partnership between adidas and the ISS is set to begin as early as 2020. Learn more over on the adidas blog.
This news comes after Under Armour recently unveiled "spacewear" designs for private astronauts.