5 Things You Should Look out for During Frieze London 2019
Everything from newcomers to big name galleries.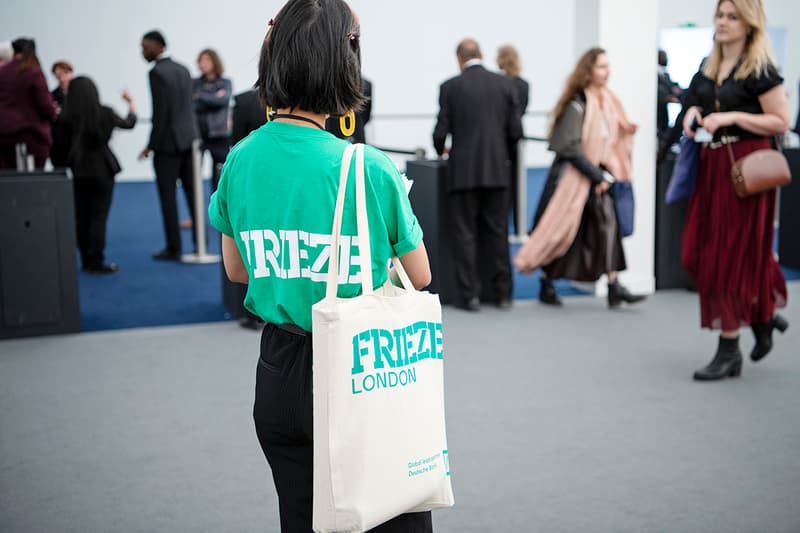 After launching its annual sculpture park with works from Tom Sachs, Robert Indiana and more earlier this year, Frieze is now set to return for its yearly fair in London. With more than 160 galleries from 35 countries taking part — not to mention Frieze Masters fair just down the road and food from much-loved London restaurants including Bodega Rita's, Moro and Pizza Pilgrims — some may be overwhelmed by all of the options throughout the major art installment. To help you  navigate this year's fair, we've pulled together a list of highlights to look out for during Frieze London 2019.
Emerging galleries
One of the highlights every year at Frieze is its "Focus" section, which champions new and emerging galleries from across the world. 2019 is no different, with new additions coming from everywhere from Beirut to Berlin and Lima to Tallinn. Additionally, a wide range of London-based young galleries including Arcadia Missa, Union Pacific and more will return to the fair. Alongside the "Focus" section, Frieze London 2019 sees a number of previous participants — such as 47 Canal, Carlos/Ishikawa and Night Gallery — graduate to the main section of the fair.
Live performances and interactive installations
This year's Frieze London will  spotlight a number of live performances and interactive installations at various booths throughout the space. The LIVE 2019 section of the fair is set to include the Gagosian presenting work by William Forsythe and Galerie Thaddaeus Ropac, which will showcase work by Oskar Schlemmer. Additionally, London-based artist Shezad Dawood will present a performance piece looking at non-binary thinking with influences from Bangladeshi Modernist architect Muzharul Islam and Islam's approach to non-dualism. Dawood has also partnered with emerging British designer Priya Ahluwalia on costumes for the performance.
Some of art's biggest names
Alongside the array of emerging talent, Frieze London will also showcase some of art's biggest names and best-known galleries. Standout dealers exhibiting this year include Victoria Miro, which will feature work from Yayoi Kusama amongst others, while David Zwirner will exhibit artists from Wolfgang Tillmans and Jeff Koons, and Lisson Gallery will spotlight the work of the late Joyce Pensato. Other big-name galleries at this year's fair include Perrotin, Maureen Paley and White Cube.
Solo shows by Do Ho Suh, MADSAKI and more
A number of galleries at Frieze London are set to host solo shows in their booths at the fair. Some of the standout solo exhibitions at this year's fair include Do Ho Suh, who will present new thread drawings looking at the relationship between the home and the self, and MADSAKI's new series expressing his personal memories of the destructive earthquake that hit Japan on March 11. Elsewhere, Sterling Ruby's work will take over the Gagosian booth and Ryan Gander will present a new version of Time Well Spent, a matte black vending machine that produces random objects for £1000 GBP (approximately $1300 USD).
Off-site exhibitions
Frieze's impact is felt far outside the fair itself, with a number of major exhibitions across London coinciding with this year's installment in London. Some of the essential things to see away from the actual Frieze fair include Sterling Ruby's <"Acts+Table" exhibit at Gagosian's Britannia Street space and "Blackout" by KAWS at Skarstedt Gallery. Other highlights of Frieze Week include Kara Walker's commission at Tate Modern, Danh Vō's recently-opened exhibition at South London Gallery and an Anthony Gormley retrospective at the Royal Academy of Arts.