Imran Amed Responds to Kerby Jean-Raymond's Piece on "Exploitative" Practices at 'Business of Fashion' (UPDATE)
"I feel strongly about this because for most of my life, I've felt like an outsider myself."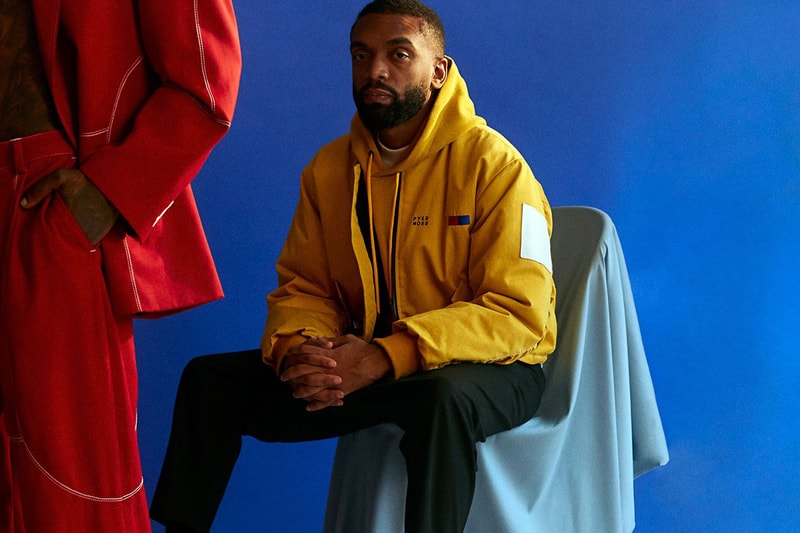 UPDATE (10/2/2019): Business of Fashion founder and editor-in-chief Imran Amed has responded to Kerby Jean-Raymond's recent Medium piece, which details a string of practices at the publication that the designer sees as "exploitative" and "degrading." In his article "Why I'm Listening to Kerby Jean-Raymond," shared today on BoF, Amed primarily addresses the callouts surrounding the use of a choir, and states that neither he nor the publication see inclusivity as a trend.
Amed writes:
"As Kerby points out, the fashion industry has often treated inclusivity as a trend, putting diverse faces in our ad campaigns, on our runways, on our magazine covers and, yes, at our parties because it's cool and of the moment. But I can assure you that this topic is not a trend for BoF."
"I can also assure you that this topic is not a trend for me either. I feel strongly about this because for most of my life, I've felt like an outsider myself. Growing up, I was the always the smallest kid in the class. As the son of Ismaili Muslim immigrants to Calgary, Canada from Nairobi, Kenya, I was also the only brown kid in my class. And, although I didn't know it then, I was gay."
Other overarching issues that the Pyer Moss founder cited in his story were not directly addressed, though Amed would like the "opportunity to sit down with him and learn more about his concerns and how we can do better." Read the full response now on Business of Fashion.
---
ORIGINAL STORY (10/1/2019): Just one day after being named to Business of Fashion's annual #BoF500 line-up, Pyer Moss creative director Kerby Jean-Raymond has completely disassociated himself from the publication and its "prestigious" list. The designer shared an intensive article today on Medium expressing his disdain at BoF's 500 Gala in Paris last night, which incorporated a gospel choir and, as Jean-Raymond detailed, "excluded" himself and other champions of inclusivity at the expense of "racist offsets."
Jean-Raymond has been unwavering in his attempts to "reverse the erasure of black culture," a mission he has vouched for time and time again as he's been at the helm of Pyer Moss. As such, campaigns, runway shows and ready-to-wear collections alike have been awash with themes that amplify underrepresented voices, the most recent example being his Collection 3 runway show at New York Fashion Week earlier this month. Like seasons past, Jean-Raymond punctuated his showcase with a live choir known for its gospel and soul-infused melodies (officially dubbed "The Pyer Moss Tabernacle Drip Choir Drenched in The Blood"), which made its initial debut in 2015. Last night, BoF staged a gospel-tinged choir of its own as the entertainment for its high-profile soiree — a move that Jean-Raymond states "gaslighted" him and follows behind a string of other "disrespectful" practices by the publication and its founder and editor-in-chief, Imran Amed.
"Homage without empathy and representation is appropriation. Instead, explore your own culture, religion and origins. By replicating ours and excluding us — you prove to us that you see us as a trend. Like, we gonna die black, are you," questioned the Pyer Moss founder.
While the story of cultural appropriation seemingly writes itself in this instance, Jean-Raymond shared even further details around direct conversations he'd had with Amed. The designer explains how Amed initially proposed that he be on one of this year's three #BoF500 covers only to later rescind the offer and instead, suggest that the publication do a feature on his then-impending appointment at Reebok; Jean-Raymond had revealed this news to Amed during talks about the cover.
"After our last meeting, he looked satisfied with the information he'd received and I left feeling chill but weird. Traffic was nuts getting to his spot from the Marais by the way and during our meeting there was a blackout at the spot he told us at which to meet. I should've known that was one of my ancestors trying to get me to shut the f*ck up and not to talk to this man. 3rd eye was still waking up, 4th eye was closed…Then [Imran Amed] hits me with this text, like really soon after that meeting saying 'we are going to go a different route with the cover?"
Not only did the cover strategy change after said meetings, but many names that Jean-Raymond had suggested to Amed as leaders in diversity and inclusivity were not included in the list. "To have your brain picked for months, be told that your talk at the 'Salon' and work inspired this whole thing, and then be excluded in favor of big brands who cut the check is insulting. Pay attention to the brands on the covers," he stated.
The Medium post also breaks down Jean-Raymond's experience with last year's "hellish" moment at BoF's Voices conference. What was billed as a solo conversation with Bethann Hardison turned into a group panel that he feels, as it pertains to black creatives, "lump us all in, 'Black in Fashion' or 'Diversity & Inclusion' when the reality is my family is vastly different."
Jean-Raymond has doubled down on the impassioned piece with several social media posts, including videos shared from Brother Vellies' designer Aurora James, which share similar sentiments. "Not everyone gets to have a black gospel choir," she wrote in her Instagram stories.
Meanwhile, Jean-Raymond continues in his piece: "Was the intent all along to milk people like me for insight into our community, repackage it and resell it back to larger corporations with no intent of making real change? Was the choir the change?"
"I think your brand is exploitative, you proved that it's fueled by corporate interest and shitty business practices. I understand that you have to make money, we all are selling something, but dawg, not your soul. And not ours."
Read his entire story now at Medium.com. HYPEBEAST has reached out to Business of Fashion who has yet to return a comment.
For more from the designer, read HYPEBEAST's discussion with Jean-Raymond for his digital cover story last fall.