COMME des GARÇONS Wants to Expand This Generation's "Olfactory Culture"
An inside look at the new CdG fragrance "Copper" and Paris' Dover Street Parfums Market.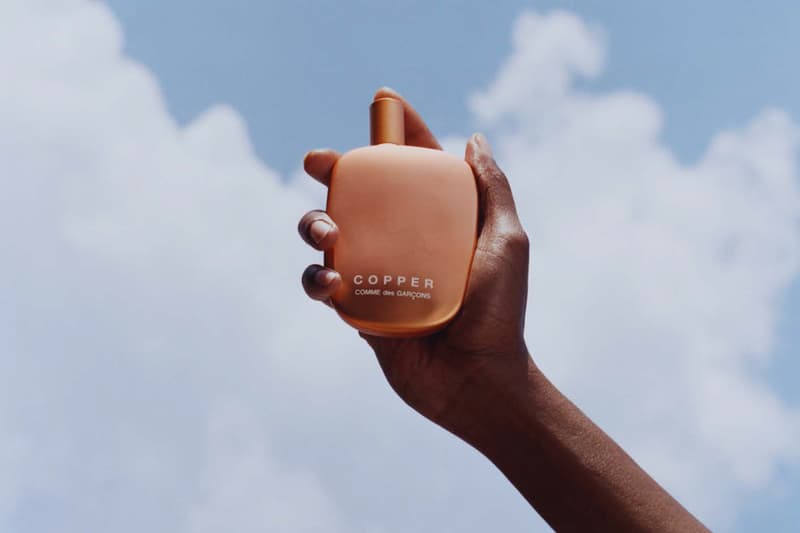 What makes a perfume a COMME des GARÇONS perfume? According to COMME des GARÇONS fragrance creative director Christian Astuguevieille, the brand's scents can be summed up as "fragrances that are not too beautiful." What else could be expected from the fragrance arm of Rei Kawakubo's revolutionary anti-fashion fashion line?
CdG took its first foray into the world of fragrance in 1994 with the creation of the simply-titled Eau de Parfum, created by perfumer Mark Brixton. Since then it has, under the direction of Astuguevieille, launched modern classics like Wonderwood, Concrete and Hinoki, made in collaboration with Monocle. Recent releases like the Clash collection have put forth challenging scent combinations like radish and vetiver. Beautiful? Perhaps not, but that's not the point.
The CdG scents have, of course, always had a place at Kawakubo's various Dover Street Markets around the world. But for their first Dover Street Market in Paris, Kawakubo and DSM President Adrian Joffe chose to deepen the brand's relationship to fragrance. Located in Paris' chic Le Marais district, the new Dover Street Parfums Market opened earlier this month and is dedicated entirely to fragrance and beauty.
"A COMME des GARÇONS parfum is a COMME des GARÇONS parfum through its olfactory writing and the fact of having fragrances that are not too beautiful."
Upon entering the ground floor of Dover Street Parfums Market, you'll find established fragrance brands you may already know and love like Byredo or Paco Rabanne. But one of the store's great strengths is its stock of lesser-known or up-and-coming labels, like Brooklyn's D.S. & Durga and Michigan-based brand Kerosene.
A perusal through DSM Parfum's cylindrical displays will also introduce you to the delectably colorful bottles from Swedish brand 19-69, which launched at colette right before its closing in 2017, as well as the vegan, 100% botanical scents from Berlin-based AER. Fashionphiles, meanwhile, will be happy to find Thom Browne's debut fragrance line at DSM Parfums, with six scents based on vetiver housed in a custom display covered in the label's signature gray wool.
Downstairs is the realm of beauty and grooming, with everything from Dr. Bronner's soap to the glamorous Gucci makeup line. There too you'll find a wall of seemingly old-fashioned fragrance bottles, that might at first look out of place among the selection of charcoal toothpastes, natural deodorants and edgy CdG scents. But, according to Astuguevieille, these fragrances represent a key part of DSM Parfums' mission.
Though Joffe was responsible for the curation of DSM Parfums brand selection as a whole, Astuguevieille hand-picked these particular classic fragrances. As Astuguevieille explained to HYPEBEAST, it was crucial to him that the store introduce the younger generation to these storied scents, which range from Fracas by Robert Piguet, released in 1948, to Antonio Puig's 1968 scent Agua Brava and Helmut Lang's self-titled 1995 eau de parfum. The unifying thread among the classic perfumes on display is that each scent not only advanced perfumery in its time, but also remains relevant today. "These fragrances, they speak to us through time even though their writing is different," Astuguevieille told HYPEBEAST. "They've still got a relevance."
It's by introducing younger consumers to these groundbreaking scents that the fragrance industry will move forward, Astuguevieille believes. "The idea is to bring young people to have wider olfactory culture by the time they're 25 or 30," he said. "Because if they did have that wider culture, then perfume companies would be compelled to make much more imaginative, creative and better products than what they're doing now."
Astuguevieille is responsible for producing those kinds of imaginative products at COMME des GARÇONS. His latest launch for the brand is Copper, which includes classic perfumery notes like Iranian galbanum, Peruvian peppercorns and Ethiopian myrrh. As it's CdG, of course there has to be something unusual, in this case artificial metallic notes and synthetic amber.
"The idea is to bring young people to have wider olfactory culture by the time they're 25 or 30."
For Astuguevieille, the scent was inspired by the idea of lying in the grass next to someone wearing excessive suntan lotion. The idea of copper came in through the association with Coppertone sunscreen. "Actually copper came in quite late, it was a good way of summing up the perfume," Astuguevieille noted. "But initially the flacon was supposed to be green."
The final bottle's color however, in its gleaming copper shade, served as the primary inspiration for the fragrance's campaign. If Astuguevieille is concerned with educating a younger consumer about fragrance, it's perhaps no surprise that CdG tapped photographer Tyler Mitchell to photograph the campaign for Copper. The young creative rose to fame when he photographed Beyoncé for the Vogue September 2018 cover, of which one image was recently selected to be included in the Smithsonian National Portrait Gallery.
Shooting a fragrance is something of a departure for Mitchell as he is best known for his portraiture and connection with his subjects. But his Copper campaign humanizes the inanimate object nonetheless, by linking the bottle's brilliant color to the beauty and depth of black and brown skin.
HYPEBEAST recently visited Paris to discover the new Dover Street Parfums Market and to speak with Astuguevieille on the launch of CdG's newest scent, Copper.
How do you begin with a new COMME des GARÇONS perfume?
When I start a COMME des GARÇONS perfume, I do like most houses. I go to see perfumers, different perfumers with a brief. Sometimes a brief can be a word, sometimes a brief can be an object. Sometimes it's, "Meet me at the photocopying machine at 6 p.m."
So in [Copper's] case, [the first brief was] we are lying in the grass, a fresh mown lawn, and we're lying next to someone that's wearing a lot of suntan lotion. The second brief was much more modern, green, which was Hollywood Chewing Gum. The third brief was to take the reference of a very famous perfume, which is Vent Vert by Balmain, and let's turn that into a COMME des GARÇONS perfume.
What are the connotations of copper for you?
Copper in France has very passé connotations. It was used to fashion a lot of everyday objects, because it was easy to work with. So it reminds me of my childhood, which was about 22 centuries ago.
So it's similar to Concrete in that it's a daily object that you elevate.
Absolutely.
How involved were you in the formation and design of DSM Parfums?
So initially it was the idea of Rei Kawakubo and Adrian Joffe. They were the ones who called out for different brands, to choose different brands. So I came in to give my opinion on different things. There are different things in the shop that I don't really particularly like, but one thing that I did insist on was to have these classic perfumes, a curation of classic perfumes such as [Nina Ricci's] L'air du Temps, Fracas by Piguet, Agua Brava.
It's also Eau de Rochas, Moustache de Rochas, and Pour un Homme by Caron. It's all these great products that made perfumery advance. But it's not over, because we will be adding things as we go along.
Are there any specific scents you'd like to add to the collection?
We'll be doing it slowly with a light hand, But there are some perfumes that I would've liked to include that were difficult to obtain for distribution reasons, because perfumery is also an industry that's very administrative. For example, there's a great classic from the '70s, Italian, called Pino Silvestre, that we just couldn't get because it's barely distributed or not distributed at all in France.
Young people can come in and discover these perfumes and completely embrace them, because they have commonalities with them.
"If they did have that wider culture, then perfume companies would be compelled to make much more imaginative, creative and better products than what they're doing now."
Commonalities in what way?
What's interesting to me is that when you connect with a fragrance, it's often through an ingredient which will be within those fragrances. For example, if these younger generations, or even older people, discover these perfumes, when they hear about tuberose, they say, "Yes tuberose, that rings a bell. I smelled that in Fracas."
I'm a very strong believer in pedagogy about perfumes. But it has to be soft pedagogy, through products. Because products are not just 2,000 references in a huge room. You also have to be able to approach them in a more concrete way, a more intimate way.
So then when this customer enters the store, that I won't name, that has 2,000 references, having smelled Moustache by Rochas or Fracas by Piguet, they will approach their perfumes differently. With a different gaze on them with a different understanding of them.
With a bit more knowledge.
Olfaction is planting the little seed in the mind, which will remain there in the olfactory part of the brain. So the idea is to bring other elements into the olfactory culture of the younger generation, because their culture is mostly made up of syrups, of candies, of functional products like detergents.
Is that why you feel it's important to have Paris' DSM be a perfume shop, as opposed to another apparel store?
Yes. Of course Paris has a reputation about perfume, but it's absolutely not out of the question that in coming years or months that there would be more openings in the world.
How do you work with Rei Kawakubo, in terms of ensuring the fragrances and the apparel compliment each other?
It's extremely separate. Fashion is made in Tokyo, and Rei Kawakubo comes to Paris a few times a year and we smell things together. I show what I feel like doing, she also gives her input and her insights and her wishes. Recently, I gave her to smell a new line that's aimed at the younger generation and she said, "Oh, I didn't know that we were now doing perfumes for four year olds."
She smells very well. She has very good input on what she's smelling. But fashion is on the one side and perfumes are on the other. So we try to work together, but at the same time separately.