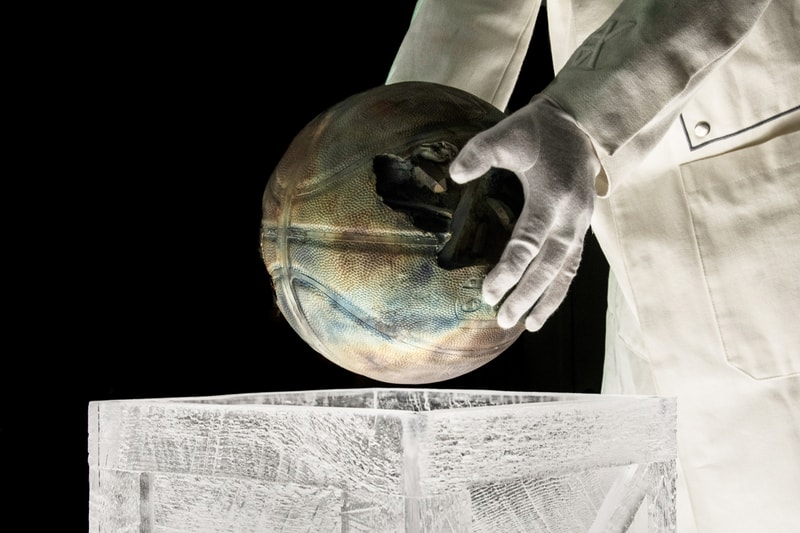 These Are the Best Artworks Releasing This Week
Daniel Arsham's 'BRONZE BASKETBALL' sculptures, Joan Cornellá's 'SELFIE GUN' figures and more.
---
Every week we spotlight the best art releases weekly by notable artists, galleries, museums and contemporary art platforms across the globe. Listed items typically encompass limited edition artworks, prints, collectible figures, collaborative merchandise and more.
For this week's installment: Daniel Arsham will release his 'BRONZE BASKETBALL' eroded sculpture, AllRightsReserved once again teams up with Joan Cornellá on a new 'SELFIE GUN' edition, Cj Hendry will launch new lenticular box artworks, Infinite Objects kickstarts its sale of digital video frames, and UK-based NJG Studios drops a limited edition 'DESIRE' book on Patti Smith and Robert Mapplethorpe.
View the full list below.
Daniel Arsham Eroded 'BRONZE BASKETBALL' Sculpture Edition
Release Date: October 18 at 12 p.m. EST on Daniel Arsham's website
Release Price: $9,500 USD
Daniel Arsham is set to release his eroded 'BRONZE BASKETBALL' sculpture edition as part of his 'Fictional Archaeology' series. The artwork is hand finished with a custom torch-scored patina, creating a rainbow light refraction in the metal. The sculpture will arrive in a limited edition of 99 and each piece arrives inside a bespoke resin-cast Arsham Studio crate.
Joan Cornellá x AllRightsReserved 'SELFIE GUN' Sculpture Edition
Release Date: October 17 at 11 p.m EST on Ding Dong Takuhaibin's website 
Release Price: $199 USD
Acclaimed Spanish artist Joan Cornellá is releasing a limited-edition 10-inch vinyl figure in collaboration with AllRightsReserved. The artwork portrays his signature suit-clad male subject holding a selfie stick mounted with a pistol. With this piece, Cornellà uses satire to raise awareness on the issue of gun violence. Only 1,000 figures have been made in the edition.
Cj Hendry Limited Edition Lenticular Boxes
Release Date: October 17 on Cj Hendry's website
Release Price: $595 USD each
Cj Hendry recently unveiled her latest editions, encompassing a series of lenticular boxes inspired by her colored pencil drawings. Titled 'Mental Masturbation' and 'Proactive Procrastination,' the Brooklyn-based artist fused a variety of pastel tones to create color-changing gradient squares for each edition. Each piece arrives hand-signed and numbered in an edition of 100. Both pieces are framed with natural maple wood and encased behind UV-fighting acrylic sheets.
Infinite Objects' Framed Digital Artworks
Release Date: Now available on Infinite Objects' website
Release Price: $299 USD each
NYC-based Infinite Objects launched an innovative edition of framed digital artworks that mimics miniature traditional paintings or photographs often displayed in homes. Spawned from the fledgling company's partnership between GIPHY and design firm Planeta, Infinite Objects aims to change the way digital art is collected and valued by bringing a moving image's context outside of smart devices. For its first launch, the label teamed up with 11 diverse artists including Andrej Ujhazy, Peter Burr, Sara Ludy and more.
NJG Studios 'Desire' Book on Patti Smith & Robert Mapplethorpe
Release Date: Now available on NJG Studios' website
Release Price: C-Type prints for £200 GBP (approx. $250 USD), while 500 "Limited Edition" books retail for £60 GBP (approx. $75 USD).
UK-based publisher NJG Studios recently announced the release of its limited-edition book entitled 'DESIRE' that spotlights the iconic relationship between Patti Smith and Robert Mapplethorpe. Through archival photographs and essays, the tome chronicles their rebellious spirit and their creative circles in New York City back in the '60s and '70s. One of the highlights in the book is Patti and Robert's first photo-shoot together in their Brooklyn apartment. 'DESIRE' is available in a limited quantity of 600.