Frank Ocean Cover's 'GQ,' Talks MSNBC, the Joys of Living in NYC and More
The musician explains why he took his Instagram public and the fashion brand he wants to see revived.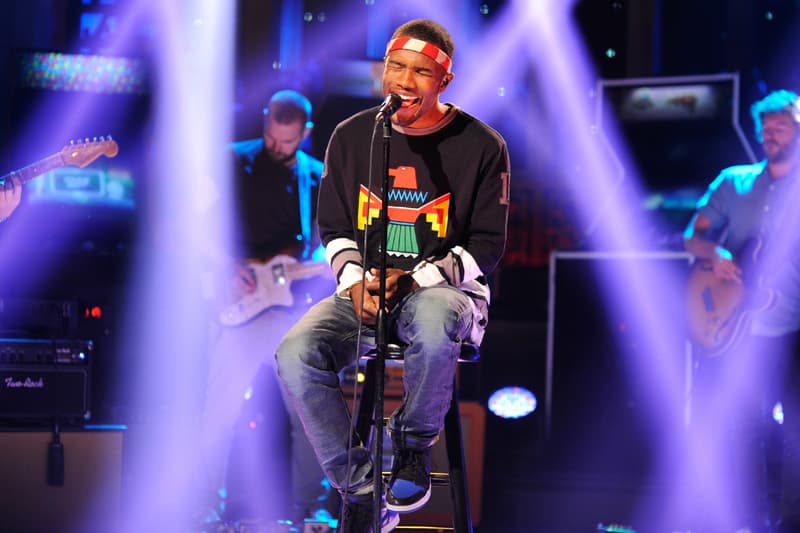 Press-shy musician Frank Ocean takes center stage for GQ' February 2019 "Music Issue," offering a rare interview to go with the cover story. In it, Ocean opens up about upcoming projects and reflects on the past year.
Speaking with his blonded RADIO co-hosts Vegyn and Emmett Cruddas, Ocean touches on a variety of hot topics from 2018, including making his Instagram public in November.
"I feel like there was dissonance between how I was seen by the audience and where I was actually," Ocean acknowledges. "There's also the idea of dialogue and discourse and conversation—like theater where the audience can interrupt you versus the television."
During the conversation, Frank Ocean discusses his vices and comments on his love for mexcal over tequila. He also touches on his love for MSNBC. "Maybe my vice is that I watch way too much TV news," Ocean says. "I know that I'm not getting real information, but I still watch it. I wish my vice was VH1 reality-TV shows, but it's not—it's MSNBC. MSNBC is Love & Hip Hop with better vocabulary and more range, but it's the same thing. Very much entertainment."
The creative also mentions his performances when discussing the difference between his past and current approaches to creating cover songs. "I was just focused on the rap mixtape approach of taking a beat or flow, swapping the lyrics and performing it," He explained. "The [past performances were] almost being the stream-of-consciousness, in-the-moment thing, whereas now I would much prefer having the song be with me for more time before I have to record it."
Later, Ocean reveals why he likes living in The Big Apple:
In New York, it's the first time in a minute that I've had my own space that's not a hotel and not some rented home, where everything around me is mine, and that's been really cozy and comfortable this past year. … I enjoy the energy working project to project in New York that I can get from looking out my window or going downstairs: It's the people, their pace, the unsaid energy.
The singer also professes his love for the SCOTTeVEST:
You can put anything in it. Your water bottle, your cell phone, your motorcycle helmet—you can put all that shit inside the SCOTTeVEST." More trend-averse musings follow: "I thought Marithé + François Girbaud was gonna come back, but it didn't. That would be nice.
Read the entire interview on GQ.
Recently, Ocean debuted a Christmas episode of his blonded RADIO.