Carmelo Anthony Is Headed to the Chicago Bulls
If they decide to keep him.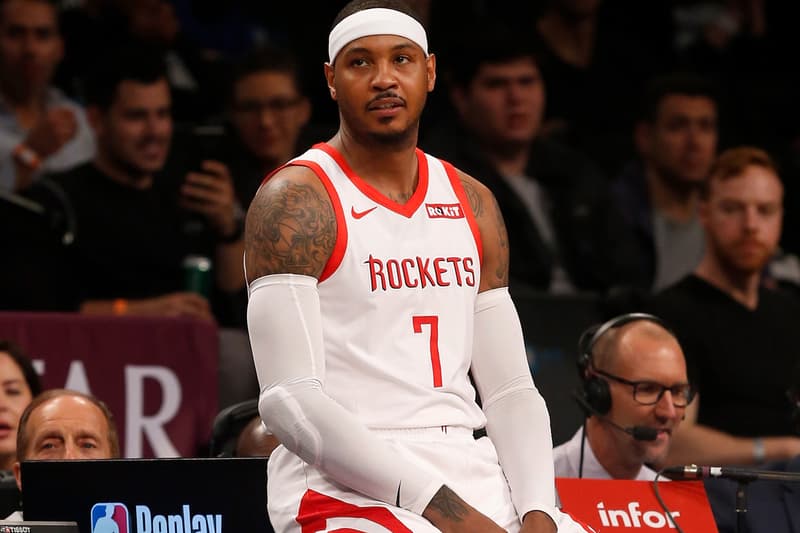 Late last year, the Houston Rockets decided to part ways with Carmelo Anthony after All-Star's quick 10 game stint with the team.
Now reports have surfaced suggesting Carmelo is making his way over to the Chicago Bulls. According to ESPN's Adrian Wojnarowski, the Rockets and the Bulls have come to a trade agreement which will see Carmelo being sent off to the latter's roaster along with a cash payment. However league sources are also suggesting Carmelo may not even play for the Bulls should they decide to eventually trade him or waive him before the February 7 deadline.
With this move, the Rockets are hoping to carve out a spot for Kenneth Faried, who currently plays for the Brooklyn Nets. Melo, on the other-hand, has not played a game since for Houston since November 8, 2018.
The teams wanted to complete the deal on Monday, however with it being Martin Luther King Jr. Day, the trade will have to be finalized on Tuesday. Keep it locked here for more details.
In more sports-related news, Mitchell & Ness' All-Star pack is a slam dunk for NBA fans.
Carmelo Anthony's brief stop with the Houston Rockets is over, league sources tell ESPN. Anthony will part ways with team, although there are no immediate plans to place 10-time All-Star on waivers. Team announcement is expected before Rockets play Golden State tonight.

— Adrian Wojnarowski (@wojespn) November 15, 2018
The Houston Rockets have agreed to trade Carmelo Anthony and cash to the Chicago Bulls, league sources tell ESPN.

— Adrian Wojnarowski (@wojespn) January 21, 2019
The NBA office will not execute the trade today because it's a holiday, league sources tell ESPN. To clear the way for Kenneth Faried to sign and play tonight in Philadelphia, Rockets had to waive to James Nunnally. Trade call on 'Melo will likely be Tuesday. https://t.co/Oo2IA0nsJP

— Adrian Wojnarowski (@wojespn) January 21, 2019
Anthony won't play a game for the Bulls, league source tells ESPN. He will be released and become a free agent if he clears waivers. https://t.co/Oo2IA0nsJP

— Adrian Wojnarowski (@wojespn) January 21, 2019
Sources: The Lakers maintain interest in Anthony, but do not want to waive a guaranteed player to create a roster spot for him, league sources tell ESPN. If a roster spot eventually opens with LA, yes, the Lakers are a possible destination for Anthony.

— Adrian Wojnarowski (@wojespn) January 21, 2019