8 Drops You Don't Want to Miss This Week
Matthew Williams x Nike, Bob Marley x Stüssy and Star Trak dominate this week.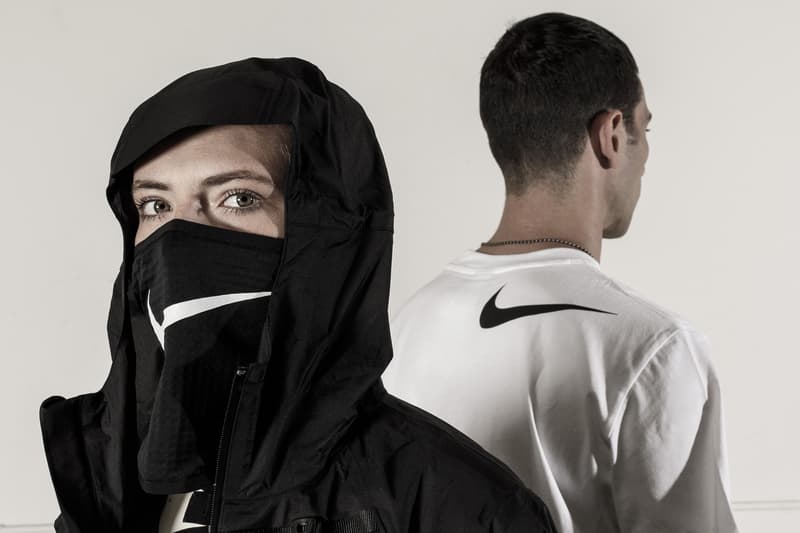 This week's drops roundup features a throwback Star Trak collection from BBC, a soccer jersey collection from Les Vêtements de Football, and further releases from Japan's MAGIC STICK. Elsewhere, we see on the list of collaborative efforts, the highly-anticipated Matthew Williams x NikeLab collection, a workwear-grounded capsule from Brain Dead and Carhartt WIP, a restock of Places + Faces x POLYTHENE* OPTICS, a retro XLARGE 'Street Fighter Alpha' capsule, and an expansive collection from Stüssy that pays homage to the late Bob Marley.
Key pieces to keep an eye out for this week are the repeat embroidery overalls from Brain Dead x Carhartt WIP, MMW performance vest, "Kajibaori" jacket from MAGIC STICK, and Polythene* 3-Pocket Cross-Body Bag.
Brain Dead x Carhartt WIP 2018 Collection
Honoring its deep respect for workwear, Los Angeles-based label Brain Dead linked up with Carhartt WIP on a capsule collection. Dominated by vibrant greens and yellows, the special range sees illustrative graphics printed and embroidered on a set of blue-collar heritage garments. Some standout pieces include the light work jacket, repeating embroidery overalls and collage-motif emblazoned T-shirts. Additionally, accompanying the clothing is Brain Dead Index Vol. 1 which is an exclusive publication of graphics and illustrations from over two dozen artists.
When: July 14
Where: Brain Dead's web store and Carhartt WIP retailers
Matthew Williams x Nike 2018 Collection
After months of teasing, 1017 ALYX 9SM designer Matthew M. Williams and Nike are finally gearing up to release their collaborative "MMW" performance gear collection. Centered around computational data, specifically data regarding motion, heat, and sweat zones, the upcoming series is a mashup of Williams' approach to design and a unique emerging digital aesthetic. Comprised of menswear and womenswear pieces, the future training uniform set covers everything from T-shirts and functional vests to performance-related accessories such as chest rigs, socks, and towels.
When: July 12
Where: Nike online and select NikeLab stores
Billionaire Boys Club Star Trak Collection
Pharrell continues to remain busy bringing back The Neptunes' iconic record label, Star Trak, with a new Billionaire Boys Club capsule collection. Merging together his creative ventures of fashion and music, the collection of T-shirts and caps is a salute to the label's history with a strong focus on its Star Trek-inspired insignia. The logo is showcased as a large back print, smaller chest print and even stretched across the sleeves of long-sleeved shirts, while caps found in the range are decorated with an embroidered take on the logo.
When: Now
Where: Billionaire Boys Club web store and NYC flagship
Places + Faces x POLYTHENE* OPTICS SS18 Capsule
Samuel Ross' A-COLD-WALL* offshoot POLYTHENE* OPTICS recently returned with a new Spring/Summer capsule collection. Leading the special range is a re-release of the limited run, co-branded long-sleeved tees and jumpsuit from the diffusion label's recent Places + Faces pop-up. While a 3-pocket cross body bag, additional short and long-sleeved T-shirts, and hoodies serve as POLYTHENE* OPTICS' latest semiotic expression of avant-garde streetwear.
When: Now
Where: POLYTHENE* web store
Les Vêtements de Football SS18 Collection
With football fever currently at an all-time high, NSS Magazine's satirical Les Vêtements de Football is back again with another set of fashion-centric jerseys. Unveiled via a São Paulo, Brazil set lookbook, the capsule is comprised of vintage kits that come emblazoned with fashion logos reimagined with a dose of soccer-themed humor. The playful takes on Balenciaga, Vetements, COMME des GARÇONS, Gucci and Burberry branding serves as a tongue-in-cheek look at the sport for fashion fans.
When: Now
Where: NSS web store
MAGIC STICK FW18 Collection
Already looking towards the colder months ahead, MAGIC STICK unveiled a lookbook for its upcoming expansive Fall/Winter 2018 collection. Titled "MEANS NOTHING," the latest seasonal range from the fledgling Japanese label explores the aesthetic codes of menswear, drawing elements from military, and workwear, with elements of punk and hip-hop styling. With a unique color palette and accompanying bordeaux, emerald green, and silver highlighting tones, eclecticism dominates the collection comprised by new silhouettes and updates to some of MAGIC STICK's more popular looks. The streetwear staples found throughout the range come emblazoned with evocative text-based graphics, while outerwear is designed for function and fashion in the face of frigid temperatures. Some key pieces include the water repellent BASIC Fleece items and a reimaging of a traditional Japanese "Kajibaori" jacket.
When: Now
Where: MAGIC STICK web store and select retailers
XLARGE® 'Street Fighter Alpha' Capsule
Following up its lauded Street Fighter II capsule, XLARGE® teamed up with Capcom once again for another collection centered around the classic fighting-game franchise. Focusing on the Street Fighter Alpha title initially released in 1995, the special range is comprised of short- and long-sleeved T-shirts and hoodies emblazoned with Cammy, Sakura, Akuma, and Evil Ryu x XLARGE® mashup graphics. Each piece is available in black and white colors, with Cammy's graphic available in military green as a nod to her Special Forces background and Sakura's graphic available in blue to match her signature school uniform.
When: Now
Where: XLARGE web store
Stüssy Bob Marley Capsule Collection
Stüssy pays homage to the late Reggae icon, Bob Marley, in a wide-ranging collaboration of Summer-tinged short and long-sleeve T-shirts. Black & White portraits of Marley are juxtaposed next to graphics that tap into his influential body of work. References to Kaya, Rastaman Vibration, African Herbsman as well as his native record label, Tuff Gong, are featured throughout the collection. Reggae-inspired colors steeped in bright yellows and greens are highlighted in direct contrast to other, more neutral-toned Tees as well: light khaki and pastel blue; Rich tie-dyes and graphics round out the commemorative spread.
When: Now
Where: Stüssy web store and select Stüssy retailers