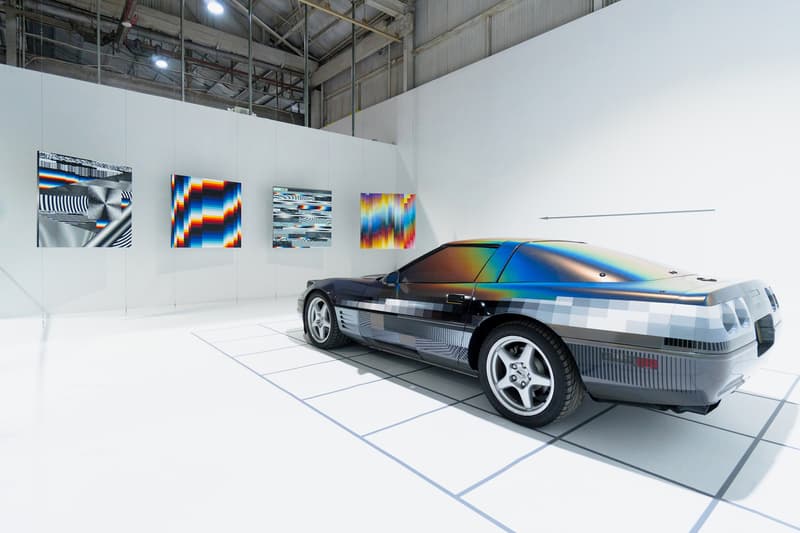 Best Art Drops: Felipe Pantone's Configurable Art, Cleon Peterson Prints & More
Including wire sculptures by Spenser Little.
---
Technology is rapidly changing the landscape of contemporary art in bizarre, new ways. From fine artists such as Marina Abramovic, Olafur Eliasson and Jeff Koons using virtual reality as a platform to present their works, to graffiti writers such as KATSU using drones to spraypaint their signature tags, technology is redefining our perception of art and how it's developed. One of the more recent examples is Spanish artist Felipe Pantone who recently launched an online platform called "Configurable Art." The project allows users to customize their own artworks using various materials.
Read on to learn more about Configurable Art alongside other noteworthy art releases this week.
Felipe Pantone's "Configurable Art" Platform Lets You Customize Artworks
Release Date: July 25
Release Price: Starting at approximately $90 USD
Felipe Pantone recently unveiled a new project, entitled "Configurable Art," that allows users to customize dynamic artworks using an unlimited number of elements. Computer-generated graphics, colorful glitches, and jagged grids are among the graphic elements provided. Altogether, the creative effort is a first of its kind with consumers designing works using Pantone's BuildYourOwn™ tool on the project's online dashboard.Watch the video above to see the creative process in action and expect Configurable Art to launch on July 25.
James Turrell's Iconic Light Installations Featured in New Book
Release Date: Available for preorder now at Hatje Cantz's official website
Release Price: Approximately $80 USD
The Museum Frieder Burda in Baden-Baden, Germany recently launched a major retrospective on prolific American artist James Turrell. The comprehensive exhibit features several of Turrell's spatial illusions, light installations and groundbreaking projections, including Sloan Red, where "geometric light objects appear to float in space," said the institution. To celebrate the exhibit, German publisher Hatje Cantz is documenting the artist's monumental works in one volume book, entitled Extraordinary Ideas-Realized. The book is slated for a publish date on August 28. Visit Hatje Cantz's official website to pre-order one now.
Museum Frieder Burda
Lichtentaler Allee 8B
Baden-Baden, Germany 76530
Spenser Little Releases Intricate New Wire Sculptures
Release Date: Available now
Release Price: Starting at approximately $200 USD
Spenser Little is known for his whimsical wire sculptures that relay sardonic messages or draw inspiration from everyday scenes. The sculptor currently has an exhibition on view at the Long Beach Museum of Art entitled "Vitality and Verve III." To celebrate the showcase, Little made exclusive wire pieces, which are available for purchase at Thinkspace Projects' official website.
Cleon Peterson Drops Two Exclusive Prints at "Blood & Soil" Exhibition
Release Date: Available now
Release Price: TBC
Cleon Peterson recently launched two exclusive prints to celebrate his current "Blood & Soil" exhibition at Over The Influence gallery in Los Angeles, California. Entitled OUT FOR BLOOD and TO FIND THE TRUTH, both limited prints are available for purchase exclusively at the institution's new retail space, Garey The Third. Head over to Over The Influence gallery's official website to learn more.
Gary The Third
833 East 3rd St.
Los Angeles, CA 90013
OG Slick to Release New LAxLA Print at Beyond the Streets Festival
Release Date: July 28 exclusively at Beyond The Streets
Release Price: Approximately $150 USD
Acclaimed visual artist OG Slick is set to launch a new limited edition print, entitled LAxLA, at Beyond The Streets festival in Los Angeles, California. The piece portrays the artist's Mickey Mouse inspired hands atop Estevan Oriol's iconic photograph. The silkscreened artwork measures 24 x 24 inches and will release as an edition of 300 this July 28 exclusively at Beyond The Streets.
Beyond The Streets
1667 N Main St.
Los Angeles, CA 90012