Best Art Drops: Punk Ceramics, Kevin Lyons x Nike Running Tees & More
Including new limited prints from celebrated visual artists, Evan M. Cohen and Taj Francis.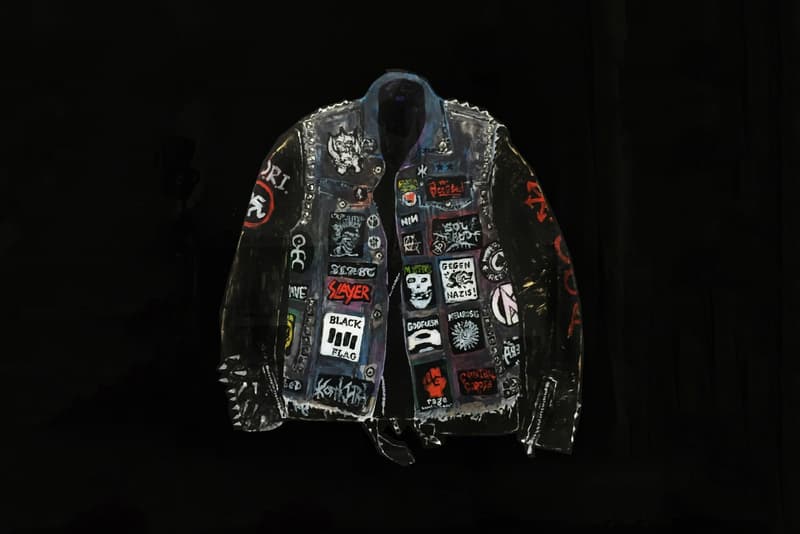 Developing creative concepts usually requires a degree of obsession. For Danish artist Rose Eken, her affinity for creating ceramic sculptures, embroideries, and drawings of punk paraphernalia began as a teen when she work at music venues in Copenhagen. Her job required her to clean up cigarette butts, beer cans, ditched clothes, and more found objects at concerts. These discarded items continue to influence her fine works that are now for sale on major contemporary art platforms, such as Artsy. Eken is just one of many artists who kickstarted her fine art career by having a mania for odd yet commonplace relics.
Read on to learn more about Eken's pieces for sale alongside other best art drops this week.
Rose Eken's Ceramic Sculptures of Punk Paraphernalia
Release Date: Select works for purchase via Artsy's website
Release Price: TBC
Artsy just launched a new guide on contemporary ceramics, of which include pieces by Danish artist Rose Eken. Inspired by found objects in Copenhagen's punk concert halls where she worked as a teenager, Eken's artworks include ceramic sculptures of Dr. Martens boots, leather jackets made of acrylic and tinsel foil on glass, as well as a mixed tape and pencil crafted out of paperclay. Select works are available now.
Kevin Lyons & Nike Running to Launch Exclusive T-Shirts
Release Date: July 11
Release Price: TBC
Acclaimed visual artist Kevin Lyons once again teams up with Nike on an exclusive capsule of T-shirts. To celebrate the upcoming Run x Roll x Skate Parade 2018 in New York City this July 11, the duo will purvey limited-edition tees embellished with Lyons' signature characters. Those participating in the event will need to make donations to the Harold Hunter Foundation in order to reserve a tee. Follow Lyons on Instagram to stay updated.
Evan M. Cohen to Update Online Store with New Prints
Release Date: July 13 at Evan M. Cohen's online store
Release Price: TBC
Illustrator Evan M. Cohen creates works that predominantly touch on issues in modern society. His pieces usually portray a comic strip series of miniature illustrations, starting and ending with two contrasting depictions with seamless transitions in between. This July 13, the artist is set to relaunch his online store with new prints, comics and other works. Each piece is made in collaboration with Seattle distributor Cold Cube Press and Michigan-based screen printing studio End Hymns. Follow Cohen on Instagram for all updates.
Taj Francis to Release Iron Petals Limited Edition Print
Release Date: Available for preorder at Taj Francis' web store
Release Price: $85 USD
Jamaican born artist and designer Taj Francis draws inspiration from reggae and hip-hop music to create digital works of art. The 28-year-old artist recently launched a new limited-edition print, entitled Iron Petals. The piece portrays a young girl clad in a padded boxing helmet and boxing gloves made of flower petals, while carrying a championship belt. Sized at 16 x 16 inches, the print is an edition of 26 and is available for pre-order now. International deliveries will commence on July 30. Stay updated on new projects by following Francis on Instagram.
Murals In The Market Unveils New Hardcover Book
Release Date: An edition of 500 available now on 1xRUN's website
Release Price: $60 USD
Internationally-renowned street art festival Murals In The Market is set to launch this September in Detroit's historic Eastern Market. To commemorate the event, the organizers have launched a limited-edition hardcover book exclusively on 1xRUN. The book spotlights the 125+ murals that have been created in Detroit over the past three years. "100% of the proceeds from this campaign will go towards the festival's production and expenses," expressed MITM. The book is available for purchase now.