These Are the Must-See Movies and TV Shows Dropping in May
Movies and shows to help us get over our 'Infinity War' depression.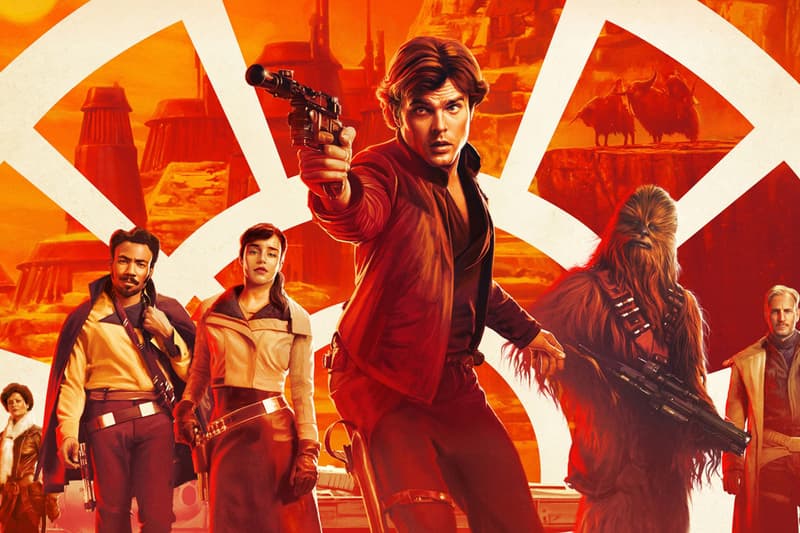 As we continue to collect ourselves after watching the end of Infinity War, May brings us a cornucopia of new television and films to sink our teeth into. Disney is back at it with its latest Star Wars movie, this time showcasing the origin of Han Solo. Then we've got Marvel on the Fox side releasing the sequel picture of The Merc with a Mouth, Deadpool.
Over on television, Netflix is dropping a slew of new content, while HBO continues to provide solid entries, following its excellent Andre the Giant documentary last month. Check out the list below for some of the must-see releases to the more under the radar films and TV shows to look forward to this month.
Films
Bad Samaritan – May 4
This film focuses on a pair of valets turned thieves who find themselves too in over their head once they realized their rich mark is a deranged kidnapper. Once the kidnapper realizes these two know his secret, he begins to hunt them down in an attempt to kill them. It stars Robert Sheehan as one of the thieves and David Tennant as the deranged kidnapper.
Why it's worth your time: Watching Tennant turn on the creepy in that captivating way only he can do is always entertaining, especially after the small taste we got of him in Jessica Jones season 2 as Kilgrave.
Anon (Netflix Original Movie) – May 4
Anon takes place in a world where privacy is a thing of the past, and human beings are equipped with electronic eyes that allow them to read data about other people just by looking at them. Clive Owen plays a detective hunting Amanda Seyfried's untraceable hacker character.
Why it's worth your time: In a world of Big Brother, Cambridge Analytica, and countless other information leaks, this sci-fi thriller will sure to leave you with some food for thought.
Breaking In – May 11
After taking the kids on a weekend getaway to her recently deceased father's secluded, high-tech estate in the countryside, Shaun (Gabrielle Union) finds herself taking on four men who are holding her children captive in search of something in the house.
Why it's worth your time: For one, it stars a black actress where the plot doesn't involve some no-good black man whose either cheating or trying to kill her, and actually has a plot. That being said, this looks like another take on the home-invasion angle that No Good Deed starring Taraji P. Henson and Idris Elba tried to capitalize on but failed.
Terminal - May 11
Written and directed by Vaughn Stein, the story follows two assassins on a gritty mission in an unnamed city. Along the way, they meet "a teacher battling a fatal illness, an enigmatic janitor and a curious waitress (played by Margot Robbie) leading a dangerous double life." As the film unfolds, murders begin to unravel and all the character's arcs intertwine.
Why it's worth your time: It's got Margot Robbie hot off of I, Tonya, playing a femme fatale in a new neo-noir flick, which also features Mike Myers in a role that won't remind you of green ogres and goofy comedies.
Cargo (Netflix Original Movie) – May 18
The film follows a couple with their baby during a zombie outbreak in the outback of Australia. After a few not-so-great events, Andy (Martin Freeman) finds himself traveling alone with his baby looking for a safe haven before meeting a young woman who changes his path.
Why it's worth your time: Cargo adds a bit of uniqueness to the zombie genre by focusing on human connection rather than human-on-human conflict. The fact that it takes place in Australia is also a breath of fresh air for anyone tired of seeing zombie outbreaks deep in the woods like on The Walking Dead.
Deadpool 2 – May 18
Marvel's highly-anticipated Deadpool sequel starring Ryan Reynolds and Josh Brolin's Cable is upon us. It'll feature Cable coming from the future to go after a kid and it's up to DP's X-Force to take him down. It'll be full of fourth wall breaks, comic book references, and a bunch of R-rated profanity.
Why it's worth your time: It's Deadpool, back once again to prove R-rated superhero movies are the new wave and to make fun of all the superhero movies to come out the last two years. Plus, it'll showcase Atlanta's Zazie Beetz as Domino.
First Reformed – May 18
A former military chaplain (Ethan Hawk) wrecked by grief over the death of his son meets Mary (Amanda Seyfried), a member of his church whose husband, a radical environmentalist, commits suicide. This sets the pastor on a trajectory where his faith is tested.
Why it's worth your time: This looks like an updated take on the Travis Bickle character from Taxi Driver, but this time from a religious angle. Like Red State, Religion and horror film settings can prove to mix well together.
Solo: A Star Wars Story – May 25
The Han Solo origin solo that will explain the scoundrel's origins and relationship with Chewbacca and Lando (played by Donald Glover), respectively, is finally arriving. We will see the young Han (played by Alden Ehrenreich) join a crew for a daring mission that will teach him to only look out for himself. It may even involve the highly notorious Kessel Run, you know, the one Han accomplished in less than 12 parsecs?
Why it's worth your time: Between all the behind-the-scenes scandals going on with the switching of directors, Ehrenreich needing an acting coach on set, and the massive reshoots that took place during production, if the movie itself can't live up to the legacy of Harrison Ford's Solo, watching the ensuing dumpster fire onscreen will sure be fun. The debates proceeding the film will surely fuel comment section wars for years on how Disney ruined Star Wars.
The Tale (HBO) – May 26
The film follows Jennifer (Laura Dern), a globetrotting filmmaker and professor whose mother finds a story Jennifer wrote at age 13 depicting a "special relationship" with two adult coaches. As she investigates her past, her younger self is reawakened and reacquaints herself to the stories she's misremembered throughout the years. The Tale will debut at 10 p.m. ET/PT on HBO.
Why it's worth your time: Besides being a timely story,  it premiered at the 2018 Sundance Film Festival to rave reception. It also stars Laura Dern, who won her first Emmy last year for her supporting turn in Big Little Lies.
TV
Being Serena (HBO) – May 2
HBO has been killing it lately with its documentaries. Following Andre the Giant, HBO spotlights tennis legend, Serena Williams, as she takes on pregnancy and motherhood while still being the most dominant player on the court. The docuseries is slated to premiere at 10 PM ET/PT.
Why it's worth your time: Williams is the greatest athlete in her sport. Couple that with the hardships of pregnancy and motherhood for the first time and you've got compelling insight into one of the world's greatest during one of the most vulnerable times in her life.
Cobra Kai (YouTube Red) – May 2
34 years after The Karate Kid, Daniel LaRusso and Johnny Lawrence are still going at it. The story follows a struggling Lawrence as he takes on a disciple while re-opening a new Cobra Kai dojo, which LaRusso, now a car dealer and bonafide douche, takes umbrage with. It's a washed martial artist's fight for redemption in this YouTube Red exclusive.
Why its worth your time: We're living in an age of nostalgia, where our lingering thoughts of "what if?" are being quenched with the revivals of countless popular shows and movies we fawned over decades ago. Cobra Kai answers a "what if" we didn't even know we wanted. Plus, it was favorably received when it premiered at the Tribeca Film Festival.
The Rain (Netflix) – May 4
The Rain revolves around two siblings searching for safety amongst a virus-filled population. After the virus destroys the majority of life in Scandinavia, the siblings decide to exit the safety of their bunker after six long years. The two choose to explore the new world with a group of survivors searching for anyone else who may have lived.
Why it's worth your time: The post-apocalyptic backdrop may be wearing thin for folks, but the film presents a fresh approach to the setting. Plus this is Netflix's first foray into producing content from Denmark.
 Dear White People Vol. 2 (Netflix) – May 4
Welcome back to Winchester in the second season of this critically-acclaimed comedy. Like last season, this season will follow an assortment of the university's students of color as they traverse a diverse landscape of social injustice, cultural bias, political correctness, and activism in the millennial age.
Why it's worth your time: It legitimately looks like everyone from Twitter being tossed into a college setting and forced to interact with one another. It'll tackle timely issues and cover a vast array of modern day stereotypes if not poignantly, then at the very least, completely tongue-in-cheek.
Safe (Netflix) – May 10
After his teenage daughter goes missing, widowed surgeon Tom Delaney (Michael C. Hall) begins unearthing dark secrets about the people closest to him. The series also focuses on Delaney dealing with the loss of his wife from cancer.
Why it's worth your time: If you're a diehard Dexter fan whose driven your significant other insane by constantly re-watching the series like many of us have, this may finally be the well-deserved scratch to that Morgan family itch. The series appears to be dark, atmospheric, and despite the English accent, has Michael C. Hall back front and center in a new series of crazy situations unfolding all around him.
Bill Nye Saves the World Season 3 (Netflix) – May 11
Bill Nye The Science Guy's series Bill Nye Saves the World is about to embark on its third season. Tyler, The Creator, who also created the show's theme song, is finally slated to make an appearance on the show, along with several other guests, who will help Bill in a few new experiments; one of which being the "Shoe Wheel of Death."
Why it's worth your time: Additional guest stars will also include Arnold Schwarzenegger, Karlie Kloss, Michael Ian Black, and Paul F. Tompkins.
Kevin Smith: Silent But Deadly (Showtime) – May 11
Showtime is premiering the stand-up special that Kevin Smith performed the night he suffered his near-fatal heart attack earlier this year.  Catch the special where Smith will espouse his worldly views at 9 PM Friday.
Why it's worth your time: Despite how you may feel about Kevin Smith, the fact is we almost lost a veteran comic and elder statesmen in the world of geekdom. Checking out the show that lead-up to his near-fatal death, after talking about activities that lead to his heart attack, may be poignant to see unfold.
Patrick Melrose (Showtime) – May 12
Doctor Strange (Benedict Cumberbatch) stars as Patrick Melrose in this new limited series. The story sees the titular character's struggle with his traumatic childhood, his subsequent addictions as an adult, and the road towards recovery. Based on novels by Edward St. Aubyn, catch Patrick Melrose 9 pm EST on Showtime.
Why it's worth your time: The books that the series is based after is widely praised, and if you're a huge fan of the novels, each episode is devoted to one of the five stories.
Bulletproof (Sky One and NOW TV) – May 15
An amalgamation of dramedy and action, Bulletproof follows Noel Clarke (Kidulthood) and Ashley Walters (Top Boy) as police duo Bishop and Pike — best friends with very different upbringings, bonded by the same moral code despite their differences. Catch it at 9pm.
Why it's worth your time: The show looks to borrow influences from Bad Boy, and both actors come from esteemed series', one of which that's slated to make a return thanks to Drake.
Fahrenheit 451 (HBO) – May 19
Michael B. Jordan evokes the angst of Killmonger once more in this adaptation based on the 1953 novel that, at one time or another, filled your high school English curriculum. The film takes place in a dystopian society where books are outlawed and firemen are ordered to set aflame any piece of publication they find. Catch the first episode when it airs on HBO at 8 EST.
Why it's worth your time:  It's about time Ray Bradbury's classic novel gets a proper adaptation, and this may be it. The show also stars Michael Shannon, whose as underrated as the day is long.
Mob Psycho 100 (Netflix) – May 22
Mob Psycho 100 is a popular manga and anime series from the same guy who made One Punch Man. The series got a live-action television adaptation in Japan, and like the live-action Full Metal Alchemist flick, will be coming to Netflix with subtitled translations. The story follows an eighth grader with Esper abilities, constantly thrown into bizarre situations, trying to navigate them as calmly as he can.
Why it's worth your time:  It looks to be a faithful adaptation of the source material, a problem Netflix faced when trying to make an original film out of Death Note. Which is great, since all of 100's charm derives from its over-the-top portrayal of mundanity and extraordinary.
Reverie (NBC) – May 30
Reverie is a new thriller about former hostage negotiator Mara Kint, an expert on human behavior, who must save ordinary people lost in an advanced virtual reality program. She must also find a way to deal with her own personal tragedies as all this unfolds.
Why it's worth your time: This looks to be in a similar vein to other VR-dominated stories like Sword Art Online and Ready Player One, both huge successes. It will be interesting to see how network television's approach to the tech-driven theme.