Kanye West Shares His Thoughts on Virgil Abloh's Louis Vuitton Appointment
He also reveals he is working on a philosophy book.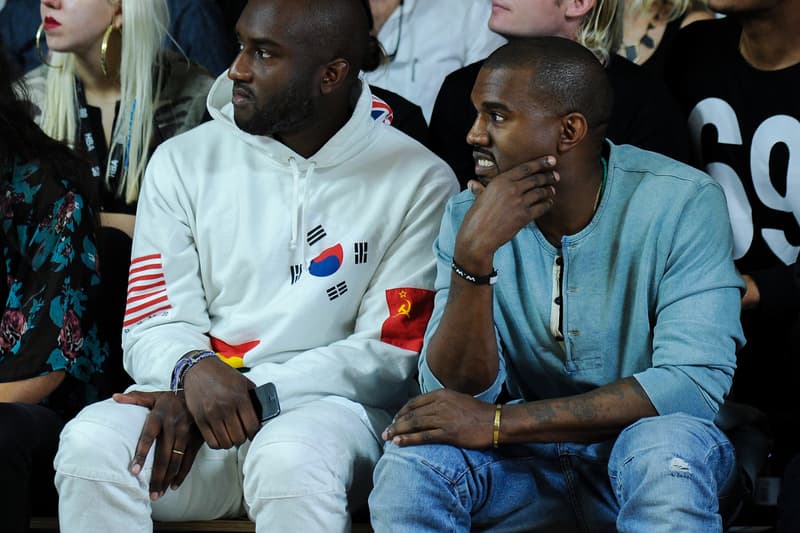 Kanye West has shared his thoughts on the appointment of his long-time collaborator Virgil Abloh as menswear designer at Louis Vuitton. In a new interview in The Hollywood Reporter – in which West was the interviewer, speaking to famous interior designer Axel Vervoordt — West explains that he "had been dealing with a very heavy concept this week that I couldn't get out of my head."
When questioned by Vervoordt whether something bad happened, West replies that "it's not bad or good, its my creative collaborator being the head of Louis Vuitton … Because [Abloh and I] have been fighting to make apparel at a certain price that has the same credibility and desirability as something at a higher price … But when they say he was my creative director, that's incorrect. He was a creative collaborator."
Elsewhere in the wide-ranging interview, West and Vervoordt discuss how they met, their art educations and West's relationship with his YEEZY brand, as well as West revealing that he is currently writing a philosophy book titled Break The Simulation. You can read some key excerpts from the interview below, and head over to The Hollywood Reporter to read the whole conversation between West and Vervoordt.
On their first meeting:
West: "I walked past your booth [at The European Fine Art Fair in Maastricht, Netherlands, in 2013] and saw this coffee table. It was a very low, dark coffee table with round edges, and it looked like it was floating, like a spaceship. I remember walking in and feeling like the movie Batman. Some Bruce Wayne type. It had this very soulful, emotional feeling to the space. I came up to you and said, 'Who is responsible for this?'"
On their education:
West: "You are self-educated about art, design and interiors. Can you say where your instincts come from?"

Vervoordt: "From childhood. We had horses, and my father would bring field flowers from the horse meadows, and my mother loved that more than the red roses from the shop. She taught me to appreciate humble things."

West: "That's beautiful. This is kind of a little secret weapon that I've had on the world: I've actually got a Ph.D. from the Art Institute of Chicago. (Laughs.) I went to college on an art scholarship at the American Academy of Art, but the education comes from being passionate about objects, spaces, colors and the way they affect your senses. Sometimes you get educated by being really bothered by things and you have to educate yourself on how to respond. If you're bothered in a non-spiritual space, Axel Vervoordt is responding with a nuke weapon!"
On Kanye's relationship with YEEZY:
West: "At adidas, I have YEEZY, but it's a namesake brand. It's my nickname. We do these sneakers that sell out and we get, "Oh, this is the number one brand on Women's Wear Daily." And I don't wish to be number one anymore, I wish to be water. I wish to be closer to UNICEF or something where I can take the information that I have and help as many people as possible, not to just shove it into a brand."
West's new philosophy book:
West: "I've got this new concept that I've been diggin' into. I'm writing a philosophy book right now called Break the Simulation. And I've got this philosophy — or let's say it's just a concept because sometimes philosophy sounds too heavy-handed. I've got a concept about photographs, and I'm on the fence about photographs — about human beings being obsessed with photographs — because it takes you out of the now and transports you into the past or transports you into the future. It can be used to document, but a lot of times it overtakes [people]. People dwell too much in the memories. People always wanna hear the history of something, which is important, but I think it there's too much of an importance put on history. One of the things that I thought was interesting was how far people go in the past when you're working on clothing. There's people who will go and reference something from the 1920s or reference something from the '40s, especially dealing with sportswear. My sports wear is athletic wear. I was working with a guy named David Casavant and we were looking at a jogging pant from the 1940s and we were looking at a jogging pant from the 1980s, and I thought it was interesting that he refused to go all the way back to the '40s as a reference, that he wanted to keep the references close to now, to be here now. So I'm not saying that, you know, it's bad to go all the way back."
In other Virgil Abloh news, the designer's first Air Jordan 1 is restocking soon.