Best 'Dragon Ball' Drawings by Top Manga Artists Part 1
By illustrators of 'One Punch Man,' 'Naruto,' 'My Hero Academia' and more.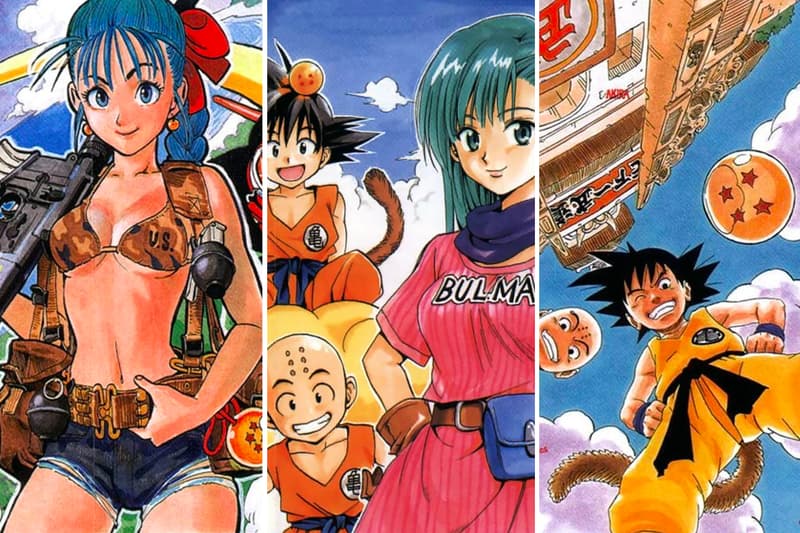 Dragon Ball is without question one of the biggest anime franchises in the world. The Akira Toriyama-helmed series has been running successfully for over 30 years and has made a significant impact in both the East and the West. Hype surrounding the series is currently at an all-time high with the release of critically acclaimed video game Dragon Ball FighterZ, the announcement of the upcoming untitled 20th Dragon Ball movie, and the recent conclusion of Dragon Ball Super. Furthermore, brands like adidas, A Bathing Ape, UNIQLO, New Era, Dickies, Billionaire Boys Club, XLARGE® and more have released Dragon Ball collaborative collections. Last month, Toei even announced plans to establish an entire department dedicated to the mega-franchise.
Not only is Dragon Ball one of the most successful anime series, it's also likely the most influential. The mangaka and masterminds behind other well-known series like Naruto, One Piece, One Punch Man, Yu-Gi-Oh!, Bleach and more have all cited Dragon Ball as a major inspiration, and they have paid homage by illustrating Dragon Ball characters in their own style. Many of the recreations appear on V JUMP's Japan-exclusive 30th Anniversary Dragon Ball: Super History Book, which was released back in 2016.
We've compiled some of our favorite Dragon Ball illustrations drawn by other manga and comic book artists. See part two featuring the illustrators of Yu-Gi-Oh!, One Piece, Bleach and more.
Masashi Kishimoto
Notable work: Naruto
Masashi Kishimoto is the brain behind mega-popular anime series Naruto. Kishimoto cited Dragon Ball's Akira Toriyama and Akira's Katsuhiro Otomo as his main inspirations. He idolized Toriyama's work, watching both Dragon Ball and Dr. Slump, and playing his game Dragon Quest. He has stated that Goku's energetic and mischievous personality was a direct influence when creating Naruto Uzumaki. Kishimoto drew young Goku and Krillin for his tribute to Dragon Ball.
Yusuke Murata
Notable work: One Punch Man, Eyeshield 21
Yusuke Murata is a mangaka from Miyagi, known for illustrating the football-themed manga Eyeshield 21 in collaboration with Riichiro Inagaki. Although he did not create One Punch Man, he was responsible for re-illustrating the series and getting it serialized in the online version of Weekly Young Jump in 2012. One Punch Man is a webcomic originally created by ONE and began publication in early 2009. He was highly influenced by Capcom and Dragon Ball, and has stated that Goku's battles against Piccolo and Frieza were some of his favorite moments from DBZ. Murata has drawn a handful of Dragon Ball characters over the years.
Takeshi Obata
Notable work: Death Note, Hikaru no Go, Bakuman
Takeshi Obata is a mangaka who usually does illustration in collaboration with a writer. He first gained international spotlight for Hikaru no Go with writer Yumi Hotta, and later for Death Note and Bakuman with Tsugumi Ohba. Obata has mentored several other successful manga artists, including Rurouni Kenshi's Nobuhiro Watsuki, Black Cat's Kentaro Yabuki, and One Punch Man and Eyeshield 21's Yusuke Murata. He drew a young Bulma posted next to her Capsule Corp. motorcycle for his tribute to Dragon Ball.
Kōhei Horikoshi
Notable work: My Hero Academia, Ōmagadoki Dōbutsuen, Barrage
Kōhei Horikoshi is a Japanese manga artist known for creating the shōnen series Ōmagadoki Dōbutsuen, Barrage, and My Hero Academia, all of which are serialized in Weekly Shōnen Jump. At one point, Horikoshi was an assistant to Yasuki Tanaka, creator of Kagijin. Horikoshi has revealed that his favorite manga series include Dragon Ball, Naruto, One Piece, Akira, Tekkonkinkreet and Boys on the Run. He drew Goku and Shenron for his tribute to Dragon Ball.
Jim Lee
Notable work: All Star Batman & Robin, the Boy Wonder, Batman: Hush, Superman: For Tomorrow, Uncanny X-Men, WildC.A.T.s, X-Men vol. 2
While not exactly a mangaka, Jim Lee is a Korean-American comic book artist, writer, editor and publisher who has worked for Marvel, DC and Image Comics. Lee has received a Harvey Award, Inkpot Award and three Wizard Fan Awards in recognition for his work. In 1992, Lee accepted the invitation to join six other artists who broke away from Marvel to form Image Comics, where they would publish their own titles. Earlier this month, Lee drew Goku "for the first time"; see it below.
Tetsuo Hara
Notable work: Fist of the North Star
Tetsuo Hara is a mangaka known for illustrating the series Fist of the North Star, which he co-authored with writer Buronson. He originally worked as an assistant to manga artist Yoshihiro Takahashi and in 2001, became one of the founding members of the manga editing company Coamix alongside former Weekly Shōnen Jump Editor-in-Chief Nobuhiko Horie, and manga artists Tsukasa Hojo and Ryuji Tsugihara. Hara illustrated a Super Saiyan Goku for his tribute to Dragon Ball.
Yoshihiro Togashi
Notable work: Yu Yu Hakusho, Level E, Hunter × Hunter
Yoshihiro Togashi is a manga artist who is best known for his works Yu Yu Hakusho, Level E and Hunter × Hunter. Shueisha recognized his talent while he was still in college and his most popular series have been published in the Weekly Shōnen Jump magazine. Togashi is married to Naoko Takeuchi, author of Sailor Moon. Yu Yu Hakusho was originally one of the imitators of Toriyama's Dragon Ball formula, where it started out as a comedy and eventually turns into an action series. Inoue sketched Goku for his Dragon Ball tribute.
Kentaro Yabuki
Notable work: Black Cat, To Love-Ru
Kentaro Yabuki is a mangaka, known for his series Black Cat and the ecchi harem series To Love-Ru. His mentor was Takeshi Obata, the illustrator of Death Note, Hikaru no Go and Bakuman. Yabuki has said that he learned everything about drawing manga from Akira Toriyama's Dragon Ball. He even said that his first publication in Jump was an illustration fusing together Gohan and Trunks that he sent in to a 1995 contest and won a prize for. He drew Goku, Krillin, Bulma, and Androids 18 and 17 over the years.
Yoshio Sawai
Notable work: Bobobôbo Bôbobo
Yoshio Sawai is a Japanese gag manga creator best known for his series Bobobo-bo Bo-bobo and its sequel Shinsetsu Bobobo-bo Bo-bobo, both of which are serialized on Weekly Shōnen Jump. Bobobo-bo Bo-bobo was later adopted into a 76 episodes anime series by Toei Animation, which also is responsible for animating the Dragon Ball franchise. Sawai has often written Bo-bobo version parodies of other manga, including Dragon Ball, Kinnikuman, Yu-Gi-Oh! and Death Note. He's parodied a number of DB characters throughout his career.
Masakazu Katsura
Notable work: Zetman, Wing-man, Shadow Lady, DNA², Video Girl Ai, I"s
Masakazu Katsura is a manga artist known for several works including Zetman, Wing-man, Shadow Lady, DNA², Video Girl Ai and I"s. He has also worked as character designer for Iria: Zeiram the Animation, Tiger & Bunny and Garo -Guren no Tsuki-. He became good friends with Akira Toriyama in the early 1980s after they were introduced to each other by mutual editor Kazuhiko Torishima. Toriyama credits Katsura with coming up with the idea of Dragon Ball's fusion technique (even though Katsura has denied this). In 2008, he collaborated with Toriyama for Jump SQ's one-shot Sachie-chan Good!! and later, a three-chapter one-shot Jiya in Weekly Young Jump in 2009. He's drawn a number of Dragon Ball characters in his career including Android 18 and Goku.
Shun Saeki
Notable work: Food Wars!: Shokugeki no Soma
Shun Saeki is a Japanese mangaka most known for illustrating the manga, Food Wars!: Shokugeki no Soma, which is published in Weekly Shōnen Jump. The manga tells the story of a boy named Sōma Yukihira, whose dream is to become a full-time chef in his father's restaurant. Saeki drew Android 18 for his Dragon Ball tribute.
Arina Tanemura
Notable work: Full Moon o Sagashite, Kamikaze Kaito Jeanne
Arina Tanemura is a Japanese manga artist who mainly creates shōjo manga, or manga targeted at a teenage female target-demographic readership. She is best known for Full Moon o Sagashite and Kamikaze Kaito Jeanne. With the exception of the unlicensed Fudanjuku Monogatari and Neko to Watashi no Kinyōbi, all of her work has been published by Viz Media in North America. She drew Launch, Bulma, Goku and more in her Dragon Ball tribute.
Kenjirou Takeshita
Notable work: Happy World!
Kenjirou Takeshita is a mangaka known for his series Happy World! The manga was serialized in Shueisha's Ultra Jump and was adapted into an original video animation by KSS with animation work by Zexcs. The plot of Happy World! follows a Takeshi Ōmura, an average middle schooler cursed with bad fortune until he is visited by an angel named Elle. He illustrated a perverted Master Roshi in his DB tribute.
Kōshi Rikudō
Notable work: Excel Saga
Kōshi Rikudō is a manga artist best known for his work Excel Saga, a manga which he describes as a reflection of dealing with the everyday aspects of living in Japan. The series has been serialized in Young King OURs since 1995, and its individual chapters were published in by Shōnen Gahōsha. He illustrated Young Goku and Bulma in his tribute.
Shin'ya Suzuki
Notable work: Mr. Fullswing
Shin'ya Suzuki is a manga artist best known for his work Mr. Fullswing. It was serialized in Weekly Shōnen Jump and collected in 24 tankōbon. The plot of the series follows protagonist Saruno Amakuni and it also paradies other well-known manga including Dragon Ball, Kindaichi Case Files, Gundam and more. He drew a collage of Dragon Ball characters for his tribute.
Other Notable Tributes