Weekly Music Roundup: Frank Ocean's Big Surprise, New Gorillaz Album, Young Thug & Drake's Singing Project and More
A recap of everything that happened in music this week.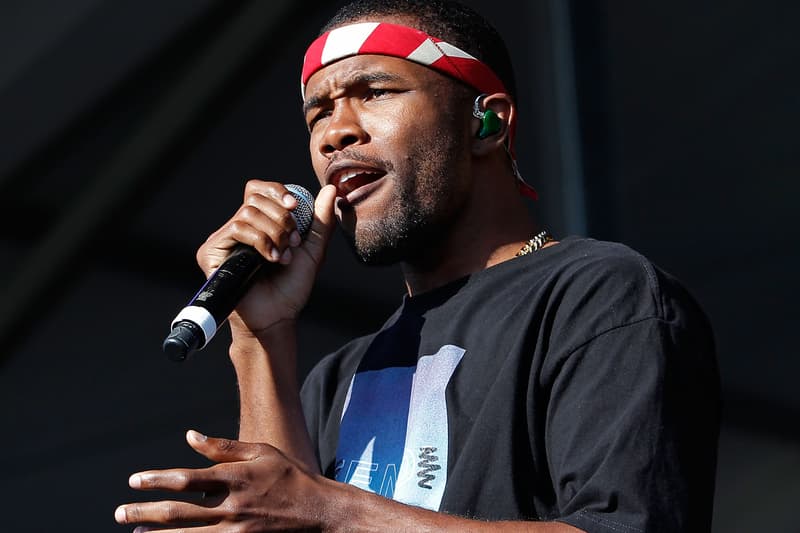 Despite festival season being fully upon us, it was another solid week in music with notable drops from some of our favorites. These past few days saw releases from Frank Ocean, including a new single and a Travis Scott remix of "Lens." Speaking of Travis, he'll be joining Kendrick Lamar as a co-headliner for the upcoming DAMN. tour, while Chance The Rapper just kicked off his own this week where he performed a remarkable live version of Kanye's "Waves" for the first-time ever in San Diego. The long-awaited Humanz album from Gorillaz also released this week in addition to the emergence of young buzzing Florida rapper, Lil Pump who previewed an upcoming J.Cole diss record aptly titled "Fuck J.Cole." Meanwhile, A$AP Rocky and A$AP Ferg finally dropped their very-rare, Harry Fraud-assisted single after some minor hiccups when a rough version began making its rounds earlier this year. Young Thug also announced that he'll be dropping a "singing album" this week executive produced by Drake which could be dropping any moment now. Stay tuned.
As expected, Frank Ocean's blonded RADIO show on Beats Radio 1 has become a hub for weekly exclusives from the singer himself. This week's show, saw Ocean surprising fans with a new single called "Lens" and topped it off with an official remix from Travis Scott towards the end of the show. Not to mention the single artwork was inspired a very iconic painting.
Arguably two of the hottest rappers in the game will be sharing one stage this summer. The unexpected rap duo announced the 'DAMN.' tour earlier this week which will begin in Phoenix, AZ on July 12 and wrap up in Los Angeles, CA August 6. D.R.A.M. will also be on the bill as a supporting act, and tickets are officially on sale now. Meanwhile, K-Dot's new DAMN. album just surpassed Drake's More Life project as the largest debut of 2017.
Check out all the cities and dates for Kendrick Lamar and Travis Scott's 'DAMN.' Tour here.
Premiered on HYPEBEAST Music this week, LA-based sound purveyor, Falcons shared a new summer vibe with DMV rapper Goldlink called "Boo You Know." With cuffing season is coming to an end, the song is all about maintaining healthy relationships with your prospects until next year comes around. Stream below.
After breaking out in 2014, touring most of 2015, and 2016 with Radiohead, Seattle art-rap luminaries duo will finally release a new album this summer called Quazarz: Born on a Gangster Star, their first project in nearly 3 years. Earlier this week, they shared the first song from the project, "Shine a Light" and despite the 36-month hiatus, the beloved rap duo doesn't appear to have missed a beat. Check out "Shine a Light" below and stay tuned for their new album due out on July 14 via Sub Pop.
Wanting to start things off on the right foot, Chance The Rapper kicked off his summer tour this week in San Diego with some surprises. After being chosen as one of TIME Magazine's "100 Most Influential People of 2017,″ the Chicago rapper performed his obscure demo version of Kanye's 2016 TLOP hit single, "Waves" live for the first time ever. Check out the fan captured footage below.
This infamous Rocky & Ferg single nearly leaked earlier this year when a rough cut began making its rounds. The song was eventually pulled and now months later, has finally arrived. Produced by Harry Fraud, the track was known as "Wrong" is just as you'd expect from the Harlem duo: very rare. Check it below, while Rocky has also announced this week that he has something major planned for Cozy Tapes 2.
While the artist behind this still remains anonymous, his piano cover of Frank Ocean's entire Blonde album is beginning to speak volumes. Fittingly-titled Piano Tribute to Frank Ocean, the LP features 15 creative reworks and fresh new takes on Frank Ocean's new Blonde album. Back in September, there was a similar remix project called Brunette by Kweku Saunderson, but took on more of an EDM vibe. Stream the Piano Tribute to Frank Ocean below.
Despite going platinum without any features, you just can't make everyone happy these days. Ask Florida's self-proclaimed "trapper of the century" Lil Pump who's went ahead and shared a preview of an upcoming J.Cole diss track he has in the works. As you'll hear below, it's not exactly a lyrical assault, but fits right in with Pump's unapologetic style and sound. In just a year's time, the Florida rapper has amassed quite a following and millions of plays on SoundCloud. Listen below.
This project could be dropping any moment now, after Young Thug took to Twitter earlier this week to announce that he's dropping a new "singing album" this week. Not only that, the project will be executive produced by Drake. Thugger also says the project will be called E.B.B.T.G. (Easy Breezy Beautiful Thugger Girls) and will be his first full-length since 2016′s Jeffery. Meanwhile, Thug also made an impromptu appearance on Jimmy Fallon this week with Rick Ross and Wale." Stay tuned.
@Drake will be EP'n my singing album.

— Young Thug ひ (@youngthug) April 27, 2017
Your favorite virtual rock band has officially released their highly-anticipated Humanz album today. This following weeks of heavy promotion that included remixes, television shows, tour announcements, and even conducting their first-ever live on-camera interview. Needless to say, we're glad their back. Stream Humanz below.