The Best Collections From Prague Fashion Week Fall/Winter 2018
Emerging Czech designers you want to keep an eye on.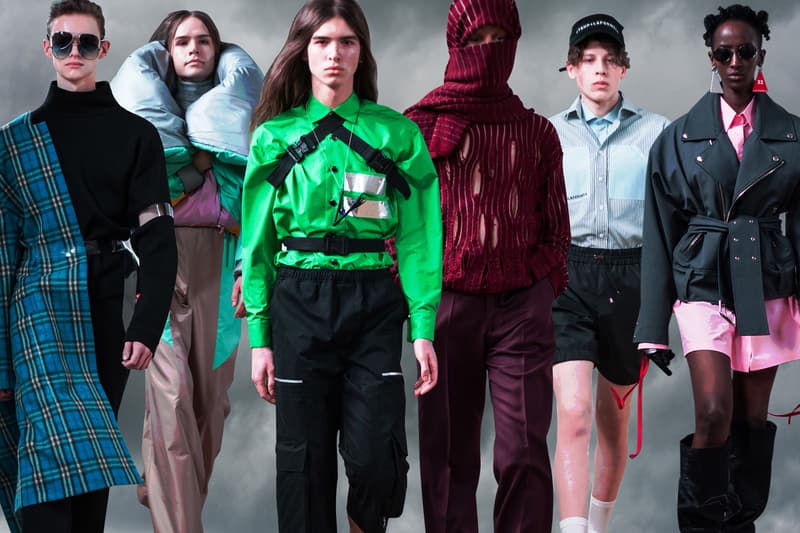 Mercedes-Benz Prague Fashion Week may be one of the smaller-scale contenders of the global Fashion Week carousel, but behind the humble status is a wealth of Czech design talent that has yet to receive the attention it deserves. One might be quick to place Prague under the Eastern European fashion umbrella — on one hand, a beneficial connection, given the immense hype generated by designers like Vetements and Gosha; on the other, a limiting association, with the risk of being pigeonholed to the "post-soviet" trope — but Czech fashion asserts its own design identity that doesn't piggyback on its neighbouring counterparts. Many locals identify the Czech Republic more with Central Europe, where its cities are more romantic, its architecture more elegant, and its overall atmosphere more soft around the edges than what the Iron Curtain label suggests.
For Fall/Winter 2018, Prague Fashion Week took place in the heart of the Old Town at the Palais Clam-Gallas, a beautiful ancient castle whose Baroque hallways made a compelling contrast to the modern and youthful collections that showed. Today, Prague's fashion industry is a tight-knit community where local talent and success doesn't stray far from Czech-sourced materials, collaborations and mentorships. Perhaps due to this, the collections this season were personal, self-expressive, and balanced with both fantasy and wearability. Yet despite the abundance of raw talent and passion displayed during Fashion Week, not much of Czech fashion reaches far beyond Prague. With that said, here are the six best designer collections from Prague Fashion Week Fall/Winter 2018.
Jan Cerny
Jan Cerny is a fifth-year fashion student at the Tomáš Bat'a University in Zlín, who has shown at Amsterdam Fashion Week and proved to be one of the most promising young designers to emerge from Prague.
Jan's Fall/Winter 2018 collection, titled "Sentimental Fear," was inspired by horror movies, phobias and the eerie vibe of the digital age. These themes were displayed by the 3D-printed spider web masks, the sinister workwear elements and the technical fabrics that fused both heritage and utilitarian codes. The collection was a heavy mix of sportswear and technology that centered on a striking palette of green blue and red, offset by essential black and beige neutrals. Drawstring accents, patchwork detailing, 3M reflective detailing, crossbody buckle straps and cutouts gave an experimental-but-still-wearable twist to the classic silhouettes, while sneakers made in collaboration with Prestige, a local Czech workwear shoe label, and leather bags made in collaboration with Carrynaut rounded out the cohesive collection. Highlight pieces include the patchwork tracksuits, the glossy black oversized coat and the wax-coated trucker jackets. The bonus feature of the runway show was the live catwalk video that used the green garments as a green screen for moving animation. Stay tuned for more exclusive content from Jan Cerny, who ranks among the top of our "designers to watch" list.
Jakub Polanka
Jakub Polanka is one of the most celebrated Czech fashion designers, impressing season after season with deeply personal collections that show versatility in style. He was the first Czech graduate from the Institut Français de la Mode in Paris and has worked with leading luxury labels such as Hermés and Louis Vuitton.
For Fall/Winter 2018, Jakub was inspired by the kitschy Czech designs from his childhood spent at his grandmother's home, recreating retro elements into fresh, modern silhouettes. Bright pink and seafoam green '80s tracksuits were transformed into majestic long coats and an indulgent puffer with an oversized collar; rustic padded quilts were made into kimono-style bombers and raglan coats; traditional Czech Gobelin tapestries were transformed into a billow-sleeve cropped jacket and mini skirt; and infamous bleached denim was reshaped into a matching jacket and jean set, followed by light denim garments, space travel-inspired sweaters and blue floral print curtain pieces. Jakub took the aforementioned materials and textiles, which were often seen as unstylish in the Czech Republic, and reworked them into desirable, contemporary garments.
Lukáš Krnáč
Lukáš Krnáč is a student of the Design Studio at the Tomáš Bat'a University in Zlín with a background in animation. His Fall/Winter 2018 runway show was a story about man and nature that, collection-wise, got better as it progressed. The runway delivery was essential to the sartorial narrative. It started off on a more offbeat note, referencing nature in its pure form with bright green oversized sportswear pieces accessorized with actual leaves and twigs. These green pieces then merged, literally, with traditional menswear suiting to symbolize man's arrival. Garments featured oversized proportions and bold cutouts for a modern take on traditional silhouettes. The classic plaid prints transition into bolder hues and then to more synthetic colors and materials, such as orange and the clear PVC panels, which formed some of the collection's strongest pieces. The lighter motifs at the end represent man's destructive fire, rounding out the thematic arc of the collection.
LAFORMELA x Footshop
Czech-Slovakian fashion label LAFORMELA and leading Prague streetwear concept store Footshop debuted a collaborative runway show that closed Prague Fashion Week Fall/Winter 2018. The double runway opened with LAFORMELA's collection, a womenswear range designed by Antonín Soukup and Mirdzina Kohutiarová that drew inspiration from Stormzy's song "Know me From." The range mixed sportswear and modern office-wear with oversized proportions, textural accents and lots of layering and belting. The second part of runway was Footshop's collaboration, which sported the same neon-tinged color palette and formal-meets-sportswear hybrid, but this time via menswear silhouettes. The expertly-constructed collection focused on button-down shirting and workwear, with highlight pieces including the various striped blouses, the military-inspired coats and the sateen trackpants. The LAFORMELA x Footshop collection pieces are available to purchase now.
Adam Kost
Adam Kost is a young Czech designer who is trained in classical menswear tailoring at the Academy of Arts, Architecture and Design in Prague (UMPRUM). Adam's designs focus on meticulous cut, clean silhouettes and a particular eye for linearity that's anchored in minimalism. His Fall/Winter 2018 collection was a harmonious assemblage of menswear pieces that excelled on quality materials and construction. While some may overlook his latest collection for its immediate simplicity, others can appreciate Adam's preference for timeless motifs over louder contemporary fashion trends. His Fall/Winter 2018 collection was tied together by a stripe theme, which manifested as knit scarves and sweaters, as well as classic pinstripe suiting and shirting. Sheer materials, slightly oversized shoulders and slanted stripes put a modern twist on heritage menswear motifs, while a striking scarf wrapped around the head taps into the relevant face mask trend.