Meet the World's Biggest Helmut Lang Archival Collector
From collecting Pokemon cards to reselling the iconic designer.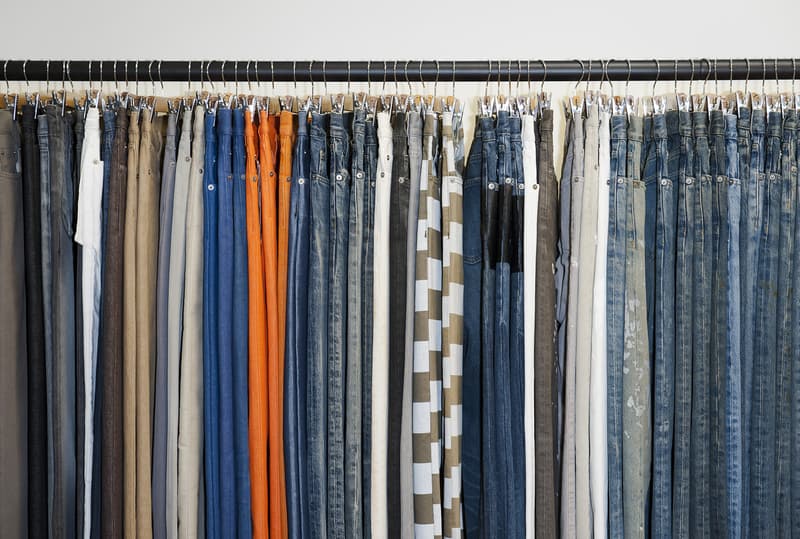 Alongside Raf Simons, Helmut Lang is one of the designers whose work has been picked up by a generation of streetwear followers. While both are regarded as legendary designers, the key difference between the two is that Simons was active during his rediscovery, while Lang left his eponymous label in 2005. The brand itself continued, although never quite reaching the levels of relevance it had during the designer's tenure at the brand. Lang's relevancy was kept alive by the likes of Simons himself, who wore a Helmut Lang Spring/Summer 1997 denim jacket for his bow at the Dior Spring/Summer 2013 runway collection finale.
Lang's departure coincided with the rise of a new, slimmer silhouette brought along by Hedi Slimane's Dior Homme and Thom Browne. But as the pendulum of fashion eventually swung back, fans began to rediscover the brand and, in turn, the story behind it. That Lang had not only stopped designing for his brand but stopped creating clothing wholesale only made his clothes more desirable. The designer has since cut himself off entirely from fashion, moving into the world of art. One project from 2011 saw him viscerally cut ties with his fashion past, shredding 6,000 pieces from his archive.
"After a fire in the building where our studio in New York is located, which could have destroyed the rest of the archive, and after going for months through the pieces to see in which condition they are, I slowly became intrigued by the idea of destroying it myself and using it as raw material for my art," said Lang in an interview with Hint Magazine. "I shredded all the pieces without remorse or preference. It was about erasing the difference of what they once stood for."
This dramatic move foretold a surge in the market for Lang archival pieces, leaving very few places to buy Helmut Lang designed by Lang at a reasonable price. One oasis in a sea of resellers is Michael Kardamakis of ENDYMA. The 25-year-old has long collected various things, starting out with Pokemon cards before moving into '90s punk/emotional hardcore records in his early teens. Emo led to the underground hardcore scene, and Kardamakis came out the other side fluent in forum culture — a byproduct that gave him a crash course in discovering items online, with Kardamakis noting that collecting fashion and records are similar pursuits.
While hustling online, Kardamakis was also studying Art History at University of East Anglia, where he wrote a thesis on the construction and patterns of Ann Demeulemeester's menswear. It was at this time that Kardamakis stumbled on Lang. "I was learning about fashion and I kind of saw this denim jacket of his. It was half denim, then there's a little bit of leather — like corner block pieces of leather on a simple worn denim jacket. And it just looked amazing — like Celine for guys."
He began to resell throughout university. "At first I used eBay and I saw that my auctions were gathering heavy traffic, primarily thanks to detailed photos and long descriptions informed by my Art History studies." Though he was garnering interest, the reselling venture was still in its formative stages and Kardamakis sought to explore other avenues of work first.
"There was a brief period after my graduation during which I had not yet committed to this as-yet unnamed project full-time. In an attempt to get a real job, I spent one morning passing around CVs at fashion shops in Covent Garden. The experience was so difficult for me that it made me certain that a retail job wouldn't work." So he decided to create his own shop instead.
"ENDYMA has always been sustainable and independently-funded – so there was a real need to make it work business-wise." says Kardamakis. To sustain the business, Kardamkis moved the collection to Athens, Greece, where he's currently based.
"There's a whole industry of denim that was based on Helmut Lang."
The collection itself is substantial, consisting of around 850 Helmut Lang pieces in total, alongside a host of clothing from other brands. Kardamakis notes that rent is cheap in the city, which allows him unique storage opportunities. "I rent this big apartment in Athens. It's nice and cheap, so you can get fantastic and fair places for very little money. There's everything from shoes, accessories and all sorts of clothing." The relatively low overhead allows ENDYMA to sell Lang at affordable prices, a stark contrast to the price gouging seen on newer online reseller marketplaces.
While the introduction of new players to the resell market disrupts resell prices, Kardamakis remains steadfast to his own approach. "That has always happened," says Michael. "It's just a random price put on the product, they can offer you much less. The thing to do now is to put a price — like $3,000 dollars for a coat — but they will happily sell it for like $1,200."
With years of experience under his belt, Kardamakis is scrutinous of this new influx of resellers and identifies it as part of a wider trend. "'Archival' fashion is very popular nowadays, which means that the demand for ENDYMA's product and services is high. However, this outburst of engagement will inevitably subside over time like all trends do." While this line of thinking may differ from analysts — who opine that fashion marketplaces will be a key part of fashion's growth — Kardamakis is prepared for any eventual downturn.
Instead, the aim for ENDYMA is to provide itself an outlet for those interested in fashion that digs a bit deeper than the most visible grail items. "ENDYMA's long-term aim is to contribute towards a culture of longstanding relevance within the fashion industry," he says. "It's not about obsessing about the latest great thing — it's about pressing pause and looking at the richness of what is already around. With this in mind, I am hoping that ENDYMA will become more helpful as a resource of information about Helmut Lang and other designers."
Another key part of this outreach plan is to host activations similar to a recent event in Paris, where he took over a space in the DMSR showroom and showcased a selection of key Lang pieces, complete with explanations. "I am going to be collaborating with some retailers in the coming months, which will hopefully help sustain the project commercially while enhancing the project's educational aspect," he adds.
As the entrepreneur's business grows, he's reluctant to leave his home base in Athens but looks to Paris as a future halfway house. "The recent showcase at DMSR in Paris helped me realize that I can make new friends, meet collaborators and maintain fruitful connections with the industry without being in one of the big cities full-time. So, Athens it is for now."
As long as the market for Lang stays in tact, ENDYMA is set to build a home for itself across the fields of retail and fashion history. And indeed, the desire for Helmut Lang pieces designed by the man himself is likely to grow over the years, both due to designers looking for inspiration and collectors searching for additions to their wardrobe. However, while interest in Lang is currently high, time will tell if there's potential for another brand to take over the mantle.