Best New Tracks: Drake, Sheck Wes, Lil Pump, A$AP Rocky, BlocBoy JB, 21 Savage and More
Fresh sounds for the first days of spring.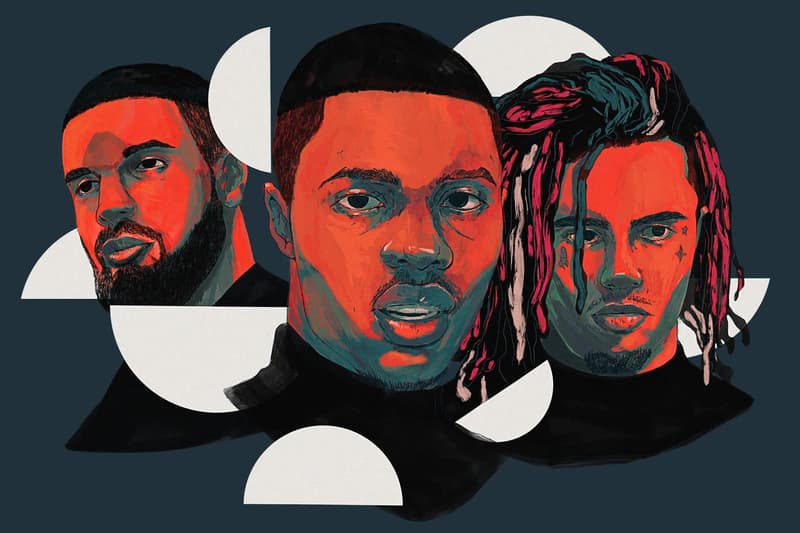 For the latest in our music roundup series, we compile another stellar week of tunes that included a wide array of releases from some of music's biggest names. Of course, the week also saw some incredible releases from low-key giants like Denzel Curry, Sloan Evans, and Bishop Nehru who dropped a three-headed monster with his joint project Kaytranada and MF DOOM.
HYPEBEAST also caught up Belly and YG this week on the set of their "4 Days" music video where they interviewed each other on random topics that included describing their "dream girl," expensive purchases and basketball.
Check out the best music releases down below and let us know what you think.
Sheck Wes – "Do That"
With the rap game officially on notice following the release of "Mo Bamba," Harlem-born 19-year-old rapper Sheck Wes has shared a new followup this week through Cactus Jack/G.O.O.D. Music, titled "Do That." For Sheck, the drums reminded him of his Senegal heritage, specifically Laamb, which is Senegalese wrestling. Listen in below.
BlocBoy JB & 21 Savage – "Rover 2.0"
After much anticipation, one of rap's hottest new prospects BlocBoy JB has officially released his new 21 Savage-assisted cut this week, "Rover 2.0." The song originally released last year, but a new version of the track finds 21 Savage delivering some hard-hitting rhymes. Listen to the track below.
Drake Remixes N.E.R.D.'s "Lemon"
Ever since N.E.R.D. dropped off its smash hit "Lemon" back in November of last year, we've seen countless dance challenges and live renditions of the track, with yet another new version recently hitting the airwaves. Pharrell and Drake prove "Lemon"'s lasting relevance by releasing a brand new remix.
Pharrell debuted the track earlier on OVO Sound Radio as part of his special guest mix. Similar to the original, Rihanna can also be heard delivering her catchy chorus. Check out Drake's version of the popular N.E.R.D. tune on Apple Music.
Lil Pump – "Gucci Gang" Remix featuring 21 Savage, Gucci Mane & More
For OVO Sound Radio's latest episode, Oliver El Khatib debuted Lil Pump's "Gucci Gang" remix and it's stacked with guest features. Injecting some new energy into the track included Gucci Mane, 21 Savage, French Montana, J Balvin, Bad Bunny and Ozuna. Stream below.
Kygo & Miguel – "Remind Me To Forget"
The king of tropical house joined forces with the crown prince of alt-R&B on their new single this week titled, "Remind Me To Forget." The summer-vibe cut finds Miguel crooning post-breakup melodies over Kygo's upbeat production that seemingly makes emotional scars sound fun.
070 Shake – Glitter EP
070 Shake's smokey vocals paired with soulful melodics and genuine accounts of dealing with depression, addiction, and sexuality are all very much relatable to the millions of individuals going through the same silent battle. This week, she's continued her quest of spread her message of hope in new uplifting EP titled, Glitter. Listen in below.
A$AP Rocky & Thirty Seconds To Mars – "One Track Mind"
A$AP Rocky unexpectedly hopped on Jared Leto's Thirty Seconds To Mars. The track finds the Harlem rapper channeling his "LSD" flow over an abstract production. The single will be featured on Thirty Seconds To Mars' fifth studio album, America, which also includes contributions by Halwwsey and Zedd.
Denzel Curry & IDK – "Uh Huh"
While spending a lot of time on road with A$AP Ferg for the Harlem rapper's 'Mad Man' tour, Denzel Curry and IDK decided to record a new track together and officially released it this week. The FNZ and VohnBeatz-produced cut sees the Carol City and Maryland rappers exchange high-energy bars on a frenetic beat. Listen in below.
Bishop Nehru, MF DOOM & Kaytranada – Elevators: Act I & II (Album)
Bishop Nehru dropped off his long-anticipated collab album with MF DOOM & Kaytranada this week and as expected, it's lived up to the hype. Press play below.
Be sure to check out our previous music roundups for the best drops of weeks past.