Best New Tracks: Ronny J, Playboi Carti, Yung Lean, Tom Misch, Little Dragon, De La Soul and More
Start your March off right.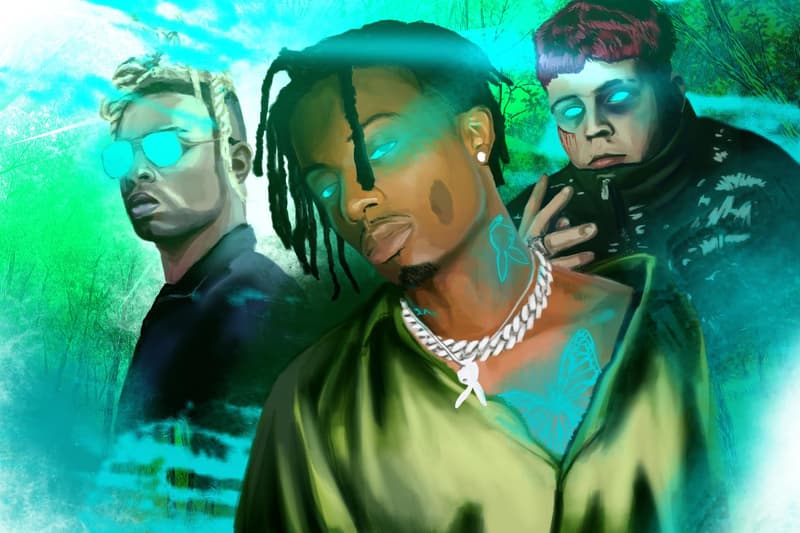 For the latest in our music roundup series, we delve into the third month of the year that also proved to be one of the biggest music week's of 2018, led by an assortment of singles, projects and headlines. Of course, one of the trending items this morning was the star-studded release from DJ Khaled featuring JAY-Z, Future and Beyoncé, called "Top Off." As for projects, we saw new offerings from Tory Lanez, Mozzy, Nessly, Curren$y and even one from G.O.O.D. Music's newest signee, Valee. The week also saw a special appearance from the 16-time world champ and legendary wrestler, Ric Flair, who made an epic appearance on 21 Savage, Offset & Metro Boomin's new video for "Ric Flair Drip." Lastly, we also saw Drake shattering yet another record, this time making history as the second artist ever to reach 100 million streams in less than a week's time for his smash hit, "God's Plan."
Check out this week's best new tracks and let us know what you think in the comment section.
Playboi Carti & Sosamann – "In the Lobby"
Playboi Carti teamed up with Houston rapper Sosamann for an unlikely collaboration this week, titled "In The Lobby." The track finds Carti and Sosa exchanging catchy rhymes over a playful, hard-hitting instrumental. Listen to the track below.
Tom Misch & De La Soul – "It Runs Through Me"
With London-based artist Tom Misch set to release his debut album Geography on April 6, the singer drops the De La Soul-assisted track "It Runs Through Me." The minimalistic, lounge-inspired cut sees each member of De La Soul riding the beat bar for bar. Listen below.
Ronny J – OMGRONNY (Mixtape)
Without any warning, pioneering South Floridian producer Ronny J dropped a new surprise mixtape this week. Comprised of 15 tracks, the young hitmaker made sure to call on some of the biggest names out of Florida, most of which he helped get their starts in music. Stream below.
Against All Logic (Nicolas Jaar) – 2012 – 2017 (Album)
After a two year hiatus, renowned avant-garde producer/composer Nicolas Jaar has returned with a new LP called 2012-2017. The project was actually released earlier in the month but flew under the radar due to him using a new alias – A.A.L., an acronym for Against All Logic.
Yung Lean & ThaiBoy Digital – "King Cobra"
Sad Boys and Drain Gang connect, as Yung Lean and ThaiBoy Digital jumped on a new track, spewing syrupy rhymes over a woozy melodic beat. As usual, the formula works. Listen in below.
SSION & Ariel Pink – "At Least The Sky Is Blue"
SSION is a new creative project helmed by Cody Critcheloe, who managed to connect with hypnagogic pop and chillwave godfather Ariel Pink this week for a new track called, "At Least The Sky Is Blue." Airy and psychedelic, the track serves as the lead single off of SSION's upcoming project, O, which will drop this spring.
Swoosh God – "Swoosh Me Up"
Although his releases are sporadic, Valley Stream native Swoosh God is always solid when he comes through with new music. This week, Swoosh shared his new Cardogotwings-produced cut that originally previewed for a few seconds on the new AWGE DVD. Check out the full version below.
Little Dragon – "Sway Daisy"
Little Dragon officially made their return this week, dropping a new track titled "Sway Daisy." The release arrived with the announcement of their upcoming North American tour set to kick off next week. Listen in below.
A$AP Ant – The Prelude EP
With Flacko season on the horizon, A$AP Ant, with the help of the Marino Gang Infantry, dropped off his new EP this week. Comprised of seven tracks in total, the project features notable cuts with fellow Baltimore rapper Zoduh, long-time collaborator Benji Blue and production from Marino Gang producer AR, Splizzledoe, Lord Fubu and Spakheem.
Yung Bans – "Off It"
After quietly dropping one of the hottest independent projects out of Atlanta this year, rap up-and-comer Yung Bans is back in the mix with a new loose single titled, "Off It." The track was produced by Yung Icey who helmed a number of hits for Smokepurpp, Famous Dex and D Savage amongst others. Press play to listen below.
Misogi & AJ Tracey – "Have U Seen"
Renowned electronic producer Misogi joined forces with one of West London's finest grime emcees in AJ Tracey this week. Going off a fashion theme of sorts, "Have U Seen," finds AJ Tracey flexing bars about his designer threads and being one of the flyest blokes out of the UK. Peep below.
---
Be sure to check out
our previous music roundups
for the best drops of weeks past.