Strictlypreme Is the World's First Supreme-Exclusive Marketplace
A convenient and safe way to cop second market Supreme.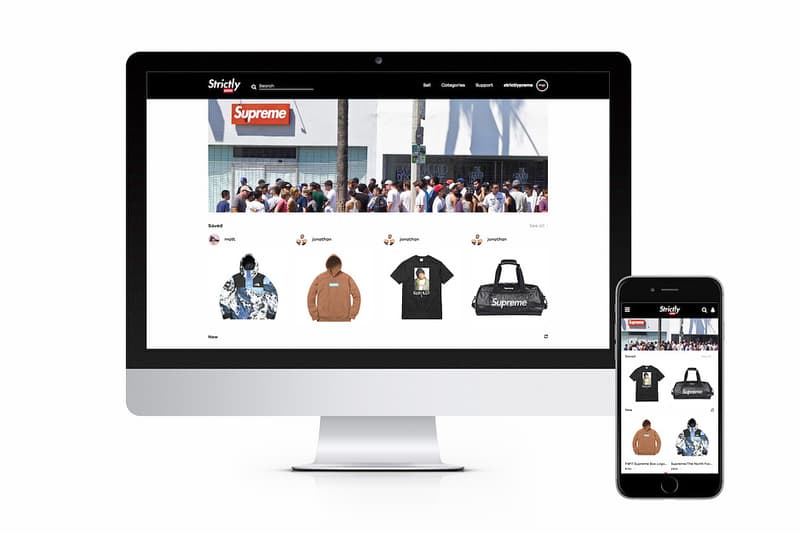 Not all Supreme fans have the luck, patience and, sometimes, the proper resources to be able to purchase Supreme releases on the brand's usual Thursday drops. Luckily for those who don't mind paying above retail price, there are other second market destinations — both online and physical — that consumers can go to in order to cop pieces they might have missed out on. One site trying to revolutionize the Supreme resell game is Strictlypreme – it is considered the world's first Supreme-exclusive marketplace and it's helping a dedicated and hungry community buy Supreme more efficiently.
Peace of mind for sellers and buyers is a major key for Strictlypreme. For one, uploaded items to the site are moderated for authenticity by the Strictlypreme team, all of which have years of experience finding, buying, and selling items with people from around the world. Another important component for the site is ease-of-use — functionality is optimized for computers, tablets, and smartphones and plans for app development are already in the works. Furthermore, GB pounds, U.S. dollars, JP yen and euros are currently supported in addition to PayPal integration. As for fees, Strictlypreme only takes 5% commission.
When asked about the stigma surrounding Supreme resell culture, founder Jonathan Graham had this to say: "Like it or not, the limited edition nature of Supreme means that the reselling opportunity is always going to be there. That being said, however, Strictlypreme was not set up with the intention of just helping people make an extra $20 USD on a Supreme tee, but with the primary goal of creating a diverse and easily navigated Supreme inventory. We want all kinds of people to use Strictlypreme, as we offer the ability to buy anything posted on our site, whether they are interested in reselling or finding a unique item that will actually be worn and enjoyed. Personally, I like the idea of providing a way for people to find stuff that they will actually love to be seen in or add to their collection!"
Visit Strictlypreme to give the site a try. In other Supreme news, the skatewear brand just dropped a quick skate vid starring some of its team riders.