Smoke DZA & Joey Bada$$ Collide on "The Mood" Single
Off his 'Not For Sale' album due out on 4/20.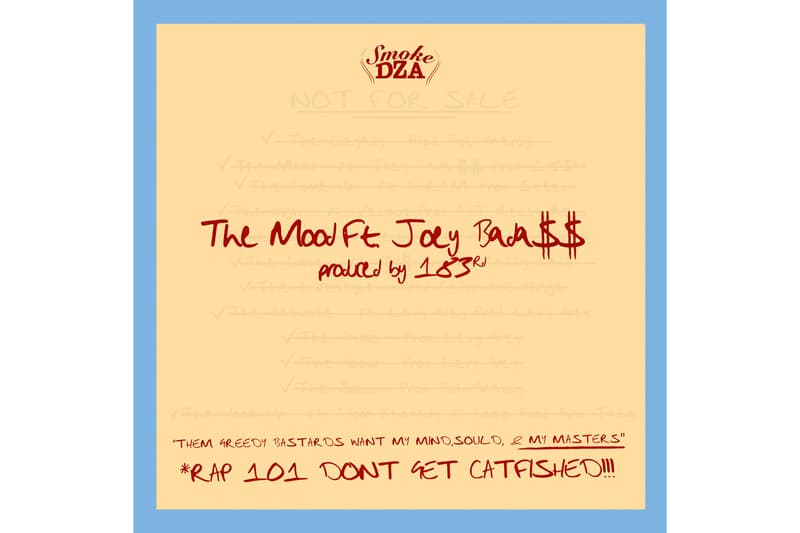 Harlem's self-proclaimed "Kushed God" has just announced a new album for 2018 titled, Not For Sale. In conjunction with the big announcement, Smoke DZA has also dropped the project's first single with fellow Cinematic Music rapper/Pro Era frontman, Joey Bada$$ titled, "The Mood." Produced by 183rd, you'll find the rap duo channeling their 2002 vibes while using Jay-Z and Scarface's "Guess Who's Back" instrumental as the backdrop for some witty, intellectual wordplay for the ambitious young hustlers out there.
Meanwhile, Not For Sale, the follow-up to last year's Cuz I Felt Like It Again mixtape, will be released on Smoke's favorite day of the year (4/20). Stay tuned and check out the full tracklist below.
1. "The Legacy" (Produced by BobGnarly)
2. "The Mood" f/ Joey Bada$$ (Produced by 183rd)
3. "The Come Up" f/ D.R.A.M. (Produced by DJ Steel)
4. "The High" f/ Velous (Produced by DJ Relly Rell)
5. "The Hustle" f/ Bodega Bamz & LevyGrey (Produced by LevyGrey)
6. "The Love" f/ Ty Dolla $ign (Produced by DJ Relly Rell)
7. "The Lifestyle" (Produced by Cardo)
8. "The Antidote" (Produced by LevyGrey)
9. "The Game" (Produced by LevyGrey)
10. "The Glow" (Produced by LevyGrey)
11. "The Soul" f/ Vado (Produced by BobGnarly)
12. "The Hookup" f/ Cozz & Dom Kennedy (Produced by Girl Talk)