Behind the Scenes of the "New Level" Video With A$AP Ferg, Future and Co-Director Shomi Patwary
Hear why Ferg considers Missy Elliot his twin and how the first idea for "New Levels" was "Hate Me Now"-inspired.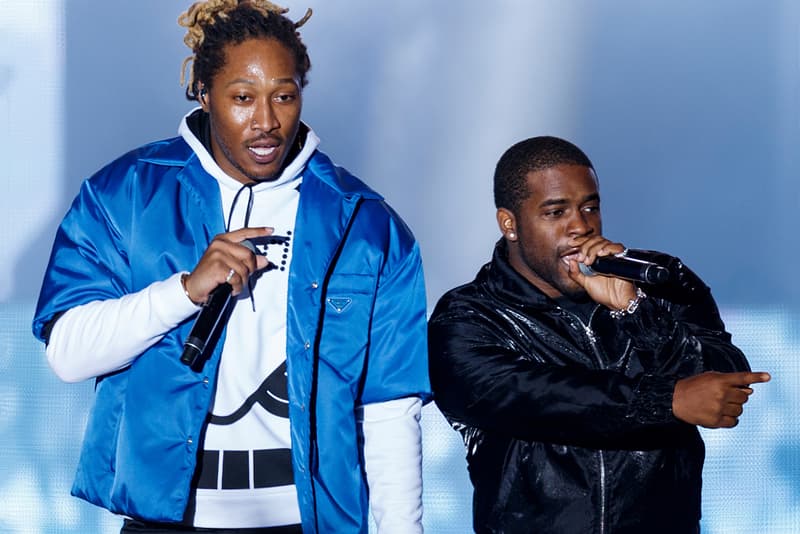 A$AP Ferg is not your average hip-hop artist, in fact, he may prefer you remove the hip-hop designation and not box him into a particular category of art. As we discussed in our exclusive interview with the Harlemite back in September, just a few months before the premiere of his Art Basel event alongside adidas, Ferg grew up enthralled in all realms of art, from drawing and painting to fashion and film. Now with a firm reputation as one of the rap game's most versatile mind, his creative vision is beginning to grab the attention of some of hip-hop's brightest, including Future. The two recently linked up for a heater, "New Level," with Ferg taking over the director roles, alongside longtime collaborator Shomi Patwary, for a video treatment. The two co-directors were kind enough to send us some BTS shots and a brief breakdown of the experience below.
How did this collaboration with Future come about?
A$AP Ferg: After hearing the beat, I heard him on the record. I sent him the instrumental and he sent his verse right in. As far as the video, we just had to do it together because we were both feeling the song so much, and turning up to it.
Those long overcoats you had in the video are dope, can you tell us about the styling approach?
A$AP Ferg: The styling was all custom made. I wanted to have a futuristic look, but I also just wanted to be fun and add a unique element to the video.

Shomi: Kwasi Kessie did the styling for Ferg and Future, while Charlotte Sclapari did the styling for all the cameos and models. I know that Ferg was looking at all these various Y2K references for styling, I would say the leather trench coat was very much like The Matrix. Nothing looked more "new level" than the Wachoski's film right before the new millennium.
Can you tell us how you two plan to push the boundaries of directing music videos?
A$AP Ferg: Shomi and I work so well together because we both want to push with innovative videos, because we get bored with a lot of hip-hop music videos. We take from other worlds and genres, including rock, pop, edm, and even film and movies, incorporating them into our work. There's a lot of things that hip-hop doesn't touch because we're so closed in or boxed in. We just try to school ourselves through film, not plagiarizing, but teaching ourselves and getting inspired to do something no one has ever seen.

Shomi: I am not particularly looking to push any boundaries, our goal is to fit our agenda and match the aesthetic. We don't want anything to come off as trying too hard, nothing contrived. If anything, we are trying to raise the bar in the sense of how we capture these visuals, getting better from a technical perspective. Ferg and I have always been very left-field, even when we all shot "Work" a few years ago, we didn't have the resources we wanted, but we still managed to capture Harlem in a surreal way.
The video had, in my honest opinion, some Hype Williams-Missy Elliot sensibilities in it. Were they, or rather have they been an influence on you guys?
A$AP Ferg: Definitely. I was tweeting Missy last month, calling her my twin, because I'm heavily inspired by her. She was the first person to wear that Matrix coat before the Matrix was even out (see tweet here). I was just paying homage to a great icon.

Shomi: Hype Williams from the '90s has always been an inspiration to us, from the videos he's done for Missy to the movie Belly. Hype himself had some of the best artistic influences. Hype was more of an inspiration for the original treatment for "New Level" because at first we wanted to capture the same feel as NAS' "Hate Me Now." We wanted to gather all of the people in Harlem next to a Bodega just like Hype did, but it started to feel a bit generic without being able to have similar budgets production wise. This video for us was a combination of an art film mixed with music video elements. 
Who were all those cameos in your video, and why them?
A$AP Ferg: Daryl Homer is an Olympian fencer. We had josh Gordon, who is a professional football player. BMX biker Nigel Sylvester is on a new level in street culture. And you had me, who is also on a new level (laughs). I wanted it to be almost like a big sports commercial, because a lot of athletes turn up to my music. I wanted to dedicate the song and video to them.