YMC's Fraser Moss on Why Music and Subculture Drive Fashion
Prog Rock-influenced garments from London's finest.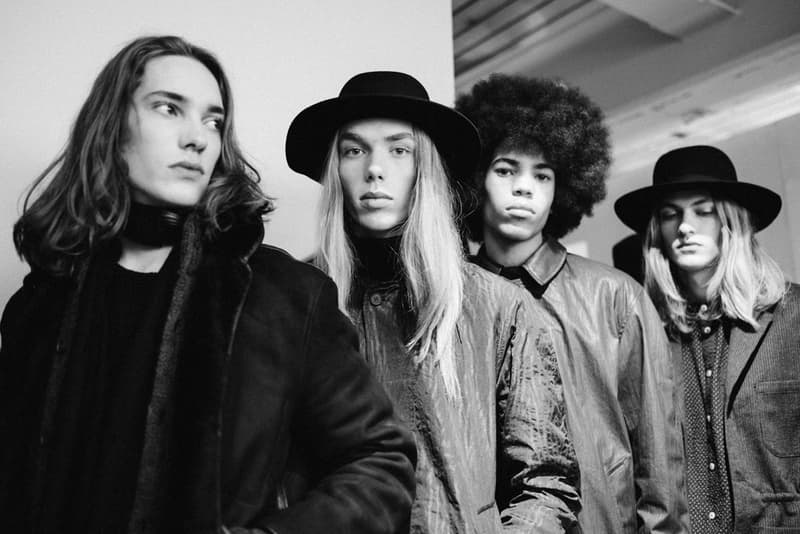 Earlier this month London-based brand YMC dazzled a home crowd, presenting a new selection of modern, clean looks to a Prog Rock soundtrack at LC:M. Long a favorite of European fashion shows, the YMC catwalk blended subculture, niche reference and the pulsating live music of a rock band to great effect. We caught up with brand founder Fraser Moss to get to the bottom of what it was all about and what inspires his work with YMC.
Can you take us through the key influences, aesthetically, for the collection presented at LC:M?
I was particularly interested in the British folk movement of the late 60s and was inspired by revisiting some of my old LPs, in particular the Incredible String Band and UK bands of that ilk as well as the middle Eastern psyche movement of the 60s. The aesthetic I find most appealing of these movements was the bohemian ramshackle hobo like approach to dressing and I wanted to try and reflect this in my design. Looking back on the collection now, I think it was a subconscious movement away from the ubiquitous sport luxe trend. The silhouette was wide and relaxed, highlighted by the cropped wide leg pants paired with thick knit socks and clogs and I tried to create a fluidity of movement.
How important is it for YMC to tie its collections into particular subcultures or movements?
I think I'm a product of my generation. I've grown up through some of the most important sub-cultures and movements that have happened in youth culture and can't help but be influenced and inspired by this. However, generally, I design like a jigsaw puzzle and take from many different periods within one collection.
YMC is a brand that  has always referenced the past well, whilst managing to stay contemporary. How important is this to you, and is it a concious decision?
I think this defines YMC as a brand, I've always worked to the adage that you have to look back to move forwards and feel this is true in most of the arts, particularly music. Nothing is new it's just a progression or retake on an echo from the past. It's important to not take these ideas literally and somehow add a 21st century spin.
What informed the choice behind the soundtrack for the runway show?
As mentioned above, I was listening to a lot of music from the 60s underground, I particularly liked the way they could create a happening . For instance the Velvet Underground at the Factory. For me the only way to achieve this was to create an imaginary band made up of friends …….two members of Toy, one from Scum and a great guitarist called Rotter. What was key in using these musicians was they could totally immerse themselves as they all familiar with this genre. I was blown away at how they interpreted my original idea and felt it really complimented my collection.
Head yo YMC's website for a closer look at backstage photos from this month's LC:M.