These Are the Must-See Movies and TV Shows Premiering in November
From horror to wholesome in the blink of an eye.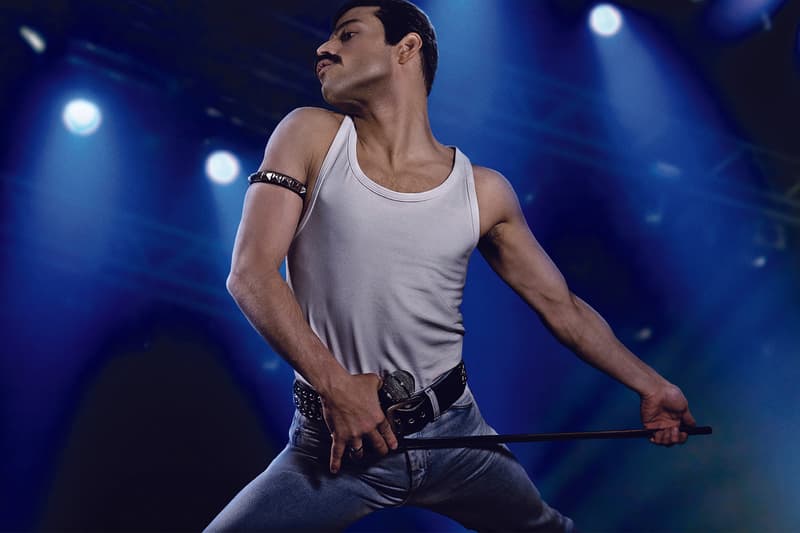 Now that we've gotten all the blood, guts, and horror out of our system, it's time to use our last remaining months this year to watch some heartwarming content distributed for the festive holidays ahead! Although we don't have a lot of impressive TV shows premiering this month, the cinemas have blessed us with the upcoming Freddie Mercury biopic, our third adaptation of Dr. Seuss' How The Grinch Stole Christmas and the continuation of the Rocky franchise in the upcoming sequel to Michael B. Jordan's Creed.
But just because the must-sees are on the short-side on the small screen, doesn't mean there aren't any gems releasing. We will see Narcos spin-off into a new story about guns, drugs, and deception. Then after that, settle in for comedian Bill Burr's animated series F Is For Family just in time to nurse our post-Thanksgiving/Black Friday coma. Check out the list below, ranging from some of the must-see releases to the more under-the-radar films and TV shows to look forward to in November.
Films
Bohemian Rhapsody (November 2)
A film celebrating the music and legacy of the iconic rock band Queen and its acclaimed frontman, Freddie Mercury, Bohemian Rhapsody highlights the meteoric rise of Mercury (Rami Malek) as the band begins to develop its revolutionary sound and unconventional style. The film will also highlight the spiraling lifestyle of the iconic rocker as well as the band's triumphant Live Aid reunion in 1985, which resulted in one of the greatest performances in rock history.
Why it's worth your time: This has all sorts of Oscar buzz around it, especially because of the uncanny portrayal of Freddie Mercury by actor Rami Malek. Although some critics are expecting some revelations about his private life, this film is meant to honor the memory of the man and his legacy. Malek truly undergoes a transformation into Mercury, on Daniel Day Lewis-levels of method acting. Even if fans may not be pleased, the film is sure to provide a tour de force of acting prowess.
Bodied (November 2)
Directed by Joseph Kahn and produced by Eminem, the plot of Bodied has been described as a story about a "white, purportedly progressive graduate student who infiltrates a community of diverse battle rappers for the sake of an edgy thesis." The YouTube Premium film will feature Charlamagne Tha God, Rory Uphold, Anthony Michael Hall, Dizaster, Hollow Da Don and more.
Why it's worth your time: This looks like a hilarious satirical look into the aggressive world of battle rap — fitting that this comes from the man who wrote and starred in the only other acclaimed film centered around battle culture. It may also end up being YouTube Red's next big hit, just like the much slept on Cobra Kai.
The Front Runner (November 6)
Gary Hart, former senator of Colorado, becomes the front-runner for the Democratic presidential nomination in 1987 because of his charisma with the public. But it all comes crashing down when allegations of an affair surface, forcing him to address the scandal that threatens to derail his campaign and personal life.
Why it's worth your time:  Well, for one, we're sure a movie about a presidential scandal taking hold will surely be ironic to watch in 2018. But it does appear the film unapologetically stays neutral in the conflict based on how events are portrayed, making for an entertaining crowd pleaser.
The Grinch (November 9)
Starring Doctor Strange himself Benedict Cumberbatch as The Grinch, this animated film will follow the titular grump to destroy Christmas once again in the town of Whoville in order to gain some peace and quiet.
Why it's worth your time: We've seen the cartoon special portray his scariness from the book, and we've seen the Jim Carrey film lean in on the comedy and zany aspect, as well as his backstory. Now we can sit back, and watch a more modern take on the character, his snarky, misanthropic ways will surely attract everyone's apathetic side.
The Girl In The Spider's Web (November 9)
The Girl with the Dragon Tattoo story is continuing with Lisbeth Salander being played by The Crown's Claire Foy in The Girl in the Spider's Web. In the film, we will see Lisbeth and journalist Mikael Blomkvist getting caught up in a ruse that involves some family drama and a subsequent web of spies, government officials, and cybercriminals following their every move.
Why it's worth your time: The film looks to be more of a thriller than the crime mystery David Fincher's prior film was and will showcase a bit more insight into Lisbeth's family and how it weaves into the plot. The original David Fincher movie was so good, and a sequel should've arrived with Fincher in-tow a long time ago. But since this film will follow the books more closely, we can expect the fantastic source material to be adapted masterfully.
The Ballad of Buster Scruggs (November 16)
If you're still playing Rockstar Games' Red Dead Redemption II (it's a long one), then this anthology of six short films taking place in 19th-century post-Civil War era may be up your alley. Set in the Old West and directed by The Coen Brothers, each story will have an apparently different tone, starring the likes of Liam Neeson, James Franco, and more.
Why it's worth your time: This is a blatant Oscar contender for Netflix, which is why it will be releasing in theaters alongside two other exclusives to the streaming service before it actually hits the platform. It's one of the biggest forces and creative minds in Hollywood, The Coen Brothers, trying out the benefits of releasing a film on behalf of Netflix. Catch this film wherever you can, whenever you can.
Fantastic Beasts: The Crimes Of Grindelwald (November 16)
Set once again in the world of Harry Potter, years before the events of the film and book series, Jude Law stars as a young Albus Dumbledore who works with zoologist Newt Scamander (Eddie Redmayne) to take down the dark wizard Gellert Grindelwald (Johnny Depp) and escape the grasp of MACUSA. Grindelwald looks to gather up a group of loyal subjects to raise pure-blooded wizards to take command over non-magical figures.
Why it's worth your time: It's always a wonderful occasion revisiting the world of Harry Potter, and this time around we will actually see the halls of Hogwarts, as well as the greatest wizard to live back in his heyday. Perhaps it will further contextualize the world, Hogwarts, and the character of Albert Dumbledore, and enhance the Harry Potter franchise as we know it, and not in the way J.K. Rowling tries to on social media.
Widows (November 16)
The film places four wives with their backs against the wall as they're brought into the fire of their dead husbands' criminal pasts. Viola Davis, Elizabeth Debicki, Michelle Rodriguez and Cynthia Erivo play the aforementioned wives who stand up and fight against their late husbands' foes aiming to take back money that was originally stolen from them.
Why it's worth your time: The cast features some women known for playing strong female characters and if you've seen the preview above, it looks like the same will be expected from them here. It genuinely just looks good and has an interesting plot. And you can expect some stylistic visuals from director Steve McQueen.
Ralph Breaks The Internet (November 21)
This sequel to the 2012 breakout hit sees Ralph (John C. Reilly) and his best friend Vanellope traveling from their arcade environment to the Internet world in an attempt at saving their game from being unplugged permanently. However, they need money in order to save it, so they go to a free-to-play game where they meet another video game driver named Shank, who Vanellope becomes obsessed with. Now Ralph is worried he may lose his one and only friend to the brimming new prospect and the world of the Internet.
Why it's worth your time: The first one was such a sleeper hit, and now that Disney knows what it has in its hands, they've relocated the cast of characters from video game references wisely into the culture of the Internet, which is sure to be more inclusive to the general moviegoers and provide some satirical laughs in the process.
Creed II (November 21)
This follow-up to Creed and Rocky IV sees Adonis preparing for his next bout against Viktor Drago, son of the infamous Ivan Drago. Creed, alongside Rocky Balboa, prepares to take on the Drago family as Rock constantly attempts to warn his fighter of the huge obstacle he'll be going up against. Both with personal ties to the Drago family, the duo prepares how the will overcome the challenge ahead.
Why it's worth your time: The original Creed made us cry manly tears as it tackled subjects of self-worth, estranged family dynamics, and living up to a legacy. It also showcased the heritage of Rocky Balboa, which began some 40-plus years ago in the cinemas. Watching pop culture icon Balboa go from the young underdog to the man he is today is sure to stir something in you, as does watching him usher in a new generation of fighter, the son of his best friend/rival. This film will reopen the can of worms created in Rocky IV, where our protagonist got rocked so hard his brain never functioned the same. It's a spiritual rematch that we all saw coming, but glad that's happening nonetheless.
TV
Shut Up And Dribble (November 3, Showtime)
Following the snarky comment made by Laura Ingraham about LeBron James, the former is now executive producing a three-part documentary series showcasing NBA players' influence on the political climate by taking control of their own destinies.
Why it's worth your time:  Besides being very topical, this series will feature former ESPN personality Jemele Hill as its narrator and is directed by Gotham Chopra, who is responsible for the most recent Kobe Bryant documentary. With both of their names behind the series alongside their knowledge of the game, this will surely provide some great insight into the topic of sports and politics.
House of Cards (Season 6) (November 2, Netflix)
Following the death of Frank Underwood (and complete cancellation of actor Kevin Spacey), we see Underwood's wife Claire take the center stage. It's evident that Claire is gaining power as the new president of the United States. But as a result, she will have to endure the pushback that comes with the role from both the media and those within her team.
Why it's worth your time:  Whether or not this season suffers because Spacey is out, at least the show is getting a proper ending that goes alongside the plot from the book series. Maybe audiences only tuned in for Frank Underwood, but the show was losing interest within its fanbase since he successfully became president. Will these house of cards stay up or come tumbling down?
Narcos: Mexico (November 16, Netflix)
Narcos: Mexico will explore the origins of the modern drug war by looking back at the rise of the Guadalajara Cartel in the 1980s as Félix Gallardo (Diego Luna) takes the helm with DEA agent Kiki Camarena (Michael Peña) moving his family into ground zero of all his drug activity.
Why it's worth your time: Diego Luna and Michael Peña are collaborating once again, this time on a highly popular property. We're sure the series will showcase the talent of both these rising stars and elevate their careers in the process. Further, it looks like the series will delve into both sides of the law, like The Wire, and deliver a compelling and sometimes tense story.
The Little Drummer Girl (November 19, AMC)
Starring Florence Pugh, Alexander Skarsgård, and Michael Shannon, this miniseries follows the manipulations of Martin Kurtz, an Israeli spymaster who intends to kill Khalil – a Palestinian terrorist who is bombing Jewish-related targets in Europe, particularly Germany – and Charlie, an English actress and double agent working on behalf of the Israelis. The man is Becker, an Israeli intelligence officer, who entangles her in a complex and high stakes plot orchestrated by Spymaster, Kurtz. Set in the late 1970s yet sharply contemporary, The Little Drummer Girl weaves a dynamic and exciting story of espionage and international intrigue; of love and betrayal.
Why it's worth your time:  This story has transcended the spy genre it's inspired from. The novel has not only spawned this mini-series but also a film released in 1984. The plot lends itself to drawing audiences into the cause and whether what our main protagonist is being told is true or false, which increases the paranoia and intrigue as the episodes roll out.
F Is For Family (Season 3) (November 30, Netflix)
Netflix's dysfunctional animated family returns for its third season. Executive producer Vince Vaughn will finally step from behind the role to voice a new character, a "legendary Air Force fighter pilot" named Colonel Chet Stevenson. As a former military man who was torn from his lifestyle once his now wife got pregnant, Frank realizes Chet is everything he wishes he could have been. It's time to see Frank, who loves his family, slowly begin to resent them this season. It should be hilarious.
Why it's worth your time: Bill Burr, the voice of Frank, is a national treasure. His comedic stories of growing up in the 70s with an angry dad are reflected in this series, alongside the rest of the writer's experiences as a kid back in the day. It's great insight, satirical of the decade, and darkly humorous.