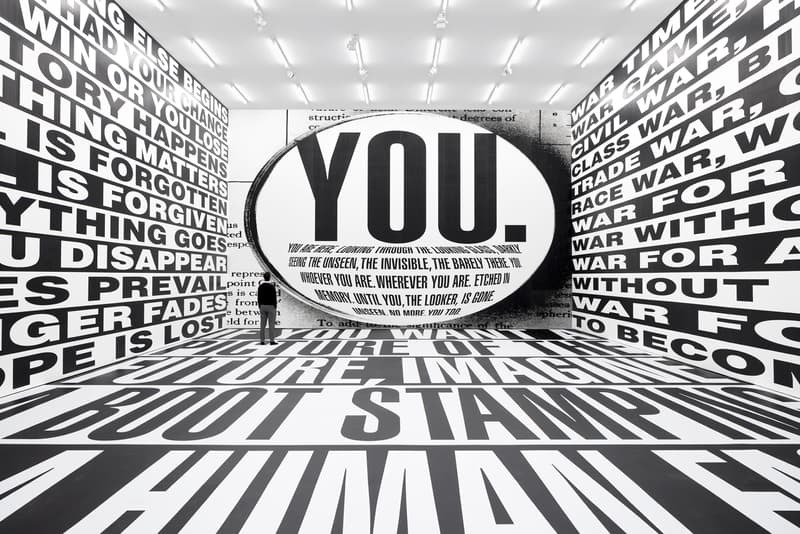 Among Week's Best Art, Andres Serrano for Supreme
Including a rare Yayoi Kusama painting for sale.
---
Appropriation in art has been long disputed. Not only is it debated in postmodern artwork, but heated talks of artists stealing another person's artwork go back to the Renaissance era with Roman painters pilfering inspiration from the Greeks—even the Dada movement's appropriation of everyday objects is just another filibuster in this whole pretentious powwow. In short, artists continue to hijack artistic concepts. Only a strong few, however, use the borrowed mediums to raise awareness on social issues, rather than use them for their own gain.
From Banksy recontextualizing a Basquiat artwork to Barbara Kruger utilizing passages from Virginia Woolf, here is a roundup of artists and shows that cull inspiration from elsewhere to subvert societal norms.
Barbara Kruger's "Forever" Solo Exhibit in Berlin
Barbara Kruger has recently debuted a new solo exhibition called "Forever" at Sprüth Magers in Berlin, Germany. The acclaimed conceptual artist's latest presentation is yet another homage to the great English novelist Virginia Woolf—culling words from Woolf's iconic essay "A Room of One's Own" for a sprawling, immersive room wrap. More precisely, the artist quotes, "You know that women have served all these centuries as looking glasses possessing the magic and delicious power of reflecting the figure of man at twice its natural size," onto the four white walls of the gallery. Additionally, Kruger has a new selection of vinyl prints on display for the show.
Head over to Sprüth Magers' official website to learn more. "Forever" is currently open to the public until December 22.
Sprüth Magers
Oranienburger Str. 18
10178 Berlin
Germany
Banksy Reimagines Jean-Michel Basquiat's 'Boy and Dog in a Johnnypump' Painting
The Barbican Art Gallery in London is set to open a major retrospective of the late Jean-Michel Basquiat titled "Boom for Real." The event marks the first large-scale UK exhibition of the legendary American artist that will feature a slew of archival pieces. To commemorate the event, Bansky recently took to Instagram to showcase a new mural that features the elusive artist's ubiquitous stencil motifs alongside a reimagining of Basquiat's famous Boy and Dog in a Johnnypump artwork. The politically-charged mural features stencils of the Metropolitan police undergoing a stop and frisk procedure of the Basquiat-inspired painting.
"Boom for Real" will open to the public starting September 21 up until January 28, 2018. Head over to the Barbican's official website to learn more.
Barbican Centre
Silk St.
London EC2Y 8DS
UK
KNOW WAVE Announces Nick van Woert's First Solo Exhibit in Chicago
Artist Nick van Woert opened a mystifying solo exhibit dubbed "Dirtnap" for the first time at this year's EXPO Chicago event. To commemorate the event, KNOW WAVE teamed up with Notre to launch an afterparty with a special capsule of limited edition apparel that features van Woert's artwork. As for the exhibit itself, the artist created a series of acid-induced sculptures and accompanying artwork that reflect the natural environment, material chemistry and mankind's dependence on technology.
"I want to feel like I'm completely sober walking around an intoxicating landscape," said van Woert. "There's a piece at the expo that is a metal box that I made that holds zinc casts of Unabomber's tools that I got from the FBI years ago when they auctioned them off. He's one of these guys that has this return to nature attitude, a kind of Luddite. My fascination isn't entirely how things are made in nature, but how people who have actually tried to live a life outside of modern life and return to that," he added.
Visit Moran Bondaroff's official website to view the artist's most recent projects and head over to KNOW WAVE to purchase available items from the capsule.
EXPO CHICAGO
600 E. Grand Ave.
Chicago, IL 60611
Andres Serrano Partners With Supreme on a Controversial Collaboration
Supreme continues its coveted artist collaborations with a forthcoming capsule dedicated to the controversial work of New York-based photographer, Andres Serrano. The streetwear mainstay has adorned hooded sweatshirts, sweatpants, graphic tees, as well as a Vans footwear collaboration with visuals from Serrano's most polarizing Blood and Semen artworks. Most notably, the artist's highly contentious Piss Christ piece that portrays a plastic crucifix deluged with Serrano's own urine.
The collaboration is set to launch on Supreme's New York, Los Angeles, London and Paris locations, as well as its online shop this September 21.
Sotheby's Hong Kong to Auction Rare Yayoi Kusama 'Infinity Net' Painting
Sotheby's Hong Kong will soon commence its contemporary art auction for the fall, purveying works of renowned artists such as Yayoi Kusama, Morita Shiryu, as well as a devoted batch for Chinese contemporary artists born in the 1970s. A pink Infinity Net painting created by Kusama (as depicted above) is just one of the rare artworks that will be up for grabs at the auction. "The work executed in cherry blossom hues not only conveys an overwhelming sense of grief towards her departed friend, it also foretells the artist's imminent return to Japan, documenting an important transition of her career," said the art dealer.
Sotheby's Hong Kong Contemporary Art Autumn Sales 2017 is slated to launch from September 30 to October 1.
Sotheby's Hong Kong Limited
5/F, One Pacific Place, 88 Queensway
Admiralty, Hong Kong