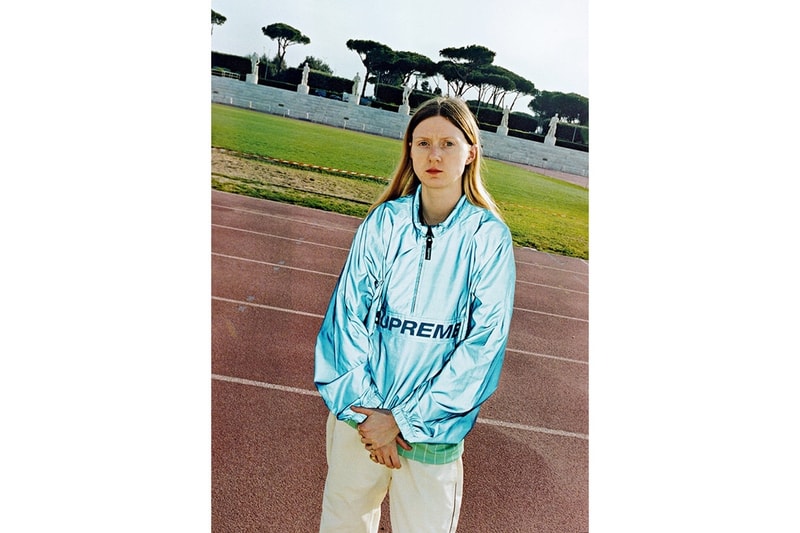 Supreme London's Hetty Douglas on Carving Her Own Niche in the Art Industry
Coming from a family of artists.
---
When Hetty Douglas isn't modeling editorials for Supreme London, the young Nottingham native is probably holed up in her studio creating a series of new mixed media paintings. Douglas is known for embedding witty typography onto her artwork alongside spontaneous splashes of vibrant paint. She recently had a show at the Cob Gallery in London's North End district called "GOOD LUCK" made in collaboration with fledgling Saatchi artist, Alfie Kungu. The show consisted of twelve paintings that predominantly touch upon the themes of maturity and adolescence.
The artist recently sat down with SSENSE to discuss origins, favorite clothing labels, and upcoming projects she has in store. Take a look at key excerpts below and then head over to SSENSE to read the entire interview.
On Becoming an Artist

I've always been creative because my mum's a fine artist. My aunt is an artist. My cousin is a graffiti artist. My brother is an artist too. I've always been around creative people. From a very early age I would be in my mum's studio, or at university and college with her because she went to art school as a mature student. I was about 10 when she was studying.

On Being Many Things at Once

I'm ready to do something outside of London. I'd say New York, but maybe L.A. I feel like they're a lot more open-minded. In London, if you're a painter, that's it. If you try and do something else then you're not taken seriously as a painter anymore. If you're a fine artist, that's it. Or a graphic designer, that's it. You can't be a fine artist and make clothes and be a DJ, because then you're not really a fine artist. London is very closed in that way.

On Her Favorite Labels

Oh, Gucci! It's just sick isn't it, really? With Gucci it's the suits, it's the tailoring. I've always wanted to find a brand that does bold, lairy suits, and they do that. I've just not seen that, apart from Tom Ford, about eight years ago. I'm always like, "I know by the time I get married this suit isn't going to be available to buy, should I just buy it and put it in storage?" It's probably freaked my girlfriend out. Also, Supreme. I like their clothes. I'm a sucker for rayon shirts, and they smash it. I like Stone Island, STORY mfg, and Aries too.

On the Future

I'm just going to focus on painting. Towards the end of the prep for "GOOD LUCK," I was kind of a bit like, "oh, fuck, no," they're not going to like my work," and I was just being self-critical. Then you do a show, and remember every single reason why you feel the highs and the lows and love working in the first place. So I want to paint loads now to be honest, start working towards having a big body of work. Putting together enough work for a solo show.