Jerry Lorenzo Is Bringing the Cool Back to Baseball, and the Timing Couldn't Be Better
Fear of God's founder talks 1997 Collection, New Era collab, and the current state of baseball.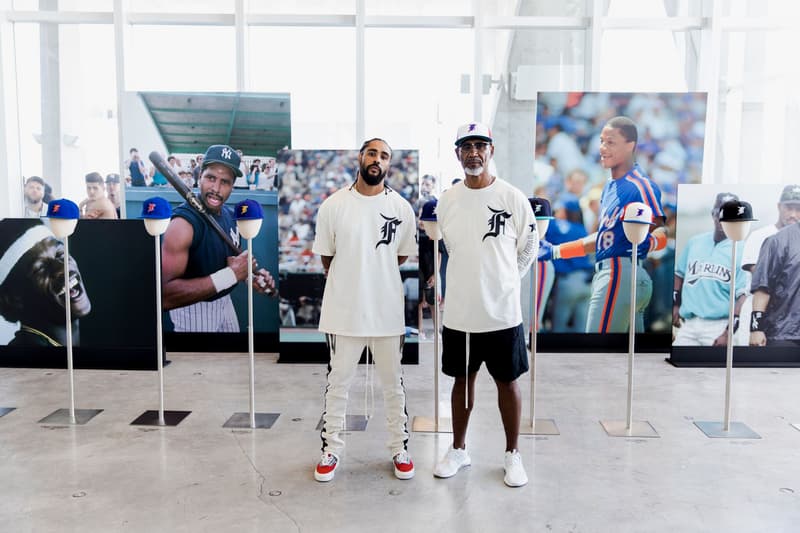 Jerry Lorenzo took to Miami this past weekend, and not just to enjoy MLB's All-Star Game festivities with his young family, just like he had done in years past with his father, former coach Jerry Manuel, but to launch his 1997 Collection and accompanying New Era collaboration at Alchemist. The collections couldn't have come at a better time: on top of the Marlins hosting its first ever All-Star Game, the franchise is also celebrating the 20th anniversary of its first World Series title. Despite the Marlins' record and attendance numbers, baseball is buzzing in South Beach, right now. However the same can't be said for America.
Baseball has seen a massive decline in youth participation over the last decade, especially among children of color in urban areas. Many, including the MLB, attribute this trend to a lack of resources, which isn't wrong by no means: the sport can be quite expensive and next to impossible to play due to the space needed. While the League has kickstarted programs like the Play Ball initiative to combat these barriers, it's still having trouble making the sport cool and relevant, just as it was when the Marlins magically won it all in '97.
Others, including Lorenzo, feel baseball is simply lacking the rockstar-like players that made it so popular in decades past, although guys like Judge, Stanton and Harper seem keen to carry the torch. With that in mind, Jerry took it upon himself, with help from New Era, to educate the youth and hypebeasts alike about the relevance of baseball through the fitted cap.
We spoke to Jerry over the phone just after the launch of his pop-up shop to talk about his 1997 Collection and New Era collaboration, as well as the current and future state of baseball. Check it out below.
How'd the pop-up shop within Alchemist go?
It went awesome. We sold out of pretty much everything. We had to ship in some more pieces from LA for the last day. For me, it didn't need to sell a single piece, whether it was from the '97 Collection that honored my dad and the '97 Marlins, or if it was even one single New Era hat. For me, it was just the overall message that I think was most important.
How did the collab come about?
The collaboration happened… Well, the Fifth Collection is based on my idea of this high school athlete who directs fashion in the '90s. When I was coming up in high school, it wasn't about this fashion educated kid that knew about creative directors overseas; it was about the star athlete, whether it was the quarterback or the point guard, directing fashion and trends. He didn't necessary have access to luxury brands, all he had access to was what was in his closet. So whether that's a long basketball jersey that he's layering under a T-shirt, or his game shorts he's wearing to school, or his football jersey he's layering over a hoodie, all of these elements of this athlete. One of the cornerstone pieces of that wardrobe, or that closet, was a fitted hat.
In the '80s and '90s it wasn't about dad hats and snapbacks: if you had a snapback you just weren't official. With that being said, the fitted hats of the '80s and '90s were the cornerstone of the muse of my collection. It was a pleasure for me to partner with New Era and recreate that exact hat. The crown that's a little bit shorter. The fabrication needed to be 100% wool. The hats needed to be made in the same domestic Buffalo factory here in the United States, and not made overseas. The details needed to be exactly the same. If you look inside the hats, all of the labeling and trim, they're all the same as the '90s ball caps. The green under the bill, the white tape.
Importantly, as an American designer and with my position in the marketplace, and whatever relevant influence Fear of God has, with that comes responsibility, a responsibility to educate. The fitted hat is one of the centerpieces of American culture, hip-hop culture. You got baseball, apple pie, and a fitted cap. I needed to have a perfect hat to tell this story.
Even the Detroit [Tigers] "D" is the most iconic and best hat of all time. The Tigers drafted my dad in the first round in the '70s out of high school, so there's so many elements of this that mean a lot to me and are telling a bigger story that a lot of kids don't understand. Working alongside New Era and pushing each other to put forth what we believe is the perfect hat.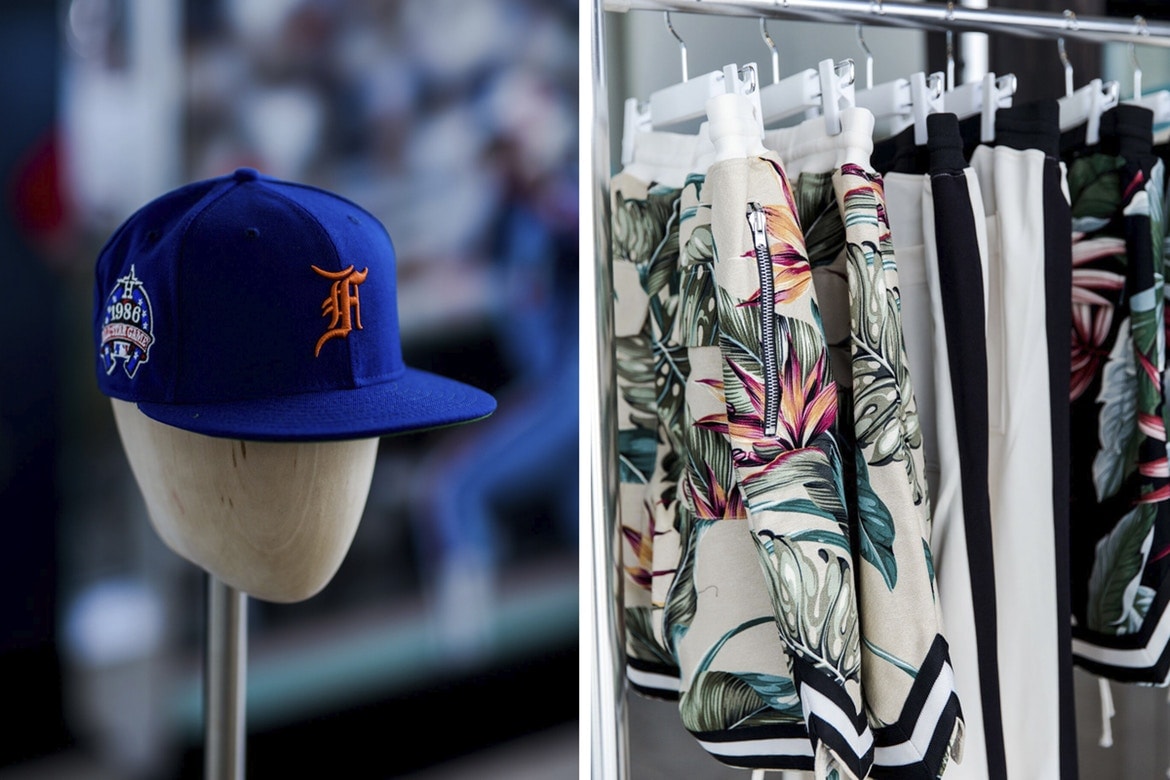 How was it collaborating with New Era, were they open to your ideas?
Yeah, they were super open. They've been tremendously supportive. Initially, the Tigers declined and said we can't use their logo. We flew out together to meet with the Tigers ownership to tell them a little bit about my intention with the project and my intention to make baseball relevant again within culture, pop culture, to honor my father.
We're at a time where the New Era flag is on the side of the on-field caps for the first time ever in baseball, which is super dope, but because of that, it automatically puts a date and time period of where that hat is from. So I had to push New Era to allow me to use the old school script; it was necessary to use an old school script on the side and that it was tonal… They understood the importance of the messaging around these hats and they supported that.
Making the hats in Buffalo is something they haven't done in a long time, especially with any collaborators, we're the first team they collaborated with and gone back to their old factories. I think from the jump, we knew what the opportunity was, and we both were willing to do whatever possible to make these hats come alive.
That's interesting that the Tigers were hesitant. Do you think that's a problem league-wide, in that teams are a bit old fashion and unwilling to infuse culture?
I agree with the second part of the question, but I think not letting us play with the "D" until they met with me was the right decision. I mean, that old english "D" is one of the most iconic logos in sports history, and not anyone should be allowed to touch or alter that. They needed to understand what the intention was behind this: trying to celebrate Doughboy and Boyz n the Hood, and celebrate Tom Selleck and Magnum, P.I., and celebrating what this cap meant to American culture, and how do we push that forward to the youth today.
For anyone that doesn't understand the space we're in, this small space, this HYPEBEAST and streetwear space, it takes some educating and some understanding. I don't think they were wrong for that at all, but once they understood my heart and my intention… I'm not sure you know, but we [he and New Era] donated $200k USD to the Jackie Robinson foundation, provided over 5,000 kids here during All-Star break with New Era caps and Fear of God T-shirts. Our heart and intention is to increase the relevance of the game of baseball that I grew up in, the game that I love, but at the same time making it sexy and cool again.
And why has the league had so much trouble attracting the youth today, especially urban children of color? Is it because it's not sexy and cool?
My dad has a foundation in Sacramento, and he's under the assumption that kids of color aren't playing baseball because they don't have the resources. To play baseball, it's expensive: you need equipment and a place to play. Basketball is a lot easier: you get a ball and a hoop, and you can go figure it out. But as much as I love my dad, I disagree. I think there's a disconnect, and I think it's just not cool anymore.
Our heart and intention is to increase the relevance of the game of baseball that I grew up in, the game that I love, but at the same time making it sexy and cool again.
You know, when I grew up, I wanted to play baseball because the coolest guys played ball. Delino DeShields [Sr.] was one of the first guys to wear high socks on the diamond, he was the first dude to wear hightop cleats. Barry Bonds had the one earring in, the cross earring. Ozzie Smith was running out taking the field doing flips. Everybody wearing these choker diamond chains and gold chokers, but that came from Darryl Strawberry, that came from '80s and '90s Dominican and black ballplayers.
There's just a very small number of our people playing the game, and therefore, if our people aren't playing the game, then our children don't have heroes to look up to. When I grew up, the baseball player was dating Halle Berry, it was Dave Justice, it wasn't the actor or the rapper dating the coolest girl.
There's tons of reasons why our kids aren't playing baseball anymore, but for me, I think it has to do with it not being culturally relevant or as cool as it use to be. I'm just trying to do whatever I can do with the platform I have to highlight all of the things that influenced me as a kid.
Are you saying the MLB isn't promoting individualism, similar to an issue in the NFL?
I don't think it's about the game promoting, the game didn't have to promote Ozzie flipping on the field, we just saw it. The game didn't have to promote Deion Sanders, we just saw that. The game didn't have to promote Barry, we just saw those guys playing. Those were our rockstars. You know, you see me at Paris Fashion Week with a curls hanging out, with my hat down, and chokers on, that's Andre Dawson. That's where I'm pulling from. The game just doesn't have those personalities, and I don't think it's the game's responsibility to promote the players, I think the game just needs to do a better job at getting the best talent back on the field.
How can other creatives/artists join in to help baseball become relevant again?
I mean honestly, I don't know what anyone else can do, I can only be responsible for myself. I'm just giving back to the game that gave me so much. The game that provided my dad with the opportunity to coach and play the game he loved, and take care of his family, and I'm doing my part to be responsible and honor that legacy, and give back to it through whatever gifts that I have. And it's not necessary about $200k USD going to the Jackie Robinson Foundation, or hats and T-shirts going to kids here at the Play Ball park, it's about making the game relevant and cool. Honoring a baseball cap and recreating it in a luxury way, and positioning it as "this is the coolest hat" by making the game aspirational again. If I can make the game aspirational, or if I can make a fitted hat aspirational, or I can make a kid look at some of these players the same way I looked at my heroes, like Strawberry, Bonds and DeShields, then that's all I can do.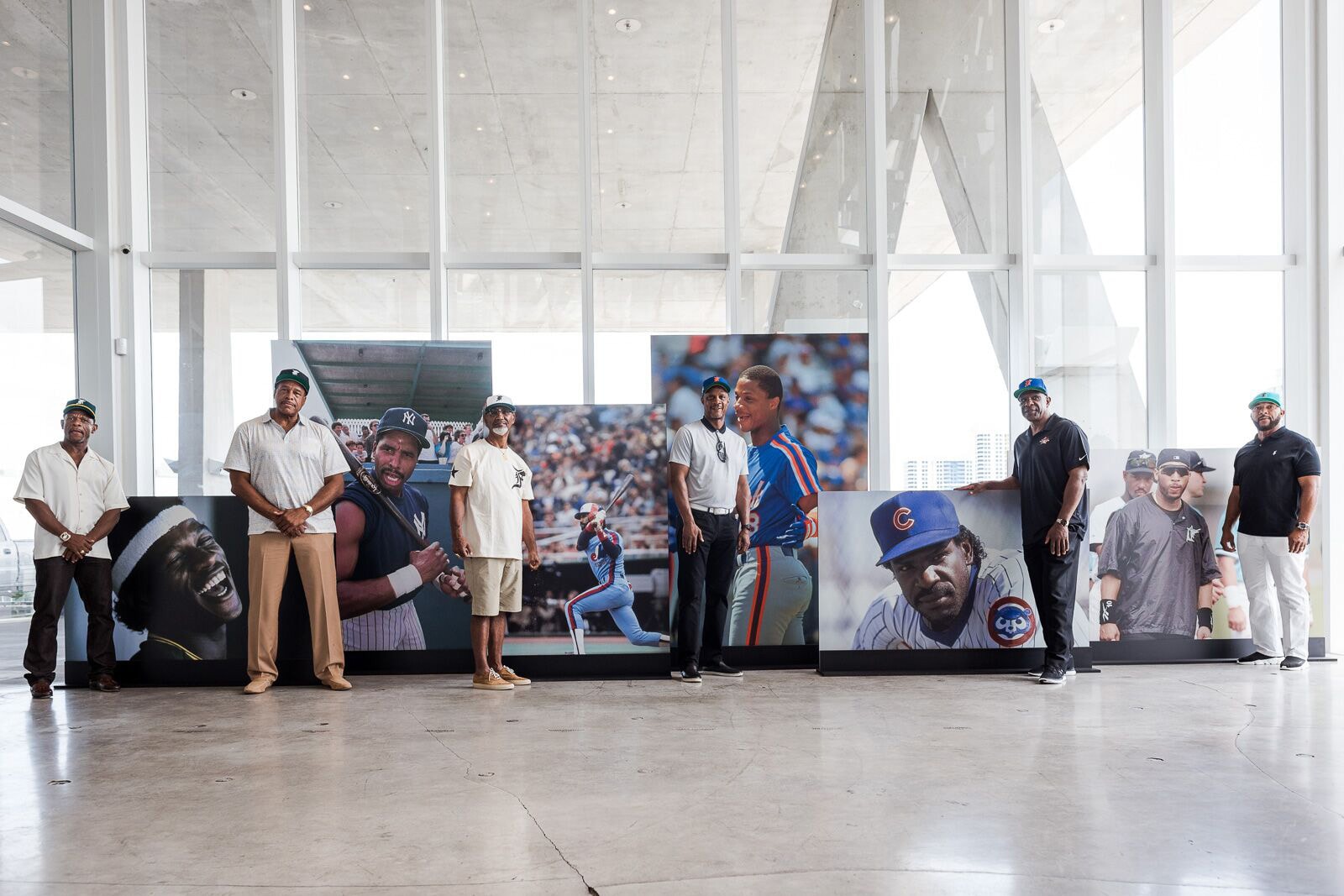 Back to the collection: did you choose these teams and players because they were your idols growing up?
In all honesty, my favorite player was Mike Greenwell from the Boston Red Sox. He was the coldest white boy of all time: he hit .300, he had a beard, he had hightop cleats, and didn't get a lot of love, and I loved the fact that I was one of the few cats that loved him. But again, there's a responsibility factor that I have to take with the stage that I have. I could've had Mike Greenwell, I could've had some of my other favorite players, but it was necessary to have all black ballplayers, it was necessary for me to show my son who some of my heroes were, and it was necessary for me to partner with players that not only were All-Stars, but players who have the same heart as me in giving back. None of these guys took a dime from this collaboration, all of the royalties went right to the Jackie Robinson Foundation, and that's something you can't put a dollar on. So not only were they great athletes and All-Stars, but their heart is there, and obviously, you're looking at Sheffield, Strawberry, Henderson, Winfield, Dawson, Griffey Jr. — the swag was off the charts.
What did your father think of the 1997 Collection?
He loved it. This is who we are, this is how I grew up. My dad was the bench coach for Jim Leyland on that '97 team; this is my family history that I'm weaving into Fear of God. I'm giving you as much of me as I possibly can at any opportunity. If it's me honoring the Celtics, and trying to educate kids and saying "you gotta know what this black luxury sneaker with white laces came from, you're looking at references from 2007, and this is '87." And as much as I hated the Boston Celtics, I loved their uniforms, I loved their sneakers. So it's just me, again, trying to put as much as I can in this day and age where everything that we do as creatives, people are poking holes in it, trying to be as transparent as possible, trying to give you as much of myself as possible, and trying to put the most honest product as I can out there.
Did your father know about this ahead of time ahead of time, as you were working on it?
Yeah he knew, but he doesn't understand like [release] lines outside, the reach, this HYPEBEAST world, so it was cool for him to walk in and see these life-size posters of him, to see all the kids outside, it was.. Again, if we didn't sell anything, that moment of him walking in there and feeling that type of love and seeing all the guys he use to play with and coach was an awesome family moment.
Last question before you go, who is the new face of baseball, a face that'll make it cool again?
There are a lot of stars that I'm super into, there's Bryce Harper. But again, I think baseball is just losing the best athletes. Today, we would never get a Bo Jackson, he would just play football. We would never get a Deion Sanders, he'd go play football. We wouldn't get a Barry Larkin. We wouldn't get the guys we use to get that chose baseball instead of other sports because the game, in and of itself, isn't as sexy and it's not relevant. So these kids are growing up wanting to be Steph Curry and wanting to be LeBron, wanting to be Can Newton, and there's just not that rockstar right now. And you know, things happen in waves, and I can see the game turning around, but I think that's really the issue: baseball isn't getting the type of athlete it use to get.